Samsung teases DDR4 RAM at 6.4GHz for 2020 with 51.2GB/sec bandwidth
Samsung projects that 6.5GHz will be the base speed of SDRAM by 2020.

Published Sun, Sep 6 2015 5:33 AM CDT
|
Updated Tue, Nov 3 2020 12:04 PM CST
Samsung is already planning on the next memory grade beyond DDR4 and projects that it will be able to hit 32GB with base speeds of 6.4GHz by 2020.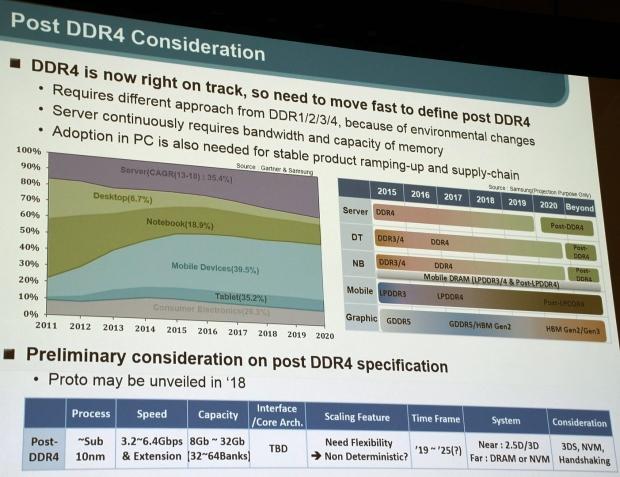 With the mainstream adoption of DDR4 RAM fast approaching on the horizon, industry movers like Samsung are beginning to lay out the building blocks for the next memory standard. As technology continues to evolve at a blistering pace Samsung projects that the new SDRAM grade will manifest within the next five years and that prototypes will be unveiled as early as 2018.
At IDF 2015, Samsung laid out targeted performance values for the post-DDR4 solution. The findings project that next-gen DRAM should be able to hit speeds of up to 6.4Gb/s with a total memory bandwidth of up to 51.2GB/s. A sub-10nm form factor has been targeted for the memory IC.
Even with the huge performance gains that DDR4 will bring to notebooks, desktops, and servers, its channel limitations pose a problem for the next phase of system memory, which targets modules up to 32GB. As a result, Samsung is open to overhauling the current SDRAM architecture into a stackable 3D environment, similar to the High-Bandwidth Memory used in various AMD cards like the Radeon R9 Fury X.
Interestingly enough hardware makers have already hit impressive speeds when overclocking DDR4 RAM: G.Skill hit an incredible record-breaking 4795.8MHz speeds in a Skylake system. We can only guess what kinds of performance specs overclockers will be able to hit with the new SDRAM, but it'll likely be pretty impressive especially if 3D processes come to the memory architecture.
Related Tags