The future of Intel's RealSense technology is exciting
We take a deeper look at the exciting RealSense technology from Intel at IDF 2015.
Published Aug 23, 2015 11:25 PM CDT
|
Updated Wed, Jul 27 2022 4:07 AM CDT
Some of you may have seen this robot from IDF on our front page, a robot which not only looks like it's smart, but which can image the world around it in real-time in 3D. This ability comes from the RealSense camera, whose output is on the screen in the background. Intel's RealSense Technology offers 3D scanning and imaging with a wide variety of uses.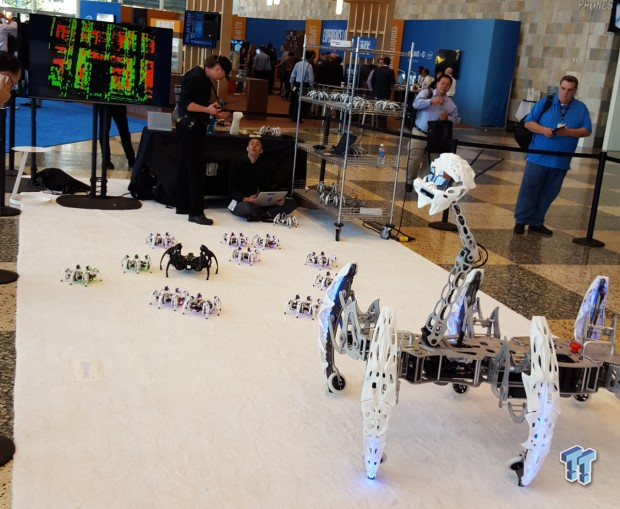 The technology is already present in many high-end products from manufacturers ranging from Creative to Dell. It uses a 2D camera and an infrared camera and wide range infrared emitter. It uses a specially designed Intel chip to capture and process the 2D image and infrared data about the image to provide depth to images. There are two main versions, the first is a front facing camera used in video conferencing which can omit anything past a certain depth, and the second is a "world-facing" camera which is capable of things such as producing 3D images. You can even have your picture taken and then printed in 3D, but there is even more the camera can do such as real-time tracking of objects and even things as small as fingers. It allows for effective tracking, even enough for proper gaming as was demonstrated.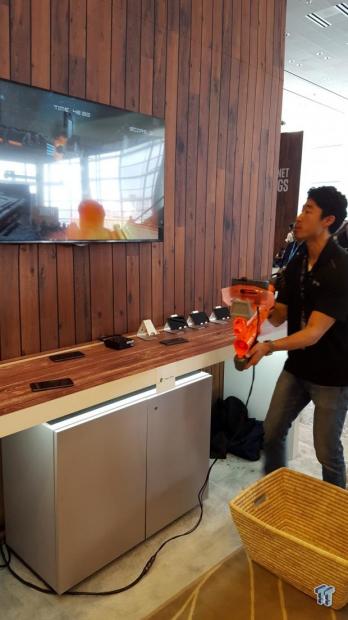 Here an Intel employee uses a hacked nerf gun and puts himself in the gameplay with RealSense technology. He is able to move through the game and shoot using this custom rigged apparatus. There are many possibilities that 3D depth sensors can give to a game, just look at the X Box Kinect, but pairing one with a high-quality camera can produce many more possibilities. RealSense is not only excellent for putting yourself in the game, but it is also capable of adding objects into the game.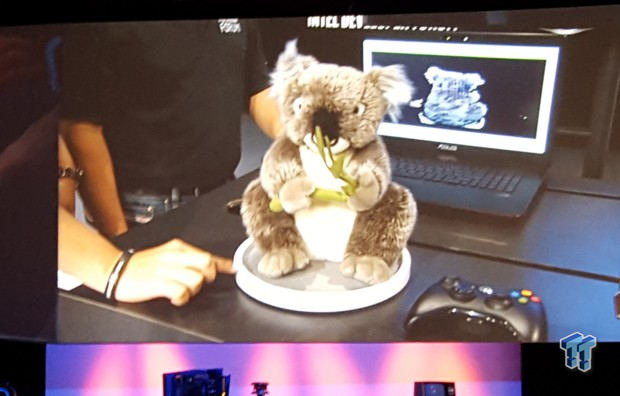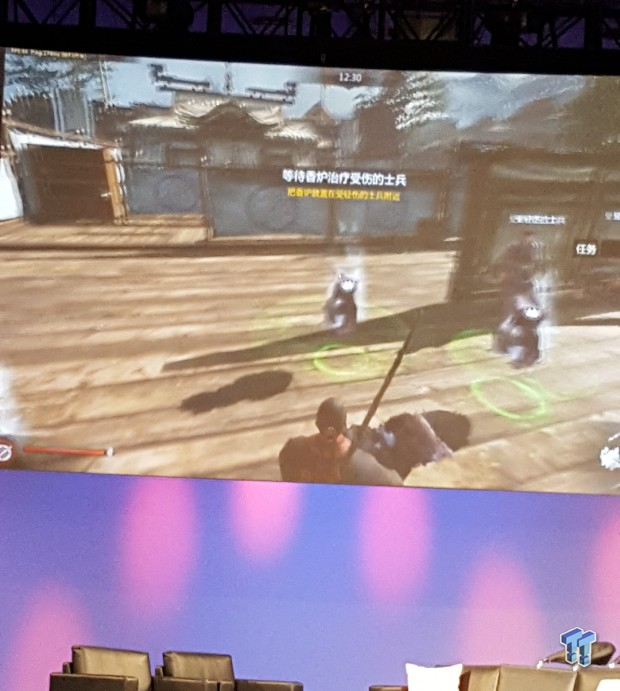 At one of Intel's Mega Sessions they scanned a Koala bear and added it into the game with a RealSense camera. You can scan objects into your computer, and add them to a game as a token or prize. I would imagine that soon enough we will have games that allow you to customize almost every aspect of your environment, perhaps a super version of The Sims where you can re-create your own interactive world.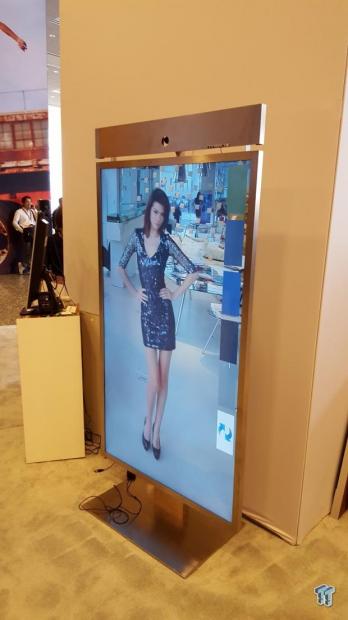 A RealSense powered interactive mirror is coming to a Nieman Marcus clothing store near you. It's made by a company called Memomi and it uses a RealSense camera plus three others to project a mirror image of the world around you. When you try on clothes you can change the color and style of the clothing to see how it would look on you. It was shown at Intel's CEO Keynote and is purportedly already in a handful of stores now.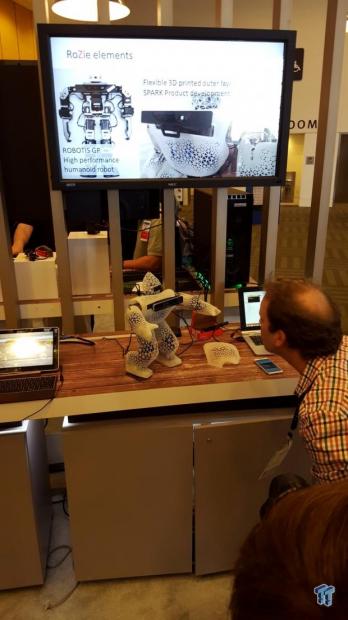 BrandZ's RoZie is a little robot, and with the latest robotics technology and a really neat exoskeleton it could be your next little pal. Its body is a ROBOTIS GP high performance humanoid robot used in robot fighting competitions and now as a little friend. Its skin consists of a unique flexible 3D printed outer layer, and its eyes consist of an Intel RealSense camera. It is able to image its world in 3D and interact with it. With everything we have seen so far from the RealSense camera, it wouldn't be hard to imagine a world filled with these affordable cameras to help augment our reality.
Related Tags