Leaked benchmarks on AMD Radeon R9 390X see it beating the Titan X
The HBM-powered Radeon R9 390X is beating the Titan X, just barely, in leaked benchmarks.

Published Sun, May 24 2015 1:37 AM CDT
|
Updated Tue, Nov 3 2020 12:07 PM CST
As we get closer to the official announcement and launch of the Radeon R9 390X from AMD, all we have to enjoy for now are leaked benchmarks that show the "Fiji XT" card beating out the GeForce GTX Titan X, barely.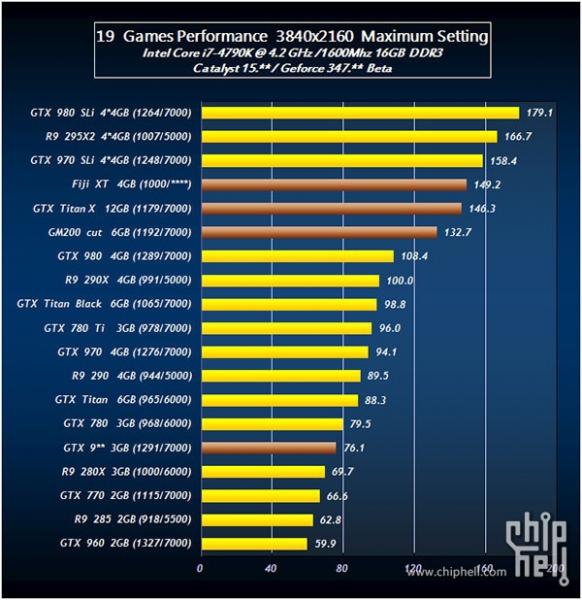 With its super-fast HBM, the AMD Radeon R9 390X beats out the NVIDIA GeForce GTX Titan X, the unreleased and expected GTX 980 Ti, and every other single GPU solution from NVIDIA in the average scores from 19 benchmarks according to a leaked look at the next-gen card from AMD.
When it comes to power consumption, it looks like AMD's next-gen Fiji architecture and High Bandwidth Memory aren't enough to save it from the perils of high power consumption. The leaked benchmarks show that the R9 390X uses 289W of power, which is just 3W away from the R9 290X which is quite the consumer of power. Comparing this to the Titan X which uses 256W, and the GTX 980 Ti which uses 235W, AMD is once again consuming a large amount of power in order to beat NVIDIA.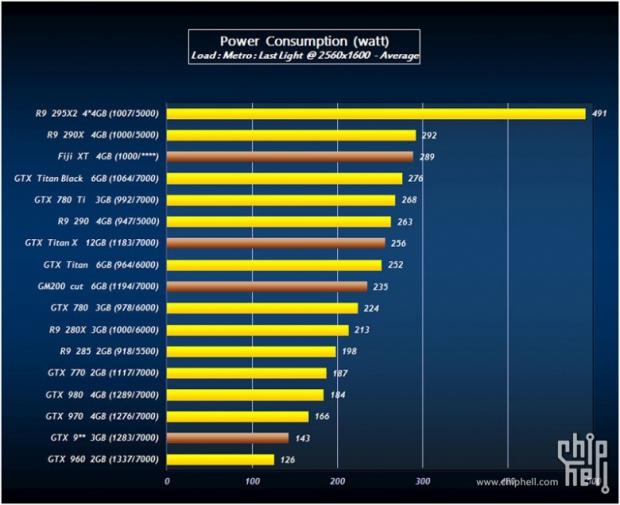 These are of course leaked results, so we can expect a better look from the R9 390X, and the GTX 980 Ti when they're both officially released.
Related Tags