GIGABYTE's new MW70-3S0 handles two CPUs, 3 GPUs and SAS 12Gbps HDDs
GIGABYTE unveils its latest dual socket workstation motherboard, the MW70-3S0.

Published Wed, May 20 2015 12:22 AM CDT
|
Updated Tue, Nov 3 2020 12:07 PM CST
GIGABYTE has just unveiled its latest workstation motherboard, the MW70-3S0, which can handle two CPUs that fit into Intel's 2011-3 socket. The new workstation motherboard has the usual high-end technologies, such as SAS 12Gbps storage support, as well as support for 3-way GPUs.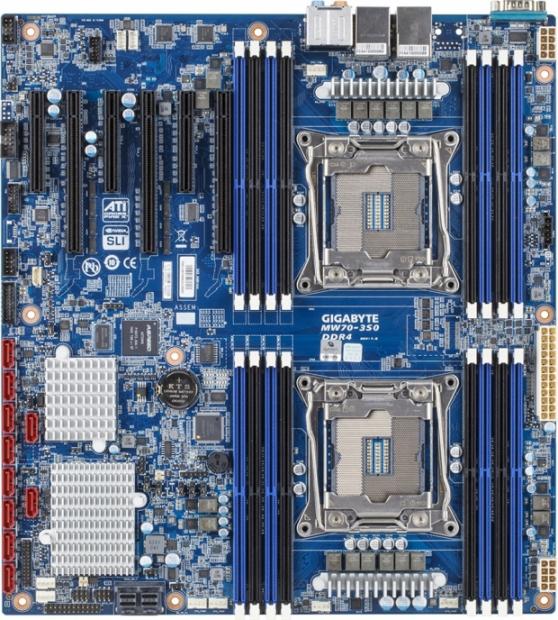 The new GIGABYTE MW70-3S0 can handle three NVIDIA GeForce or AMD Radeon GPUs with full x16 PCIe speeds, but it also supports a fourth card where the full x16 speeds aren't required. GIGABYTE has attached a high-end LSI SAS 3008 controller, which supports up to eight SAS drives running at 12Gbps through two mini-SAS HD connectors.
Not only that, but the controller is capable of aggregating any SATA and SAS drives into the full 12Gbps data stream courtest of LSI's DataBolt technology. This means that users can simply tie in their SATA 3Gbps or SATA 6Gbps drives into the 12Gbps bandwidth, and enjoy increased speeds depending on the configuration used.
DDR4 support has been placed into the GIGABYTE MW70-3S0, with support of up to 2133MHz over its 12 DIMMs, with a maximum of 64GB DDR4 supported. The dual socket workstation motherboard packs support for Intel's Xeon E5-2600 V3 family, which is "the first in the server industry to support the brand new DDR4 memory technology".
Related Tags