AMD Radeon R9 390X to include 4GB of HBM, with a reported MSRP of $849
AMD will reportedly launch the Radeon R9 390X with 4GB of HBM, and an MSRP of close to $1000.

Published Tue, May 19 2015 9:46 PM CDT
|
Updated Tue, Nov 3 2020 12:07 PM CST
According to the latest rumors, we should expect the Radeon R9 390X to launch with 4GB of HBM, while a dual-GPU version of the Fiji XT-based card will arrive with 8GB of HBM. For those who have been keeping up, this is a very, very interesting move, if the rumors are true. If you want to catch up on how revolutionary HBM will be, we wrote a detailed piece on High Bandwidth Memory yesterday.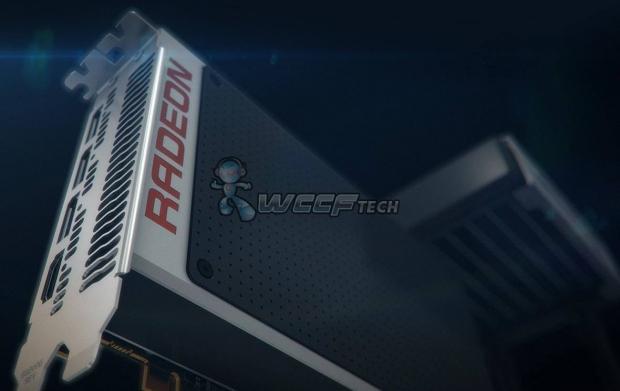 Fudzilla is reporting from "insider sources" that AMD will launch the Radeon R9 390X with 4GB of HBM for an MSRP of around $849, while the dual-GPU version of the card, which should arrive as the Radeon R9 395X2, will include 8GB of HBM. The Radeon R9 395X2 (that's what we're calling it for now, this could change at any moment) should arrive sometime later in the year, or 2016 - depending on HBM yields, I'd say.
The sources stated that AMD had plans to launch the Radeon R9 390X with a price of $799, but this is no longer the case. The sources also added that the R9 390X will be competing directly against the NVIDIA GeForce GTX Titan X, which launched at $999 and is still around the $999 mark on Amazon still. According to Fudzilla's sources, the HBM-powered Radeon R9 390X will win in some benchmarks, and lose in others against the GDDR5-based Titan X.
Then we have to consider the VRAM here, with the R9 390X featuring 4GB of HBM. With AMD launching a new architecture and some super-exciting, next-generation memory on it, I'm surprised to see only 4GB of VRAM. On one hand, AMD will get killed in marketing against NVIDIA and the 12GB of framebuffer found on the Titan X, but even at 4K, most games don't use over 4GB of VRAM. I would've expected AMD to launch the Radeon R9 390X in two flavors: 4GB HBM and 8GB HBM priced at $100-$150 apart. Second, the R9 395X2 will only have 4GB of VRAM - with 4GB of HBM per GPU, which can't be combined - that is, until DirectX 12 arrives with Windows 10.
We should know concrete details on the Radeon R9 390X in the next few weeks, with its launch to take place in the second half of next month.
Related Tags