Oculus teases 'Step into the Rift' event for June 11 in San Francisco
What will Oculus be showing off at its 'Step into the Rift' event on June 11?

Published Tue, May 19 2015 6:34 PM CDT
|
Updated Tue, Nov 3 2020 12:07 PM CST
With E3 2015 just a month away now, Oculus VR has just announced a new "Step into the Rift" event for June 11 in San Francisco, where we should be introduced to the first consumer version of the Oculus Rift, CV1.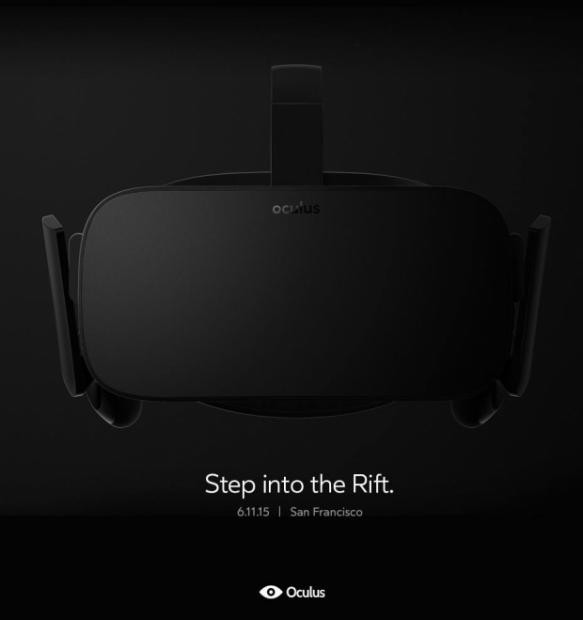 Last week we found out the recommended requirements to run the Oculus Rift, where you'll need a mid-range or better video card, and a semi-decent but not over-the-top PC to run CV1. Road to VR reports that they've "received confirmation" that the Oculus Rift CV1 runs 2160x1200 at 90Hz split over two displays, pushing a huge 233 million pixels per second.
Some might remember the tag that Palmer Luckey used during the Kickstarter for the Oculus Rift, which was "Step into the Game". This new "Step into the Rift" tease is a nice throwback to the Kickstarter campaign, as we are about to learn about CV1. The unveiling of Rift CV1 is big enough that it needs its own event, so that it won't get lost in the sea of announcements during E3 2015, which runs between June 16-18.
We should expect to find out all the details on CV1 at the Step into the Rift event, which is exciting. What else will Oculus VR show off at the event, and then E3 2015 just days after, it's full steam ahead for VR and the Oculus Rift right now.
Related Tags