I don't get excited for technology that often anymore, but it looks like I'm going to have to put that aside for now because Oculus' latest project Rift, currently on Kickstarer, will supposedly deliver "truly immersive virtual reality". Oculus Rift, according to the guys and girls behind it "is a new virtual reality (VR) headset designed specifically for video games that will change the way you think about gaming forever."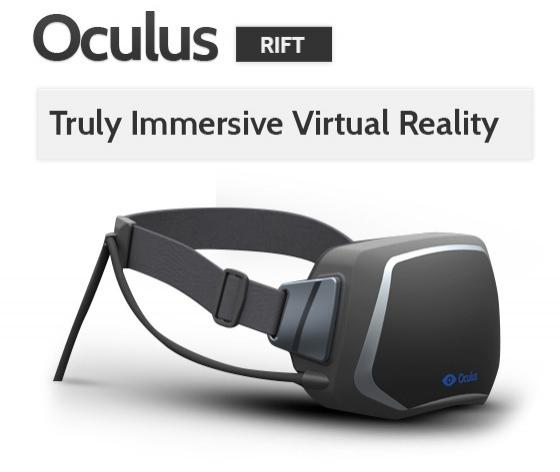 Rift sports a wide field of view, high resolution display and ultra-low latency head tracking. The team is raising money on Kickstarter where they can build development kits for the unit, meaning that they can get the Rift into developer's hands, quicker. The team note that VR has been stagnant for quite a while, and in order to provide believable immersion, you'd be looking at $20,000 or more. Oculus want to change that up with Rift, which is designed to "maximise immersion, comfort and pure, uninhibited fun", all while sitting at a price that is affordable to everyone.
Oculus have raised just over $1.2 million from 5,113 backers, and have 26 days to go. I'll be making a pledge in the next few days, this project is looking to be great for the gaming community.
What makes the Rift standout is the support from the game development community, with some huge talent providing support. John Carmack, the mastermind over at id Software, has said "What I've got now, is, I honestly think the best VR demo probably the world has ever seen". Next up to the quote plate we have Cliff "CliffyB" Bleszinski, who is the Design Director over at Epic Games, who said "Needless to say, I'm a believer... We're extremely excited here at Epic Games to get the Unreal Engine integrated with Oculus".
Two more quotes worth noting are from Valve, by Michael Abrash and President and Owner of Valve, Gabe Newell, who said "I'm really looking forward to getting a chance to program with it and see what we can do", and "It looks incredibly exciting, if anybody's going to tackle this set of hard problems, we think that Palmer's going to do it. So we'd strongly encourage you to support this Kickstarter", respectively.
Oculus' Rift technical specs:
Head tracking: 6 degrees of freedom (DOF) ultra low latency
Field of view: 110 degrees diagonal / 90 degrees horizontal
Resolution: 1280x800 (640x800 per eye)
Inputs: DVI/HDMI and USB
Platforms: PC and mobile
Weight: ~0.22 kilograms
If I had $5,000 in my account, I'd be one of those people walking into the Oculus offices, how exciting.