According to our sources, AMD will be announcing its new Radeon R9 390X at E3 2015 in mid-June, while some of our other sources have told us that HBM yields are extremely low, so the Radeon R9 390X that features HBM will be in extremely limited availability. We have been told that AMD has some "surprises" in store for the Radeon R9 390X, which is exciting. But what about these leaked photos of the HBM-powered Radeon R9 390X? Well, let's talk about that.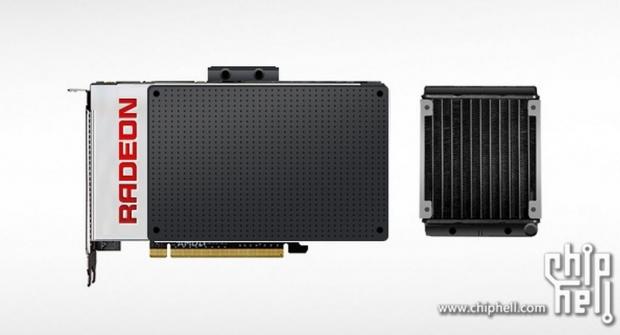 The above image is reportedly photoshopped, with WCCFTech reporting that the image is "completely fake and are essentially a Photoshop recreation of the image by an artist on Chiphell forums". But for me, I don't think it's as "fake" as people think.
With AMD using High Bandwidth Memory (HBM) it will save so much room on the PCB that the usual GDDR5 takes up, and thanks to it running cooler than GDDR5, it will remove much of the last third of the PCB and associated cooling, VRMs, and more. This could give AMD the opportunity to make a shorter VGA card, but will the shorter card just be the HBM version? With our sources teasing multiple Radeon R9 390X models being released, with one being the premium HBM model, and another running GDDR5. If this happens, it's going to be good, and very bad for AMD.
On one hand, AMD can send the media the Radeon R9 390X 8GB watercooled model, which is the one that I think is the closest to the model above, and then the other cards that will be released into the market will be the 4GB models, possibly with HBM, or GDDR5. We know that HBM is in seriously low numbers right now, so much so that one of our sources said they'd be "surprised if it even happens this year". Some harsh words, but if HBM is in short supply, what would AMD do?
We should expect to hear so much more about the Radeon R9 390X in the coming weeks, so keep your eyes peeled to TweakTown.