DirectX 12 rumored to allow GeForce and Radeon GPUs to work together
Rumor has it that DirectX 12 will allow for multi-GPU setups between NVIDIA and AMD GPUs.

Published Tue, Feb 24 2015 8:00 PM CST
|
Updated Tue, Nov 3 2020 12:09 PM CST
Tom's Hardware has quite the exclusive report, where they're saying that they have a "source with knowledge" on the matter of DirectX 12, that will see that the new API will combine the powers of competing GPUs. In order words, an NVIDIA GeForce GPU will work together in a multi-GPU set up with an AMD Radeon card.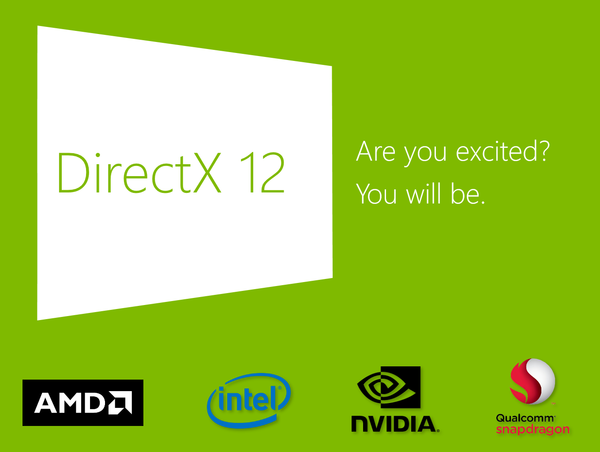 This is something DirectX 12 has on its side with its Explicit Asynchronous Multi-GPU capabilities, which will throw all of the various graphics resources in a system, and into a single "bucket". From there, the game developers will have to work out where the workload will be split, which could see different hardware being used in specific tasks.
One of the major points of this new multi-GPU technology is that multi-GPU configurations will no longer have to mirror their frame buffers, or VRAM. In previous APIs, right up to DX11, you needed two cards of identical VRAM amounts to work in tandem, but only one lot of VRAM is utilized, it's not combined. This is a limitation of rendering an alternate frame (AFR), but DX12 is removing the 4 + 4 = 4 limitation of AFR, replacing it with a new frame method called SFR, or Split Frame Rendering.
The biggest point of this news is that "DirectX 12 will support all of this across multiple GPU architectures, simultaneously". This means that you could mix NVIDIA GeForce and AMD Radeon GPUs together for a multi-GPU setup, with the video cards rendering the same frame, simultaneously. This could lead gamers to having the best of both words: PhysX, G-SYNC, 3D Vision and more from NVIDIA and then AMD's TrueAudio, FreeSync and more.
Better yet, it's not only beneficial to multi-GPU systems with higher-end VGA cards, but to laptops and all-in-ones that are running APUs or a more basic CPU with a built-in GPU, and a not-so-great discrete GPU. They could combine their GPU rendering powers, increasing the GPU power by magnitudes, depending on the hardware.
We should hear more about DX12 and its multi-GPU goodness at GDC 2015 next week.
Related Tags