MSI announces BIOS updates to enable NVMe compatibility
MSI 9-series chipsets are now fully interoperable with NVMe SSDs to provide the ultimate in flash performance.
Published Wed, Jan 28 2015 7:53 AM CST
|
Updated Tue, Nov 3 2020 12:10 PM CST
We are lucky enough here at TweakTown to be on the cutting edge of storage devices, and right now the bleeding edge is currently NVMe (Covered in our Defining NVMe article). As part of our standard testing, and also for daily operating system usage, we have been using NVMe SSDs for some time. The only problem has been spotty boot support. We have went through a merry-go-round of various motherboards to find models that will actually support booting an NVMe device, as none are officially certified as NVMe compatible...until now.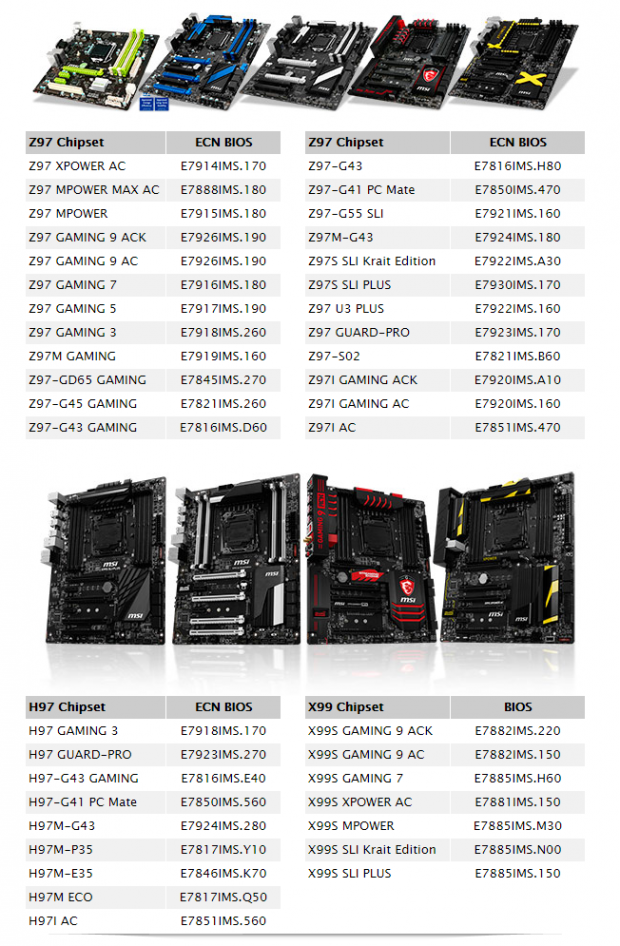 MSI has announced they are in fact the first consumer motherboard manufacturer to fully support NVMe. The compatible motherboards are confined to the 9 series chipset, but encompass the X99, Z97, and H97 models. Current users can head over to MSI to find a BIOS update for their motherboard that enables the functionality.
The new BIOS revisions support NVMe devices in Windows 7 and Windows 8.1 in 64-bit flavors. They also fully support booting from NVMe devices. Consumer-oriented NVMe devices are still in the pipeline and yet to be released. However, bleeding-edge enterprise devices can be used in a desktop environment if one has the cash to spare, so check out a review by our RAID expert Jon Coulter in standard desktop usage in his Intel DC P3700 800GB NVMe vs. Intel 730 Series SATA SSD RAID Report.
If you are interested in enterprise evaluations head over to the Intel SSD DC P3700 1.6TB PCIe NVMe Enterprise Review for a look at the standard PCIe card that slips in a PCIe slot, or check out the Samsung XS1715 1.6TB 2.5-inch NVMe PCIe Enterprise SSD Review, which comes in a 2.5" form factor.
Related Tags