The PlayBook is an Xbox One and a PlayStation 4 in one laptop shell
Modder Eddie Zarick has made laptop shells for PS4s, Xbox Ones and a 360/One combo - now he has released his Playbox, guess what's inside.
Published Wed, Jan 14 2015 6:25 PM CST
|
Updated Tue, Nov 3 2020 12:10 PM CST
First we covered the Xbook Duo, which placed a non-backwards compatible Xbox One and an Xbox 360 into a single package - now we've got the Playbox. Developed by the same modder, he's thrown a PS4 and an Xbox One into the same shell - confusing and worrying elitists worldwide.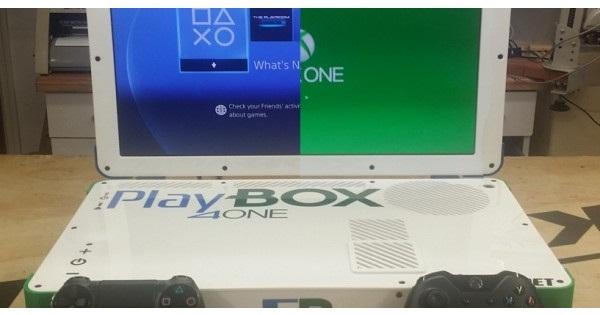 In the lead up to these two creations, Eddie Zarick has thrown a PS4 and Xbox One into their own separate shells, but as the famous saying goes "¿Por qué no ambos" (why not both?). The Playbox hosts the PS4 component on the left side of the system and with the Xbox One on the right.
Both consoles are powered by a single cord, however they don't function at the same time due to overheating constraints. You can flick an easy-to-reach switch on the back to help change from one console to another at your will.
We've seen things like the cool G-155 carry case developed previously, set to give your console the ultimate portability. However these inventions by Eddie just can't be beaten by the older technology in my mind.
You can order this prototype for custom order, alongside the Xbook One (Xbox One shell) is for sale at $1,500 and the Playbook 4 (PS4 shell) will set you back $1,400 - discounts apply if you supply your own console.
Related Tags