The Xbook Duo guide fits the 360 and One into a single laptop
The Xbook Duo guide includes a 360 and One into a single shell with screen for all-round, portable gaming.
Published Thu, Jan 1 2015 10:03 PM CST
|
Updated Tue, Nov 3 2020 12:11 PM CST
Backwards-compatibility - a statement that will bring pain to the face of most console gamers in this day and age. We saw this when only the first-release PlayStation 3 could play PlayStation 2 games and now we're aware that your brand-new Xbox One cannot run your favorite 360 disks. How can you try and combat this? How about shoving both consoles into one laptop-like shell? That'll do it.
Well if you're crazy enough to try, this Xbook Duo guide will help you through the process. Apparently featuring no overheating issues, this hunk of technology will give you the ability to play your favorite Xbox 360 and Xbox One games in 'one' device. We say 'one' because it's basically two systems thrown into a single shell.
Lacking in aesthetics but teaming with usability - all they need is someone to come along and spruce up the looks department, then they'll have a winner on their hands.
I personally won't be going to all of this effort as I can play old games on my computer just fine, but it's certainly a very smart project if you're looking for a little portability and to save some space.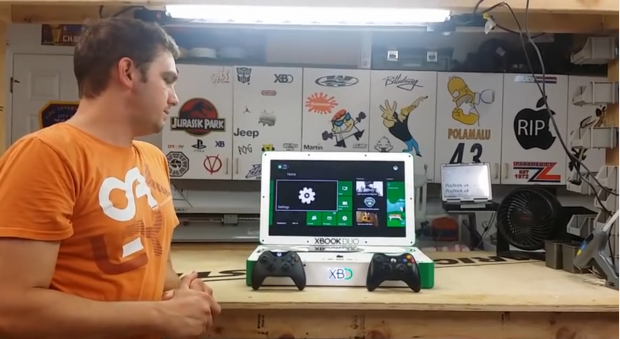 Related Tags