Samsung displays new enterprise SSD offerings at CES 2015
Samsung's new enterprise SSD offerings support emerging connections and specifications with a healthy dollop of capacity.
Published Fri, Jan 9 2015 5:19 PM CST
|
Updated Tue, Nov 3 2020 12:11 PM CST
CES 2015 -Samsung had several enterprise SSDs on display in their meeting rooms, highlighting the wide range of storage options they provide. Samsung has all the connectivity bases covered for SATA, SAS, and PCIe.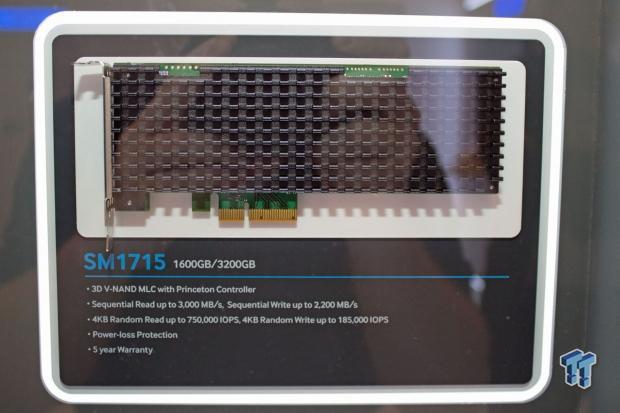 NVMe SSDs always attracts my immediate attention. NVMe is a hot topic, as outlined in our Defining NVMe Article. Pairing the refined and efficient interface with exciting new NAND technologies is exciting, and the SM1715 comes with massive capacities of 1.6 and 3.2TB. The SM1715 comes in the familiar HHHL form factor, and cramming all of that capacity into such a small space is made possible by Samsung's 3D V-NAND. Readers can find deeper analysis of V-NAND in The V-NAND Paradigm Shift Whitepaper. The SM1715's obligatory feeds and speeds are 750,000/185,000 random read/write IOPS and a sequential read/write speed of 3,000/2,200 MB/s, but NVMe advantages of reduced CPU overhead, in-box driver support in leading operating systems, and refined latency performance are also a big attraction.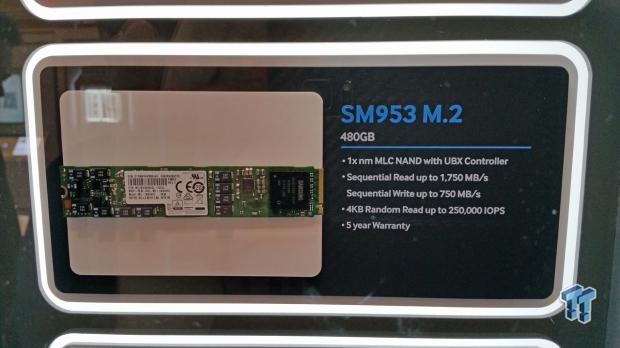 M.2 offers the same NVMe goodness in a slimmer form factor , which is generating incredible interest for hyperscale deployments. The Samsung SM953 packs 480GB of 1x nm planar MLC NAND flash, but this inaugural design will likely be augmented with 3D V-NAND in the future. The UBX controller delivers sequential read/write speeds of 1,750/750 MB/s, and random read speed weighs in at 250,000 IOPS. Random write speeds haven't been disclosed as of yet, but the SM953 also features power loss protection. The race is on for the first datacenter-class M.2 SSD to hit the market, and look to these pages soon for an evaluation of the first one to hit our labs.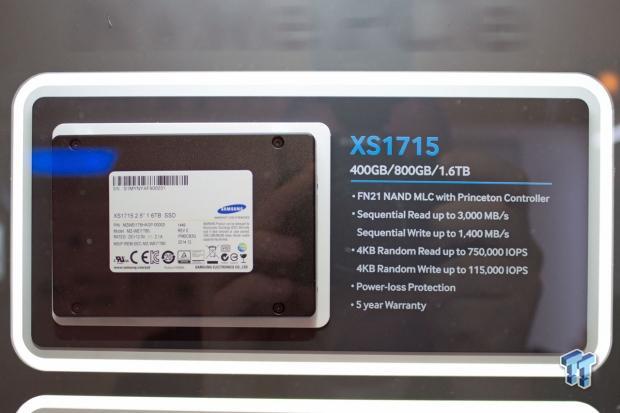 The XS1715 brings NVMe performance to a front-bay accessible design. We have posted competitive performance analysis of the XS1715 in our Samsung XS1715 1.6TB 2.5-inch NVMe PCIe Enterprise SSD Review. The XS1715 utilizes FN21 MLC NAND (planar) with the PMC-Sierra Princeton controller to deliver sequential read/write of 3,000/1,400 MB/s, and 4k random read/write speeds of 750,000/115,000 IOPS.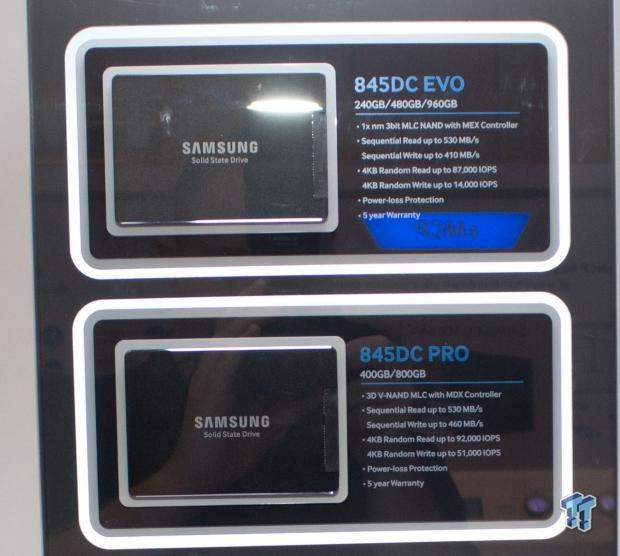 The Samsung SATA offerings feature the 845DC EVO (evaluated here) and the 845DC PRO(evaluated here). The 845DC PRO leverages 3D V-NAND and the 845DC EVO utilizes 3bit (TLC) NAND, which tailors each drive for specific endurance requirements. The 845DC EVO provides random read/write IOPS of 87,000/14,000, and 530/410 MB/s of sequential speed. The 845DC PRO delivers random read/write IOPS of 92,000/51,000, and 530/460 MB/s of sequential speed.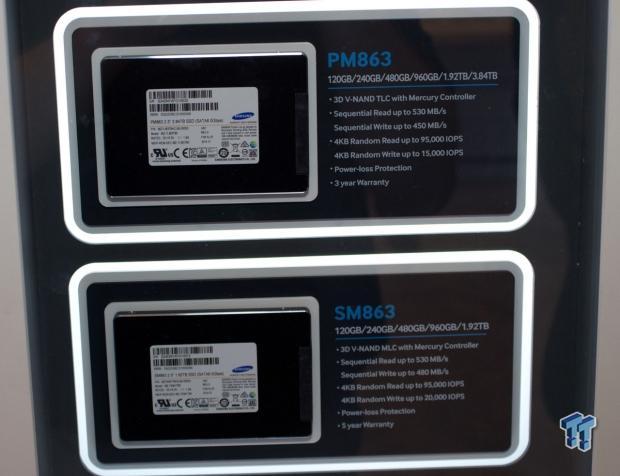 The PM863 is the next generation of an SSD we recently evaluated in the Samsung PM853T 960GB Enterprise SSD Review. This new version brings 3D TLC V-NAND into the picture to deliver an incredible density increase, up to 3.84 TB of storage, in a standard 2.5" form factor. Random read/write speed is 95,000/15,000 IOPS, and sequential performance weighs in at 530/450 MB/s.
The SM863 uses standard 3D MLC V-NAND for higher endurance and more robust performance, but results in a lower top capacity of 1.92TB. This is still very impressive, and random read/write IOPS are 95,000/20,000 IOPS. Sequential read/writes are 530/480 MB/s.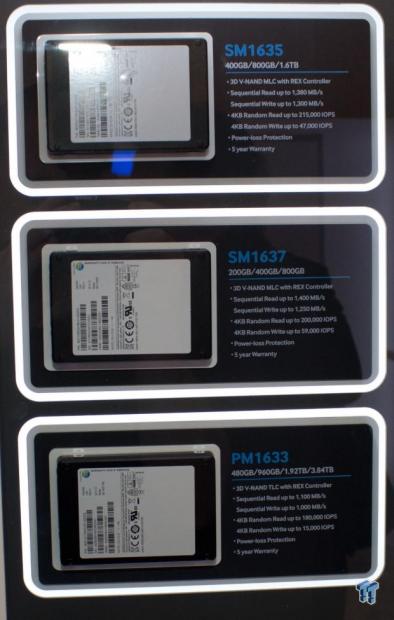 The Samsung SAS offerings offer different performance levels and endurance, but the PM1633 stands out from the crowd with up to 3.84TB of capacity, and random read/write speeds of 180,000/15,000 IOPS from the REX controller. This 3D TLC V-NAND powered SSD also provides 1,100/1,000 MB/s of sequential read/write speed.
The SM1635 tops out at 1.6TB and offers an amazing 215,000/47,000 random read/write IOPS and 1,380/1,300 MB/s of sequential read/write speeds.
It's clear from the breadth of the Samsung enterprise SSD portfolio that they have a solution for just about any workload, and stay tuned for pending product evaluations in our IT/Datacenter section.
Related Tags