Phison shows new enterprise NVMe SSD controller supporting TLC
Phison moves into the enterprise NVMe market with a new controller supporting TLC and SFF-8639.
Published Fri, Jan 9 2015 3:17 PM CST
|
Updated Tue, Nov 3 2020 12:11 PM CST
CES 2015 -Phison is poised to make waves with their new PS5007-E7 controller. This new controller will power enterprise NVMe SSDs in both the M.2 and 2.5" form factors, with the latter sporting the new SFF-8639 connector. The controller will provide plenty of bandwidth with a PCIe 3.0 x4 connection. The new controllers support capacities from 16GB all the way up to 2TB. Sequential reads are rated for 2,800 MB/s, and sequential writes come in at 1,500 MB/s. The controller also features random read/write speeds of 350,000/300,000 IOPS.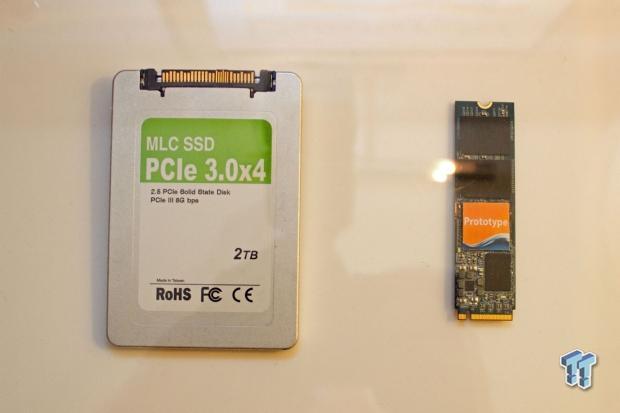 The controller supports both AHCI 1.3 and NVMe 1.1. Current designs do not include power capacitors, but power loss protection will be included in the final designs. It is also only rational that an NVMe controller with this type of grunt power will eventually make its way to a standard PCIe form factor product, but we did not receive official confirmation of that possibility. The M.2 form factor is starting to pop up in roadmaps of more manufacturers for enterprise applications, so there is definitely an emerging customer base for these products as well.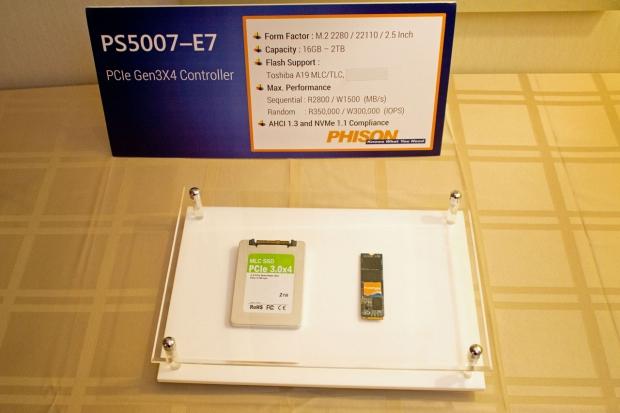 An interesting tidbit of info is in the flash the controller supports. First, the controller is being qualified with Toshiba A19 MLC and TLC. There aren't any TLC NVMe SSDs with the SFF-8639 connector as of yet, but the transition to TLC will help lower cost, thus speeding NVMe adoption. The second interesting item is Phison is working on qualifying another type of NAND as well, but covered up the listing on the spec card. We were informed this is due to that particular manufacturer not being ready to announce the product, so Phison may be working with 3D NAND as well.
Currently there are only a few 2.5" NVMe SSDs on the market, namely the Samsung XS1715 (evaluated here) and the Intel P3700 (evaluated here). This effectively leaves only two controllers for these types of devices. Intel's controller is proprietary, so we likely wont be seeing that on third party SSDs. The Princeton controller from PMC-Sierra, the result of their acquisition of a division inside IDT, has been the go-to controller for most NVMe SSDs. The Samsung XS1715 leverages the Princeton controller, and Princeton also powers several other NVMe PCIe SSDs, and will be featured on the new OCZ Storage Solutions Z-Drive 6000 as well.
Several hyperscale companies also use Princeton controllers to build their own custom SSDs. PMC-Sierra has enjoyed tremendous success with the Princeton controllers, but they tend to focus on larger OEM and hyperscale customers. Phison's entrance will create some competition in this space, and enable some of the smaller third-party SSD manufactures to roll their own SFF-8639 designs. Most of the NAND fabs are focusing engineering resources on the high-margin products in the enterprise space, and turning to third-party controller manufactures for low-margin client offerings. Perhaps another easy-to-deploy enterprise-class NVMe controller with reference designs will also attract the eye of the fabs and hyperscale customers.
As always, head over to our IT/Datacenter Section for the latest competitive performance evaluations of the latest NVMe SSDs.
Related Tags