Introduction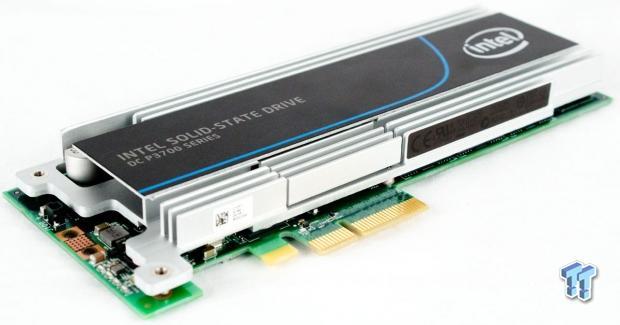 Intel's christens the launch of NVMe into the datacenter with the Intel DC P3700 series of SSDs. NVMe standardizes interaction with non-volatile memory on the PCIe bus through an optimized register interface, command set, and feature set. The implications of the NVMe specification are huge for the future of solid state storage. For those looking for more details, we dive in deeper in our Defining NVMe - Hands-on testing with the 1.6TB Intel P3700 SSD article.
In short, NVMe provides better latency and performance in comparison to the legacy interfaces used by most SSDs, such as AHCI and SCSI. NVMe also provides a standardized approach that can leverage a common driver, instead of the varying proprietary drivers found in current gen PCIe SSDs. NVMe's higher performance and multiple parallel queues provide enhanced scaling in demanding environments. We found NVMe to lower latency and reduce CPU load, and system interrupts, in our testing.
The Intel DC P3700 is the first NVMe SSD on the market, and the excitement surrounding the NVMe interface somewhat overshadowed other key improvements Intel has made in performance tuning and reliability. NVMe is revolutionary, some liken it to the advent of Fibre Channel and SCSI, but it is not going to make every SSD a performance champion. Delivering great performance requires ingenious engineering and effort, and Intel has spared neither in their quest to provide what they consider the best PCIe SSD on the market.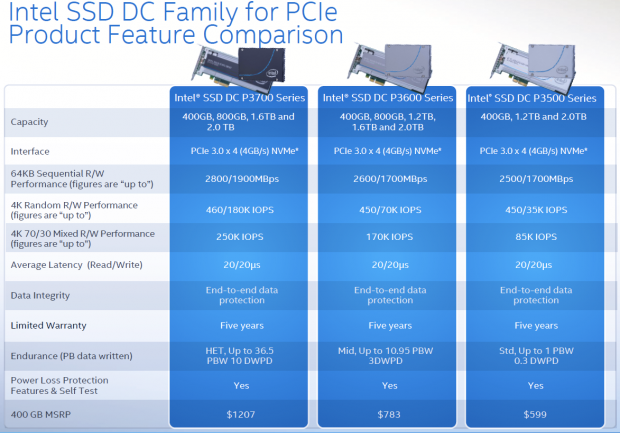 Intel divides their SSD offerings into datacenter, professional, and consumer segments. In the datacenter segment, there are the DC S3700 and DC S3500 SATA SSDs and the new DC 'P' family for PCIe SSDs. The P series is broken into three categories defined by workload. The DC P3500 and DC P3600 are for entry and mid-level read-centric applications with conservative write workload requirements. It makes sense that the lower endurance is accompanied by lowered random write performance, those with light write workloads will not require blistering random write speed.
The mixed random performance for the reduced-endurance models remains high; this is largely due to Intel's performance tuning that optimizes the mixed workload read/write ratio. Read performance remains mostly unaffected in the DC P3500 and P3600 with only an incremental reduction compared to the flagship. This application-specific tuning keeps pricing very competitive while still providing high performance for read-centric workloads.
The DC P3700 series offers the most endurance and write performance, with up to 465,000/180,000 random read/write IOPS, and sequential speeds are equally impressive at 2,800/1,900 MB/s read/write. The DC P3700 features HET (High Endurance Technology) MLC and 10 DWPD (Drive Writes Per Day) of endurance, up to 36.5 PBW for the 2TB model. All models feature protection from host power failure via capacitors. End-to-end data protection contributes to an UBER rating of 1 sector per 10E17. All P series SSDs feature a five-year warranty period and an MTBF of 2 million hours.
The previous generation Intel 910 utilized a x8 PCIe 2.0 connection, but the faster speed and more efficient encoding of PCIe 3.0 allows the use of a x4 PCIe 3.0 connection for the P series. Utilizing fewer lanes is important due to chipset lane limitations. Power consumption stays within the standard PCIe spec of 25 Watts active, and the P3700 idles at 4Watts. There are additional low power settings of 20W and 15W for power-constrained environments.
Intel uses their own proprietary 18-channel CH29AE41AB0 controller on all P series drives. The P3600 and P3500 utilize standard MLC in lieu of the HET MLC used for the P3700. One of the best aspects of the P series is the small HHHL (Half-Height Half-Length) form factor that crams in a maximum of 2TB of capacity. This small footprint allows installation into the slimmest servers, and the P series is available in a 2.5" 15mm form factor with the new SFF-8639 connector. This enables front bay loading on servers with compatible backplanes.
Intel remains committed to delivering the same performance consistency featured in their SATA offerings, and builds upon that standard by enhancing low queue depth performance. Today, we test the DC P3700 against the leading PCIe SSD competitors, the Micron P420m and the HGST FlashMAX II, but first let's take a closer look at the DC P3700.
The Changing Datacenter - Workload Tuning
The Changing Datacenter
The datacenter is evolving away from traditional SAN architectures and moving to converged infrastructures and server-side SAN configurations. This creates a unique opportunity for flash in the datacenter by keeping it as close to the processor as possible. Software defined storage initiatives aim to provision resources on-the-fly and share them among multiple servers.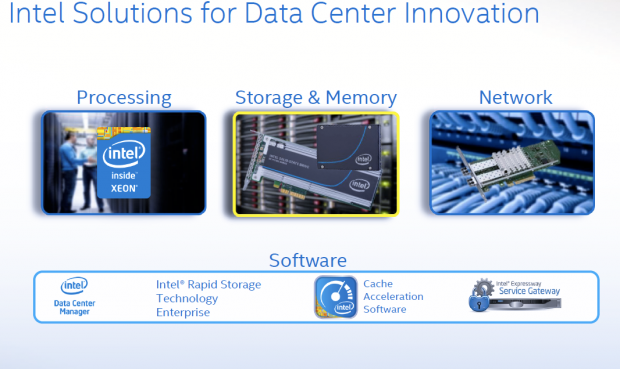 Intel plays a big role in the future of the datacenter due to their heavy penetration in the processing sector. Intel's control of chipsets is important as PCIe begins to shoulder more of the load for storage traffic. Increasing PCIe lanes will allow for more complex storage fabrics, such as multipath and failover. PCIe extenders and switches, or RDMA over Ethernet, can share excess capacity and performance of in-chassis PCIe SSDs with other servers.
Existing networking infrastructure will probably lead to use of RDMA more than PCIe for rack-level sharing, and Intel has a line of networking equipment that also fits into this role. Intel also offers their Cache Acceleration Software for merging the capacity of HDDs with the performance of flash.
Workload Tuning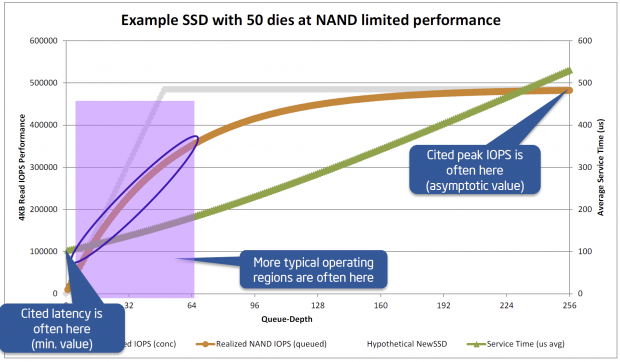 As SSDs became mainstream, the manufacturers focused on the basics, such as managing write amplification and garbage collection techniques. The focus turned to maximum performance as SSDs evolved. Intel came to the realization that performance consistency is the key to delivering better application performance, and infused performance consistency into their DC S3700 and DC S3500 SSDs.
Now Intel has begun to focus on the next frontier of performance tuning. Intel has spent considerable time collecting feedback from a wide range of customers, and even measured many common workloads themselves. This analysis and feedback led to the conclusion that the majority of real-world applications rarely touch the upper limit of performance, and tend to hover in queue depths lower than 64.
One unfortunate aspect of SSD performance measurements, and marketing, is that the peak performance under high load is often the yardstick used to measure enterprise SSD performance. Latency is also measured at a queue depth of one, which is the lowest performance measurement possible on a storage device.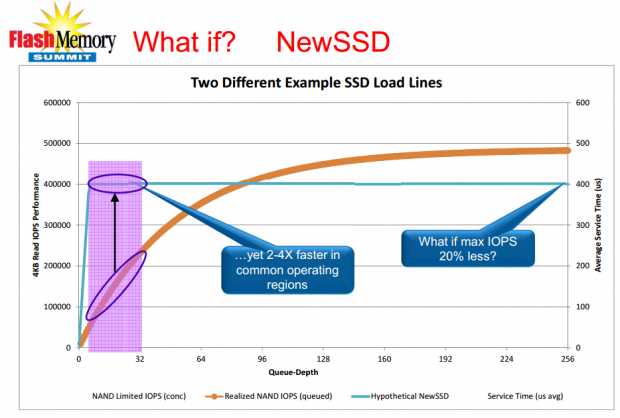 With the P series, Intel has begun tuning their enterprise SSDs to reflect real-world workloads by providing superior scaling and performance that starts at lower queue depths. In the graph above, we note that while some SSDs have a very high performance plateau under a high load, the most desirable SSD will scale and provide more performance at lower queue depths. This can be a bit of a challenge because SSDs rely upon parallelism to deliver peak performance.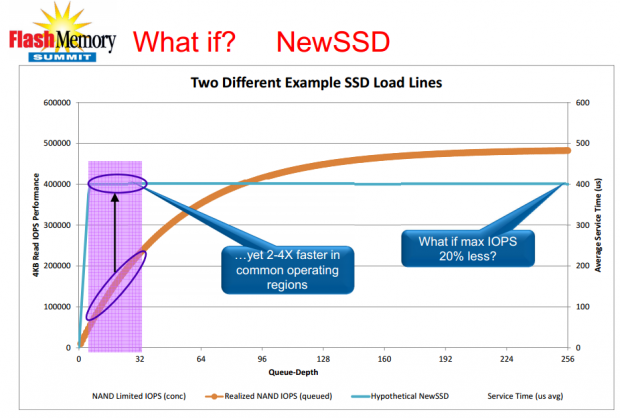 The new approach leads to a slightly lower (20%) peak operating speed, but enhanced performance in the common operating regions. Very few workloads are 100% read or write, and Intel tunes the drive for this reality as well. Intel drives deliver an optimized percentage of reads and write I/O during mixed workloads. This enables drives with lower write performance, such as the DC P3500 and DC P3600, to deliver robust performance in mixed workloads.
On a side note, in most cases the low queue depths most SSDs experience during their life are indicative of wasted performance. In ideal architectures, SSDs are shareable among multiple servers, and if provisioned correctly they could deliver more value by operating at full utilization. This is one of many reasons that we are observing a move toward converged infrastructures and SDDC (Software Defined Data Centers), but change is a slow process in the datacenter largely due to legacy infrastructures and applications. For now, Intel is optimizing their drives for the current operating environment.
Reliability Statistics - Data Protection
Reliability Statistics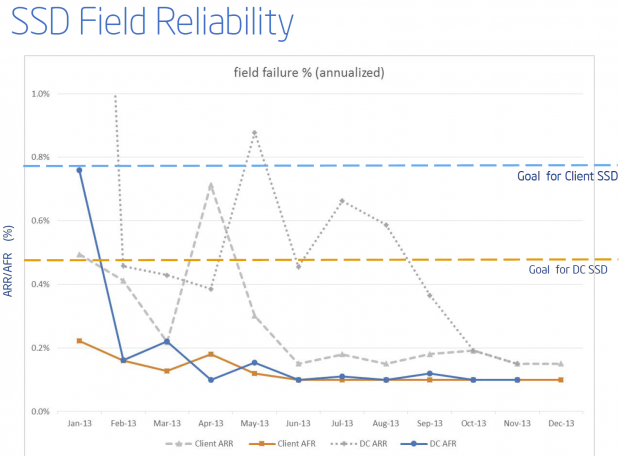 Recently Intel invited members of the media, including TweakTown, to their Folsom campus for a deep dive on the inner workings of their SSDs. There was a constant running theme of Intel's commitment to reliability during our visit. Intel considers reliability at every step in the design, engineering, and validation process. This concurrent optimization extends to all levels of SSD design and quality control.
The fruit of this outstanding effort is possibly the lowest field failure rate in the industry. We have to throw in a big disclaimer; no other SSD manufacturer releases official numbers so it is impossible to ascertain who the best really is. Official field reliability data is rare due to industry silence on the matter, and this did not start with SSDs. HDD manufacturers have notoriously kept reliability data secret for years, leading many to believe that the real failure numbers are almost nightmarish.
We have relied upon anecdotal failure rate data provided by a European SSD reseller as a guideline for years, and even with the somewhat inaccurate data, Intel has always had the lowest return rate. The problem with relying upon return rate data is that not all returns are actually due to a failure of the storage device. Many cases are simply user error, denoted by the ARR (Annual Return Rate) on the chart, which is higher than the actual failure rate (AFR - Annual Failure Rate).
SSDs enjoy a much lower failure rate at 1% than HDDs, which (unofficially) fall into the 5-6% range. Intel's goal is to fall below .73% for client products and .45% for datacenter products. The graph above reveals that Intel has managed to yield much lower failure rates than their own stringent goals. The AFR is less than .25% over a sample size of over 2 million drives. Reliability is not something Intel just preaches to others, they switched all Intel employees from HDDs to SSDs and yielded a 5X reduction in failure rates.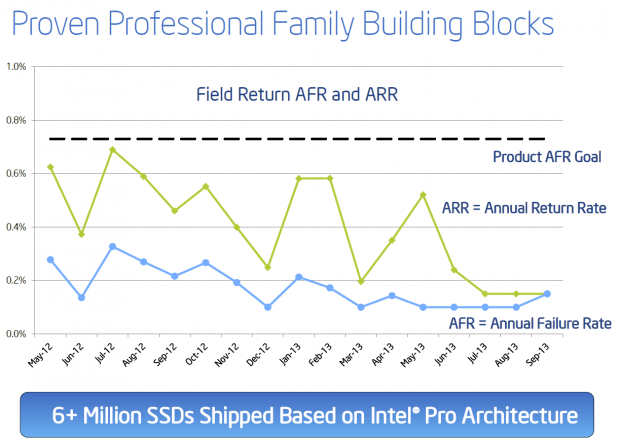 The failure rate for Intel's professional series of drives also falls well below expectations. Currently Intel is the only SSD manufacturer confident enough to reveal their field reliability data, and we applaud Intel's unprecedented transparency with their failure rate statistics. Do not hold your breath waiting for other manufacturers to come forward with the same data; companies guard field reliability data closely.
Data Protection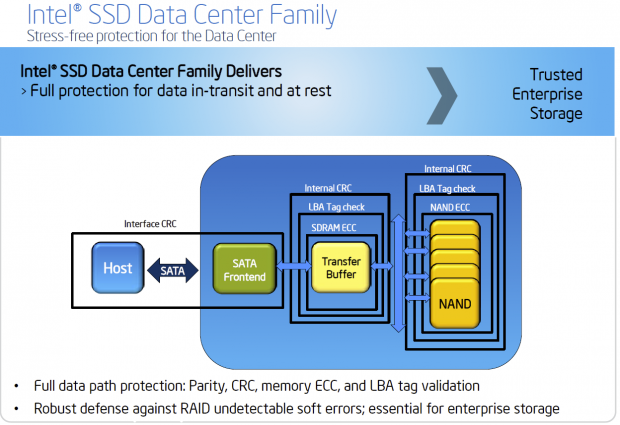 .
If you boil down reliability to its core, it is really all about protecting user data. Intel addresses this with full data path protection through parity, CRC, memory ECC, and LBA tag validation. This ensures that the data read from the drive is the same as the original data written.
Threats to reliably storing data can come from all angles. One notable problem stems from cosmic rays. These rays create soft errors in the controller and DRAM, which can lead to data loss. Luckily, this is not a frequent occurrence, but Intel is dedicated to removing the chance of soft errors on their drives. This is accomplished by bombarding SSDs with the Los Alamos Neutrons Science Centers particle accelerator. Intel tests the drives until they fail, and then use failure analysis to determine methods to avoid soft errors. Using this approach Intel has reduced the chance of a soft error to 1E25, or one silent error per billion drives. This leads to a failure rate due to soft errors to a nearly immeasurable level of .029%.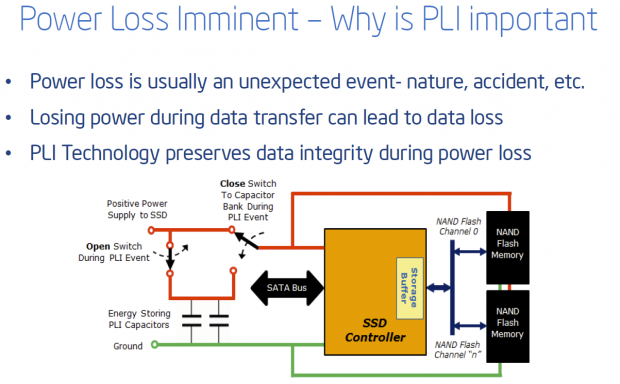 PLI (Power Loss Imminent) Technology protects user data in the event of host power loss. This system actually detects unexpected power loss prior to the event, and capacitors provide enough power to commit data inflight to the underlying media. One of the most difficult aspects of incorporating sound PLI technology is to test power events during other operations, such as garbage collection or TRIM events.
Intel creates multiple fault scenarios to eliminate all possible data loss during power loss events, and applies XOR to the flushed data for an extra level of protection. Intel conducted over 2 million PLI cycles for the DC S3700 and DC S3500 series. The Intel DC P3700, and its siblings, feature a user-initiated PLI self-test that assures the system is working correctly.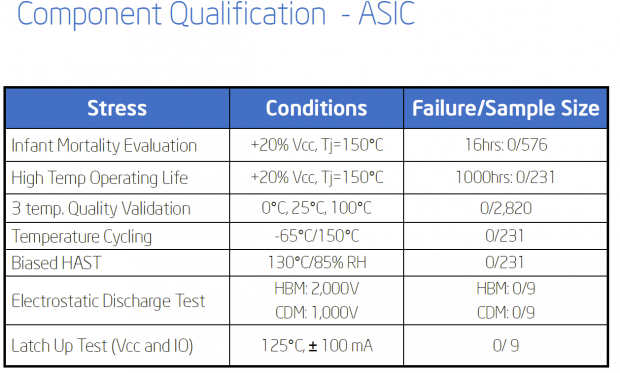 One of the biggest benefits of vertical integration is the close control of all the components used in the product. Intel utilizes their own proprietary ASICs in the datacenter series that go through intense internal validation during development. Intel also utilizes their own NAND from the IMFT partnership with Micron, and like every other component, it goes through a rigorous qualification processes beyond the requirements of JEDEC.
Measuring Reliability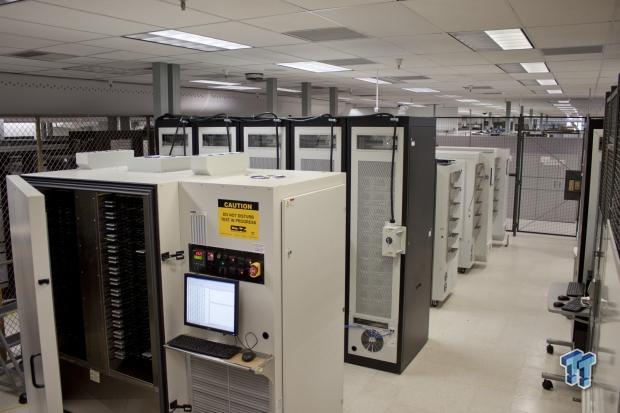 Intel's Folsom lab has an area dedicated to testing and validating SSDs. Intel follows the ethos of measuring reliability, not predicting it. Engineers accomplish this by testing 1000's of drives for 1000's of hours. Engineers place drives in temperature-controlled cabinets to test the SSDs at the various temperature extremes of their specifications. The cabinets also test drives as they transition between different temperature ranges (thermal cycling) to find any design weaknesses.
To the right is a door that leads to a cage that holds a sample of literally every single batch of Intel SSDs to make it through validation. This allows Intel to go back and reference the actual drives if any problems crop up in the future.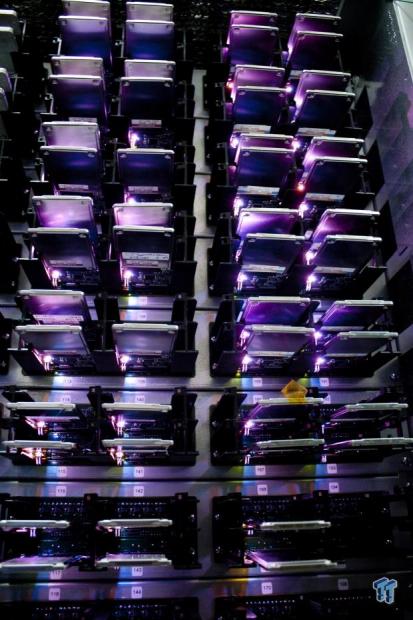 Engineers blast SSDs with heavy workloads while simultaneously exposing them to temperature extremes in this cabinet. Other cabinets fulfill varying functions as the SSDs are tested to the end of endurance. Intel follows JEDEC standards for their testing, but their own internal guidelines are usually stricter than the minimums required by JEDEC (JESD476/JEP22) and other standardized approaches.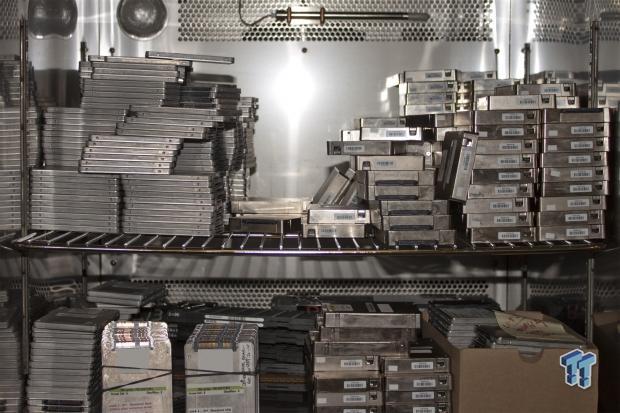 Endurance is measured by the length of time data is retained during certain temperature ranges. This small oven keeps these test samples at a very high temperature for extended periods, and then engineers examine the data to ensure it remains uncorrupted.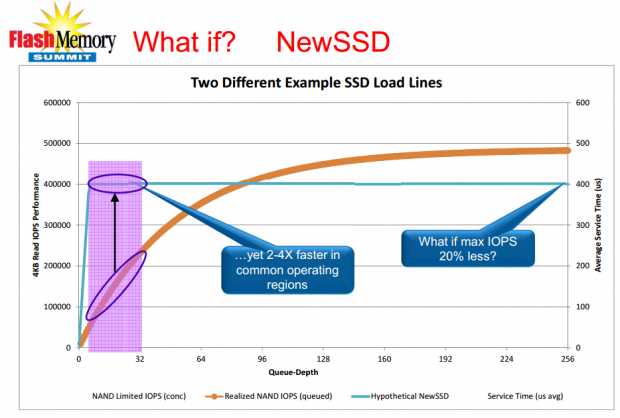 Ensuring compatibility expands upon the mantra of a '1000's drives for 1000's of hours' by adding a new element - on 1000's of systems. Intel tests compatibility on a massive scale with real-world servers and applications. The compatibility lab is constantly growing, and this is just one of many rows of servers that test Intel SSDs around the clock.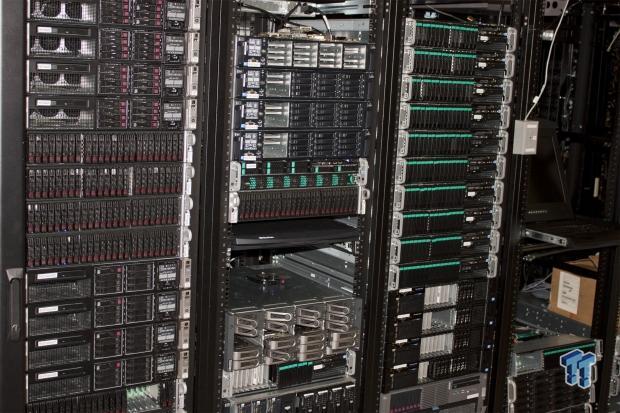 Interoperability begins with membership on standards committees, such as SNIA, NVMe, SATA-IO, and PCI-SIG. Plugfests start the process prior to finalizing product designs. Once Intel finalizes designs, they test with a broad variety of enterprise applications, and operating systems, in each platform to guarantee broad compatibility for their products after design. Intel also shares information with ISVs, IHVs, and OEMs, and continually monitor any problems in the field.
Design and Specifications
Intel DC P3700 1.6TB Design
.
The Intel DC P3700, P3600, and P3500 are also available in a 2.5" 15mm form factor.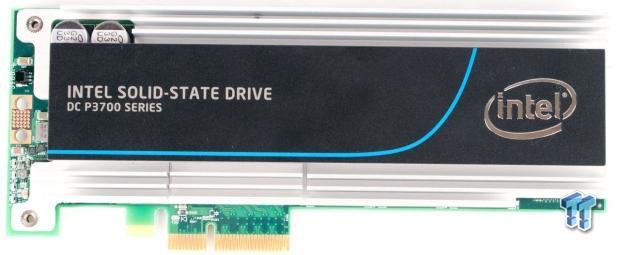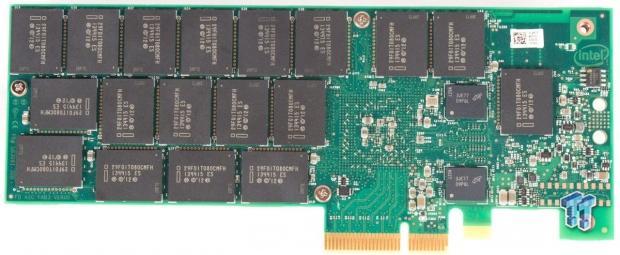 The DC P3700 has a large heat sink that covers the face of the single PCB design. The previous generation Intel 910 had three PCBs. A single PCB is preferable because it minimizes the number of possible failure points, and Intel can pack up to 2TB on one PCB. The bottom of the PCB also houses two packages of Micron DRAM; the 1.6TB capacity point packs 2.5 GB of ECC DDR3-1600 cache. A row of four LEDs along the edge of the PCB near the bracket signals the DC P3700's operating status.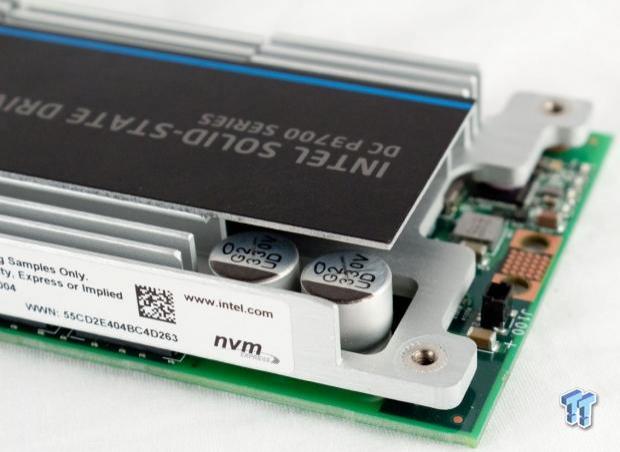 The large heat sink hides the 18-channel Intel proprietary controller, and the remainder of the 30 HET MLC packages. The Intel DC P3700 features 25% overprovisioning. We also note a separate heat sink protruding from the side of the main heat sink.


The heat sink consists of two separate pieces that cool NAND and one component that cools the controller. This passive heat sink arrangement requires 300 LFM and is designed for the horizontal airflow found in servers.
Management and Specifications
The Intel Solid-State Drive Datacenter Tool (ISSDCT) is a CLI-based utility that provides management capabilities like SMART monitoring, secure erase, firmware updating, an endurance analyzer, and other features for Intel datacenter drives. This spartan management system lacks much of the refinement and monitoring capabilities provided by other PCIe SSD manufacturers. The P series supports out-of-band management through SMBus and I2C.
Intel specifications include iops, MB/s, latency, and QOS measurements. The DC P3700 is bootable with UEFI and supported operating systems, and presents itself as one volume. The 400GB capacity requires airflow of 200LFM, and the higher-capacity models need 300LFM. Link State Power Management provides power management features.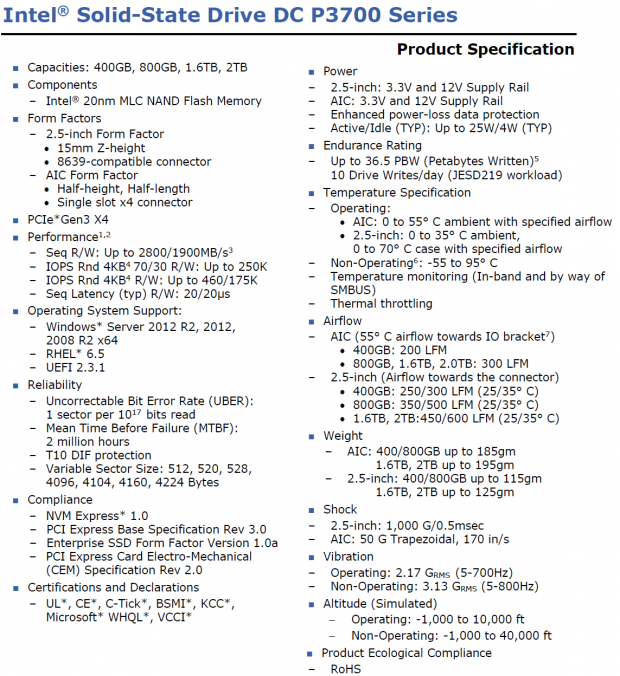 Test System and Methodology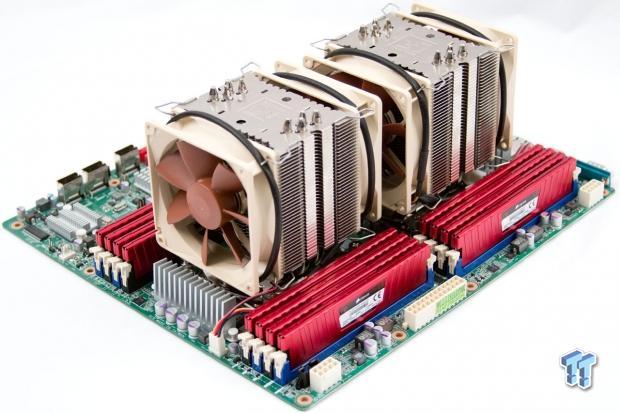 We designed our approach to storage testing to target long-term performance with a high level of granularity. Many testing methods record peak and average measurements during the test period. These average values give a basic understanding of performance, but fall short in providing the clearest view possible of I/O QoS (Quality of Service).
While under load, all storage solutions deliver variable levels of performance. 'Average' results do little to indicate performance variability experienced during actual deployment. The degree of variability is especially pertinent, as many applications can hang or lag as they wait for I/O requests to complete. While this fluctuation is normal, the degree of variability is what separates enterprise storage solutions from typical client-side hardware.
Providing ongoing measurements from our workloads with one-second reporting intervals illustrates product differentiation in relation to I/O QOS. Scatter charts give readers a basic understanding of I/O latency distribution without directly observing numerous graphs. This testing methodology illustrates performance variability, and includes average measurements, during the measurement window.
IOPS data that ignores latency is useless. Consistent latency is the goal of every storage solution, and measurements such as Maximum Latency only illuminate the single longest I/O received during testing. This can be misleading, as a single 'outlying I/O' can skew the view of an otherwise superb solution. Standard Deviation measurements consider latency distribution, but do not always effectively illustrate I/O distribution with enough granularity to provide a clear picture of system performance. We utilize high-granularity I/O latency charts to illuminate performance during our test runs.
Our testing regimen follows SNIA principles to ensure consistent, repeatable testing, and utilizes multi-threaded workloads found in typical production environments. We tested the 1.6TB Intel DC P3700 (25W mode) against the 1.4TB Micron P420m and the 2.2TB HGST FlashMAX II. The first page of results will provide the 'key' to understanding and interpreting our test methodology.
Benchmarks - 4k Random Read/Write
4k Random Read/Write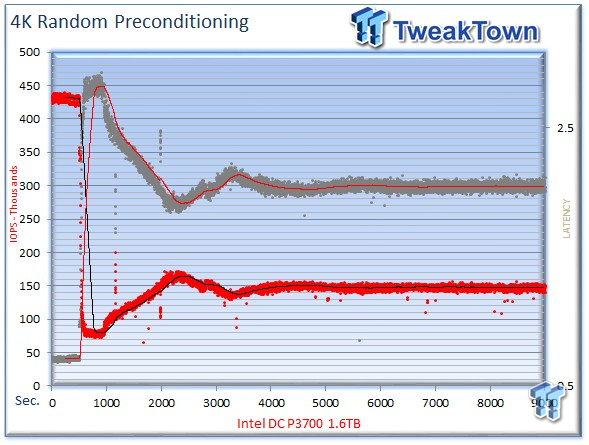 We precondition the 1.6TB Intel DC P3700 for 9,000 seconds, or two and a half hours, receiving performance reports every second. We plot this data to illustrate the drives' descent into steady state.
This dual-axis chart consists of 18,000 data points, with the IOPS on the left and the latency on the right. The red dots signify IOPS, and the grey dots are latency measurements during the test. We place latency data in a logarithmic scale to bring it into comparison range. The lines through the data scatter are the average during the test. This type of testing presents standard deviation and maximum/minimum I/O in a visual manner.
Note that the IOPS and Latency figures are nearly mirror images of each other. This illustrates that high-granularity testing gives our readers a good feel for latency distribution by viewing IOPS at one-second intervals. This should be in mind when viewing our test results below. This downward slope of performance only happens during the first few hours of use, and we present precondition results only to confirm steady state convergence.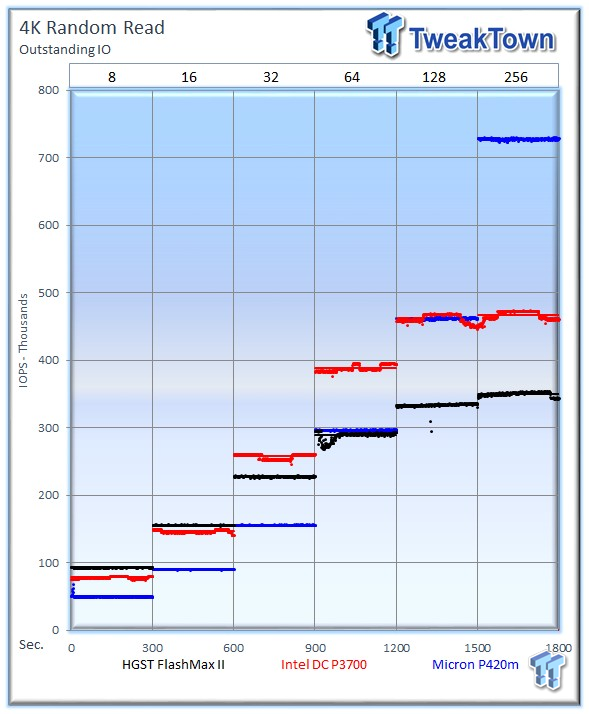 Each level tested includes 300 data points (five minutes of one second reports) to illustrate performance variability. The line for each OIO depth represents the average speed reported during the five-minute interval. 4k random speed measurements are an important metric when comparing drive performance, as the hardest type of file access for any storage solution to master is small-file random. One of the most sought-after performance specifications, 4k random performance is a heavily marketed figure.
The Intel DC P3700 averages 467,055 IOPS at 256 OIO (Outstanding I/O). The HGST FlashMAX II averages 350,532 IOPS and the Micron P420m averages 774,958 IOPS. The Intel provides great scaling at lower queue depths. Although it is beat slightly by the FlashMAX II at 8 & 16 OIO, it pulls ahead at 32 and 64 OIO. This highlights the performance tuning for lighter workloads. The P420m performance is massive at higher loads, easily topping the chart.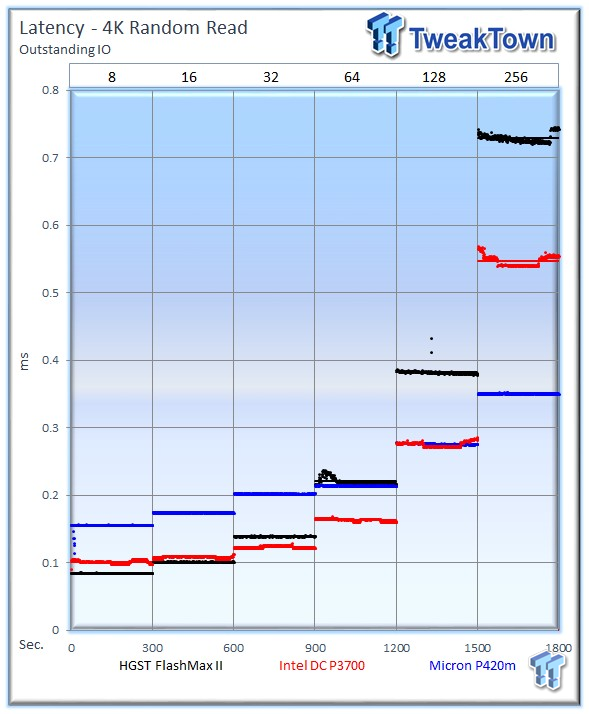 Latency is often the most important metric, and the DC P3700 provides solid scaling as we move to higher loads, where the P420m takes over.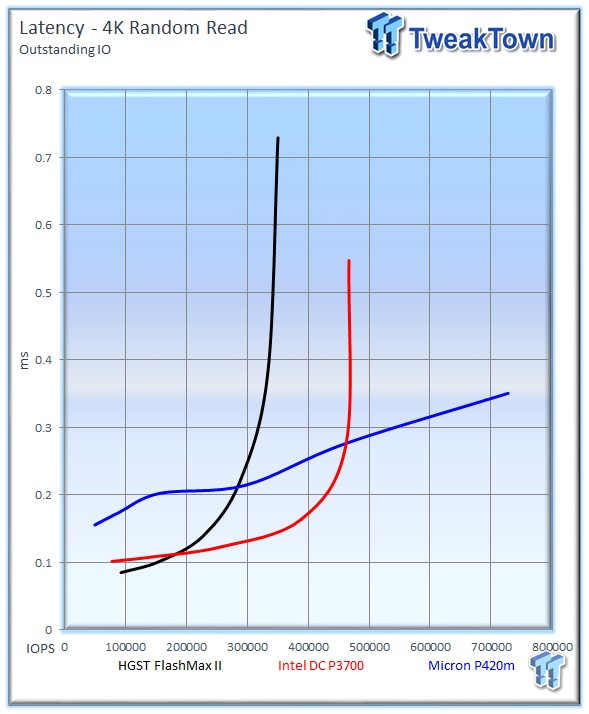 The DC P3700 provides great performance but the P420m eventually tops it with tremendous read speed. The DC P3700 delivers high performance with relatively low latency.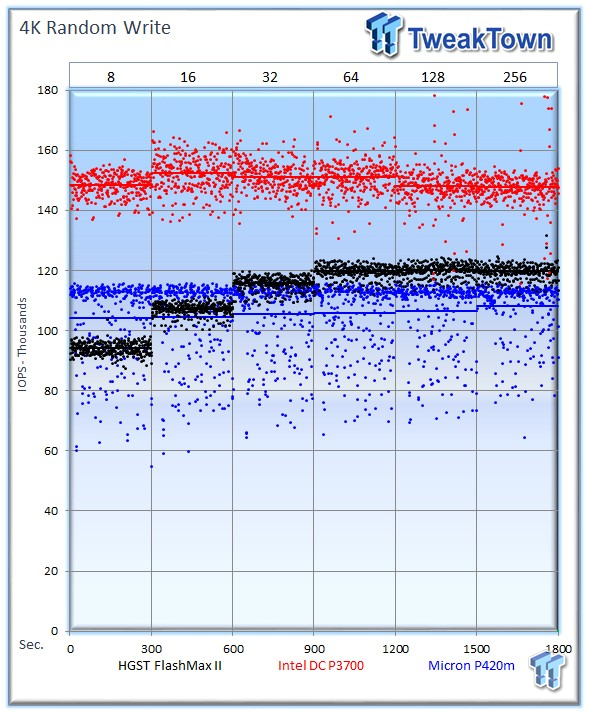 The Intel DC P3700 averages 147,846 IOPS at 256 OIO, the FlashMAX II averages 119,662 IOPS, and the P420m averages 98,304 IOPS. The DC P3700 actually peaks from 16-64 OIO, again indicative of the tuning for this performance segment. The high performance is also coupled with consistent performance, but the FlashMAX II also delivers a very tight band of performance.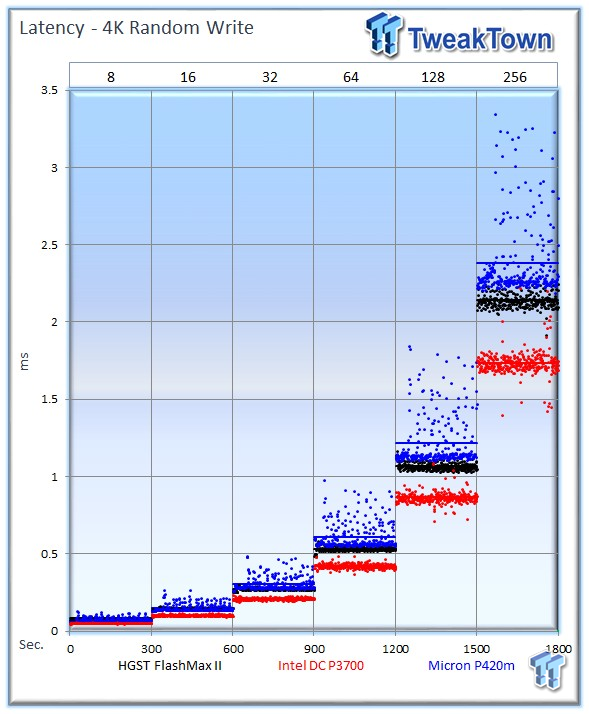 The DC P3700 easily leads this test while the P420m experiences some turbulence under the heavy write workload.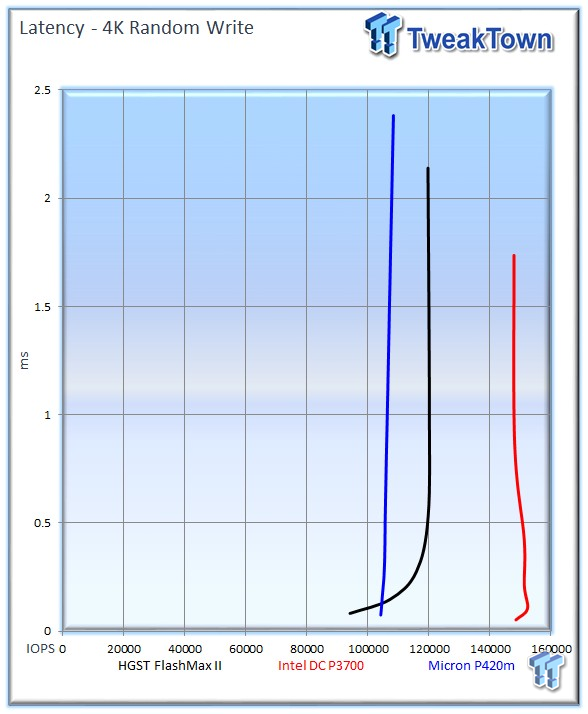 The DC P3700 settles far to the right in this test, indicating a superior IOPS to latency ratio. The FlashMAX II takes a heavier workload to get going, but the P420m and the DC P3700 deliver their maximum performance even under low write workloads.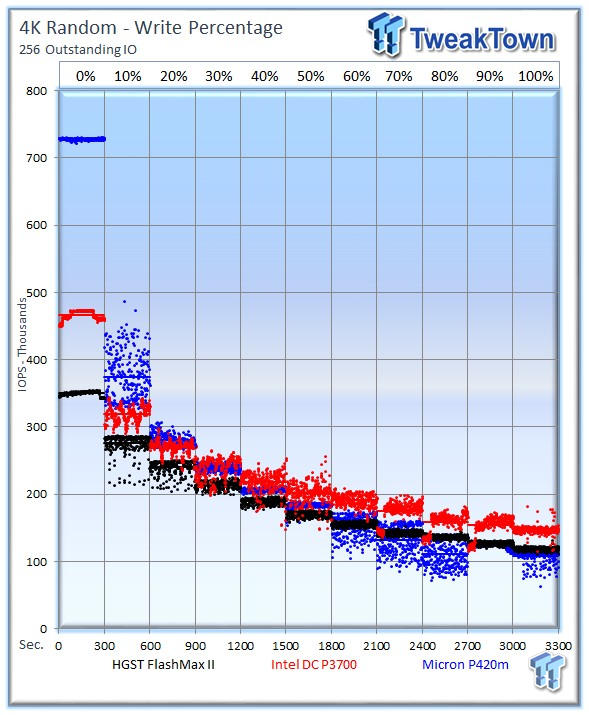 Our write percentage testing illustrates the varying performance of each solution with mixed workloads. The 100% column to the right is a pure 4k write workload, and 0% represents a pure 4k read workload.
The DC P3700 loses to the P420m in the read-centric 0-20% categories, but takes the lead for the remainder of the test. We conduct this test at 256 OIO, and the P3700 actually has higher performance at lower OIO, so performance is incrementally better during this test with a lower OIO.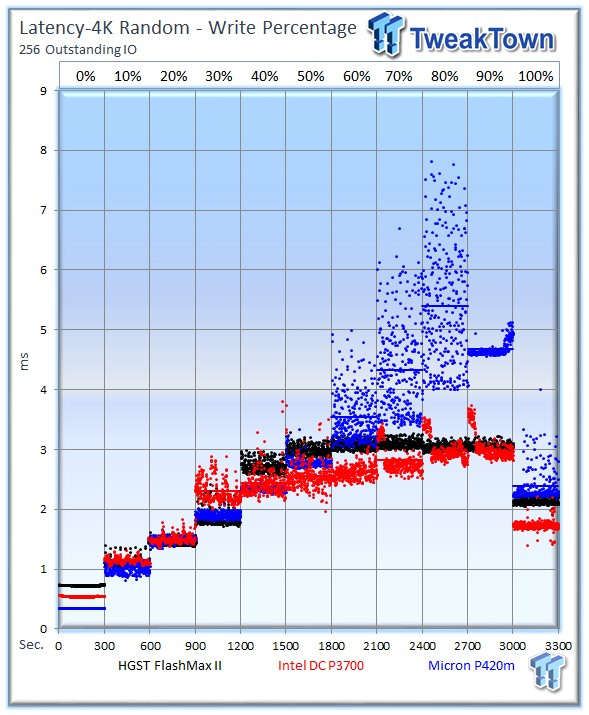 The DC P3700 manages to best the FlashMAX II in mixed latency performance in this test.
Benchmarks - 8k Random Read/Write
8k Random Read/Write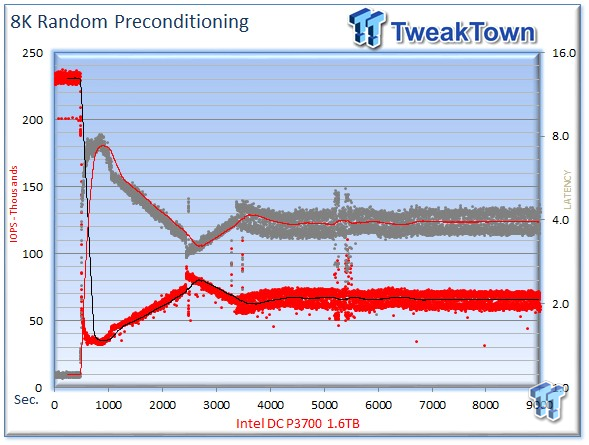 Many server workloads rely heavily upon 8k performance and we include this as a standard with each evaluation. Many of our server workloads also test 8k performance with various mixed read/write distributions.
The Intel DC P3700 averages 275,367 IOPS at 256 OIO. The FlashMAX II averages 207,859 IOPS, and the Micron P420m tops the chart with a blistering 387,785 IOPS. Once again, the FlashMAX II and the DC P3700 trade blows at lower OIO. The FlashMAX II features a proprietary interface, vFAS, that runs on the host system and helps provide excellent performance at low OIO.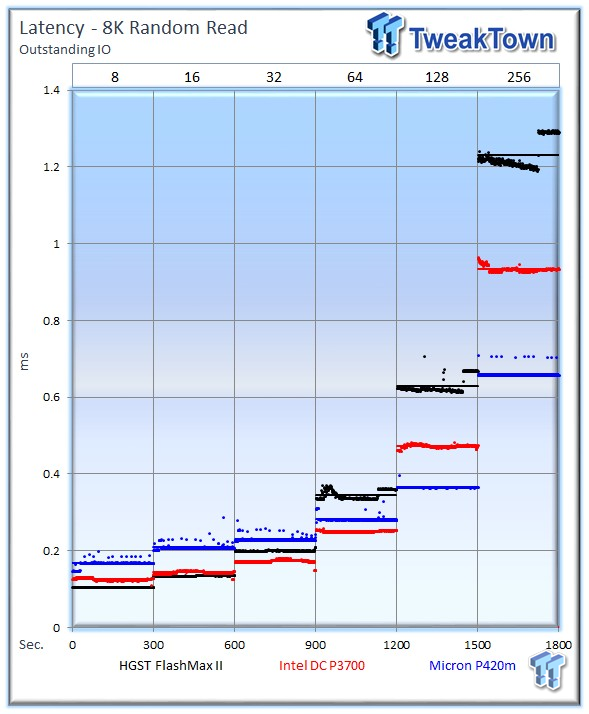 The P420m provides great latency once it can capitalize on the high OIO that unlocks its parallelism advantage.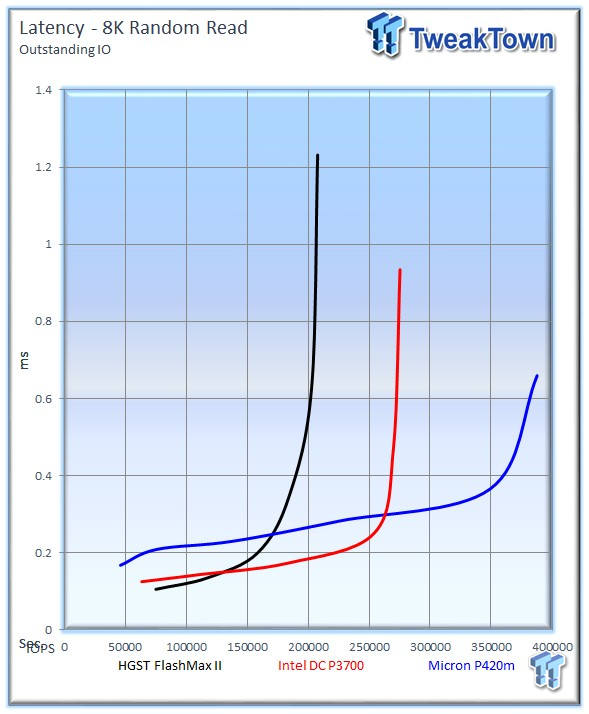 The DC P3700 and FlashMAX II remain competitive in this test, and the P420m shoots out to the side with very high peak performance.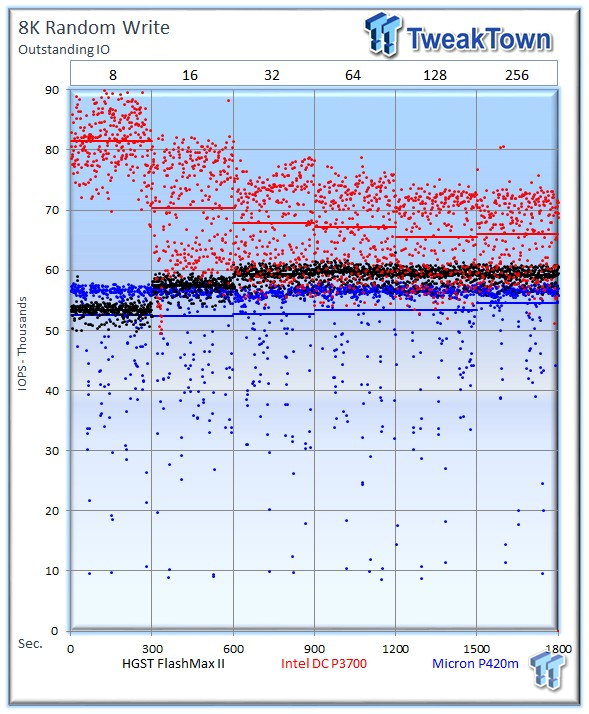 The DC P3700 averages 66,082 IOPS at 256 OIO, the P420m hits 79,633 IOPS, and the FlashMAX II tops out at a speed of 59,279 IOPS at 256 OIO. The P3700 delivers higher performance at 8 OIO than during the rest of the test. The DC P3700 exhibits excellent performance during heavy write workloads.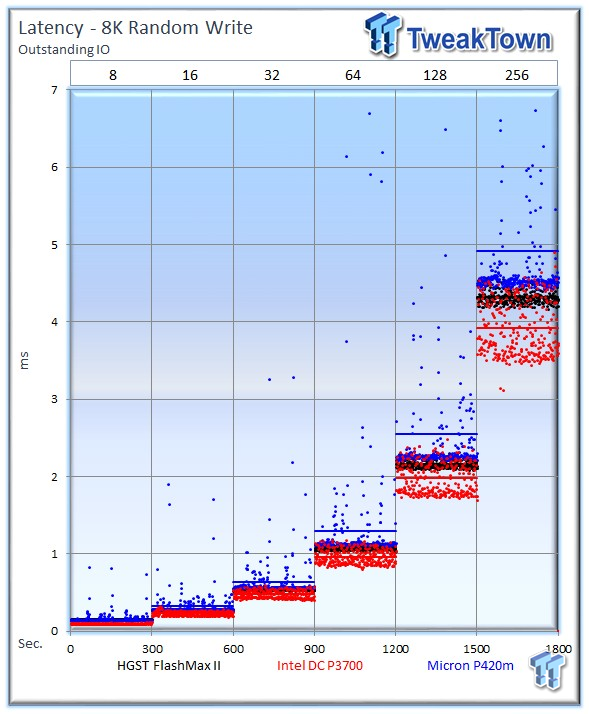 There are no surprises as the P3700 continues to lead in heavy write workloads.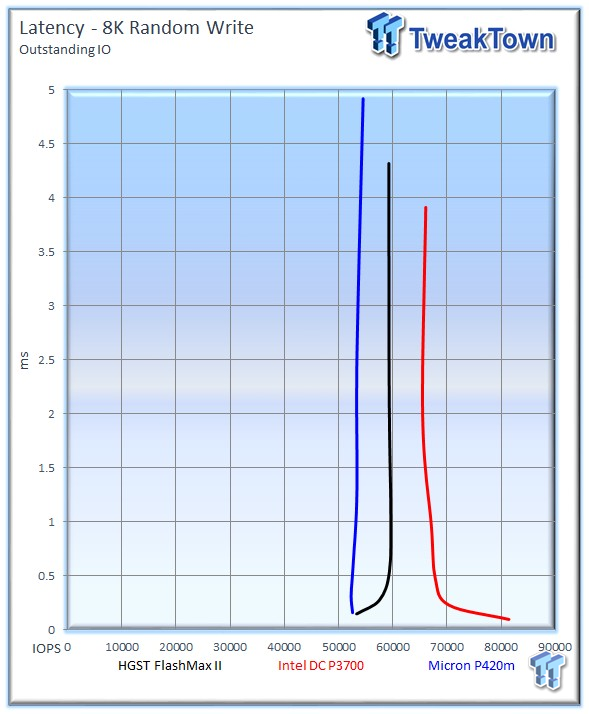 The 8k mixed workload results reveal the DC P3700 taking the lead quicker as we mix in more write activity. 8k mixed activity is one of the most common workloads experienced while using databases, and the DC P3700 scores excellent in this test.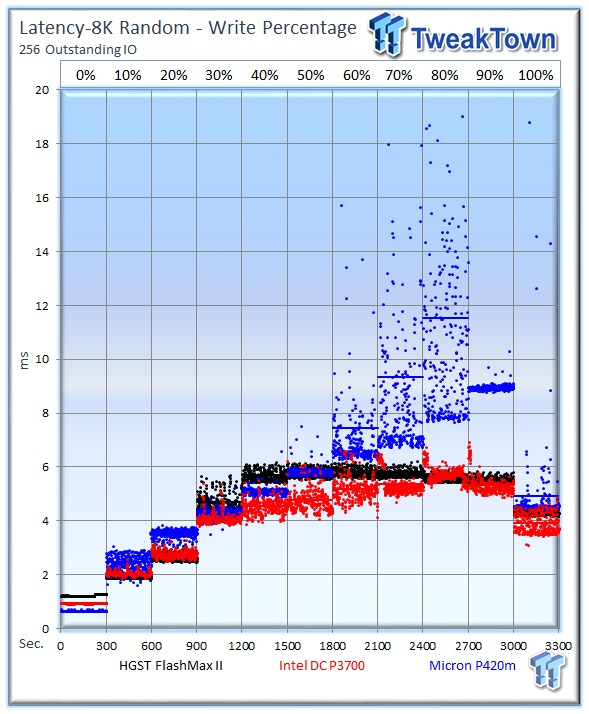 The DC P3700 delivers expected latency characteristics during the test.
Benchmarks - 128k Sequential Read/Write
128k Sequential Read/Write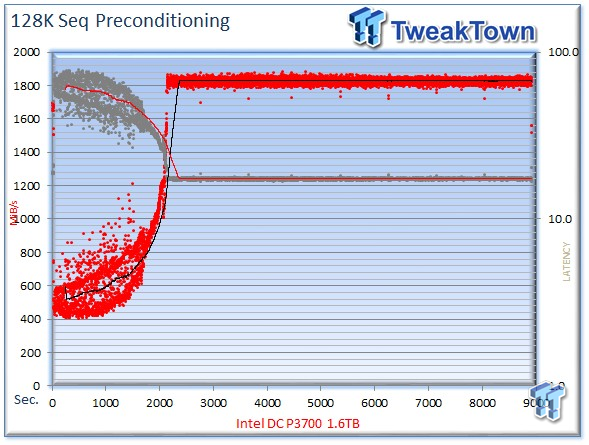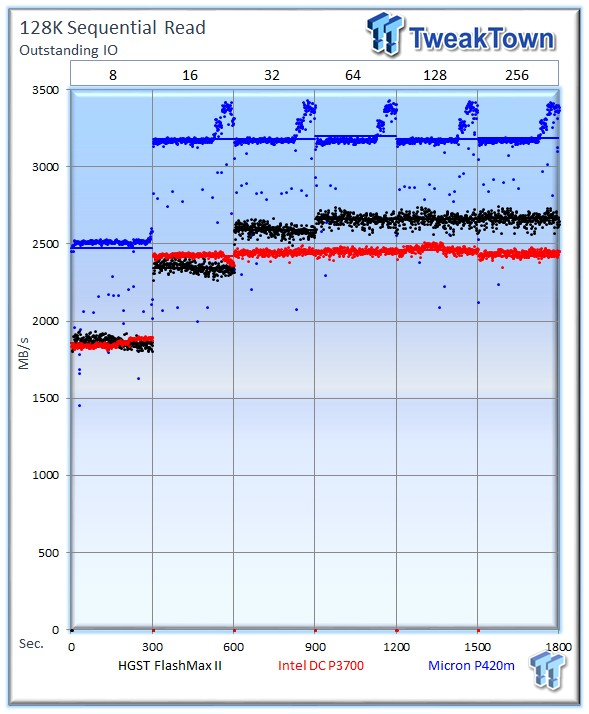 128k sequential speed reflects the maximum sequential throughput.
The Intel DC P3700 delivers 2,392 MB/s at 256 OIO, the HGST FlashMAX II trails with an average of 2,664 MB/s at 256 OIO, and the P420m leads with 3,186 MB/s. The DC P3700 falls quite a bit in this workload, while the P420m flirts with maxing out the PCIe 3.0 bus.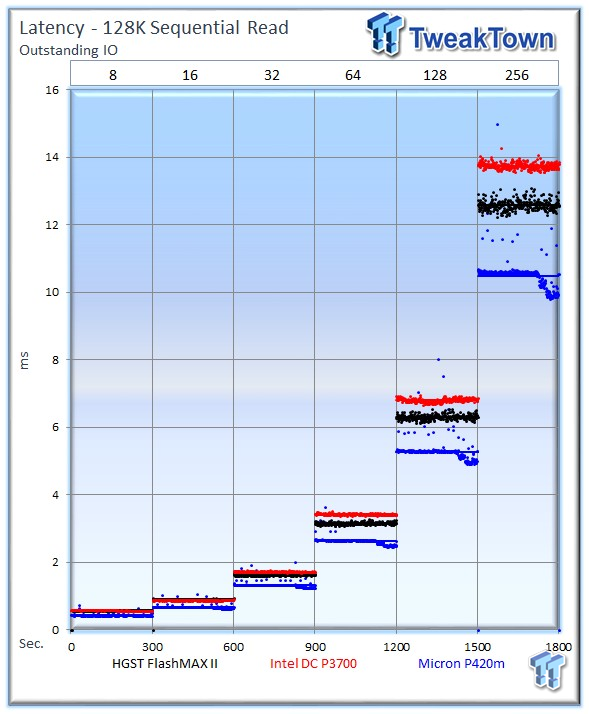 Latency testing shows the P420m holding a substantial advantage with sequential read workloads.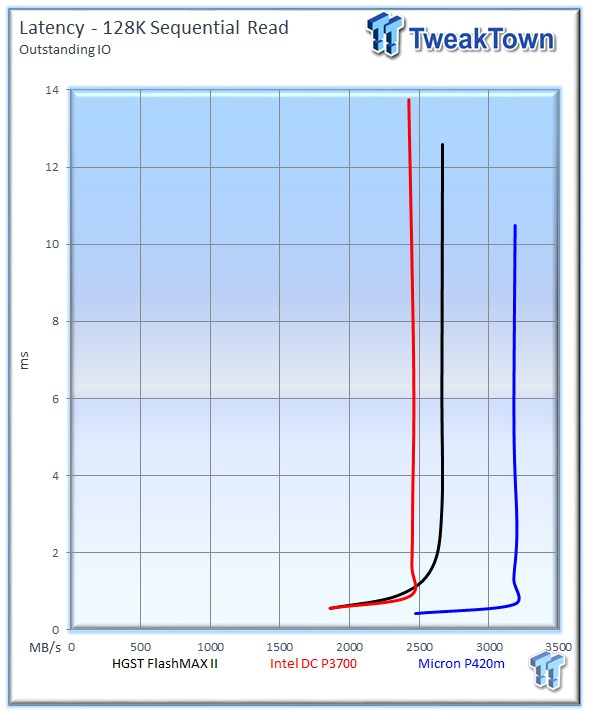 The P420m provides excellent Latency v MB/s performance.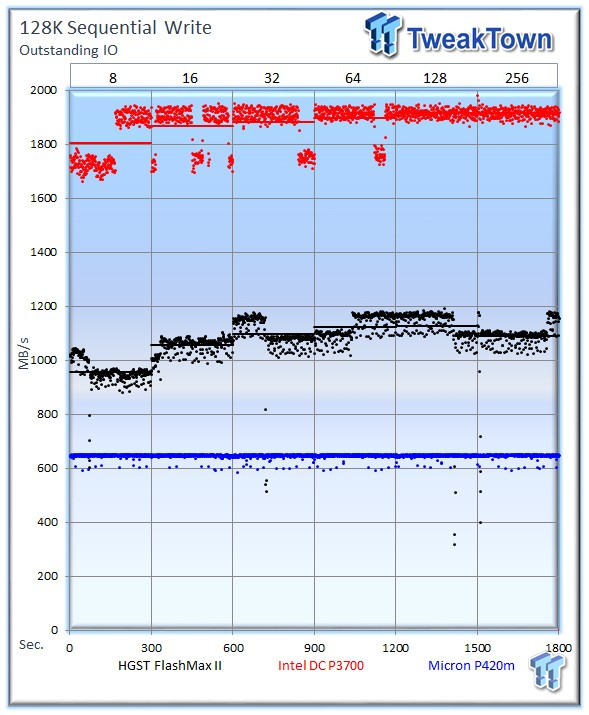 Sequential write performance is important for workloads such as OLTP logs, OLAP, batch processing, and transaction logging.
The DC P3700 stretches its legs and delivers 1,818 MB/s in the sequential write workload. The HGST FlashMAX II writes at 1,091 MB/s at 256 OIO and the P420m brings in the rear with 647 MB/s.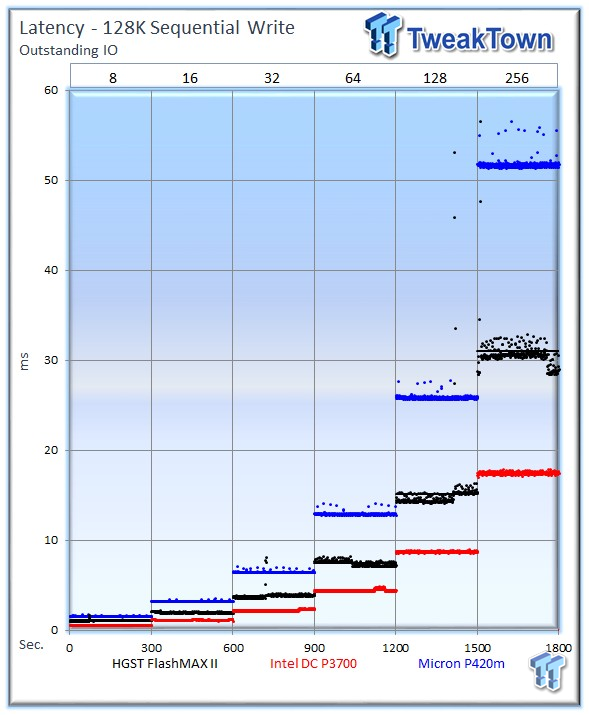 The DC P3700 enjoys a considerable lead in sequential latency.
The DC P3700 distances itself from the pack with all of its performance coming at very low latency.
The DC P3700 scores very well with a 100% write workload, but drops significantly at a 90% write workload. It also encounters some turbulence in the 60-70% range.
Database/OLTP and Webserver
Database/OLTP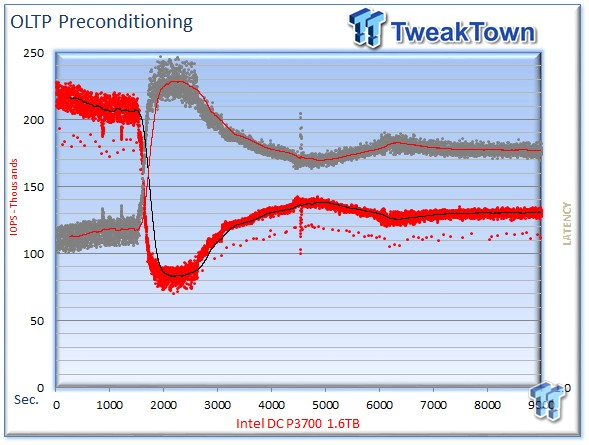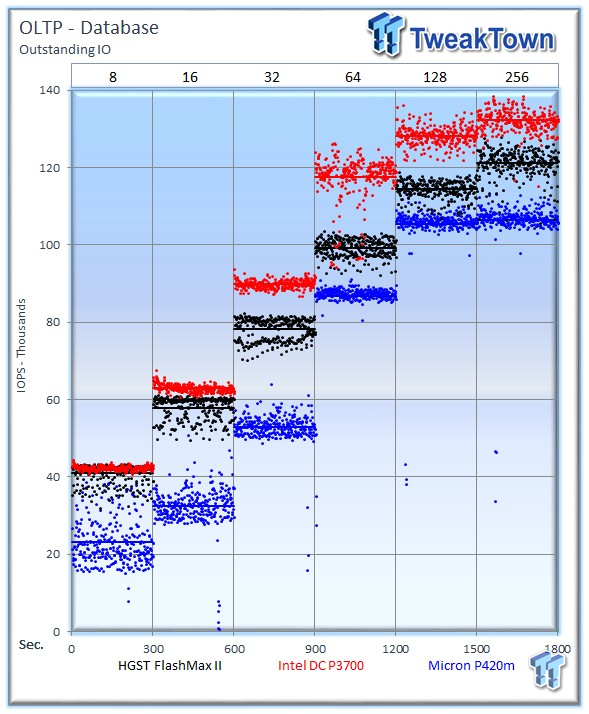 This test consists of Database and On-Line Transaction Processing (OLTP) workloads. OLTP is the processing of transactions such as credit cards and high frequency trading in the financial sector. Databases are the bread and butter of many enterprise deployments. These demanding 8k random workloads with a 66 percent read and 33 percent write distribution bring even the best solutions down to earth.
The Intel DC P3700 averages 132,238 IOPS at 256 OIO, the HGST FlashMAX II averages 121,240 IOPS, and the Micron P420m averages 102,265 IOPS. The DC P3700 leverages its excellent 8k mixed workload performance to lead the entire test.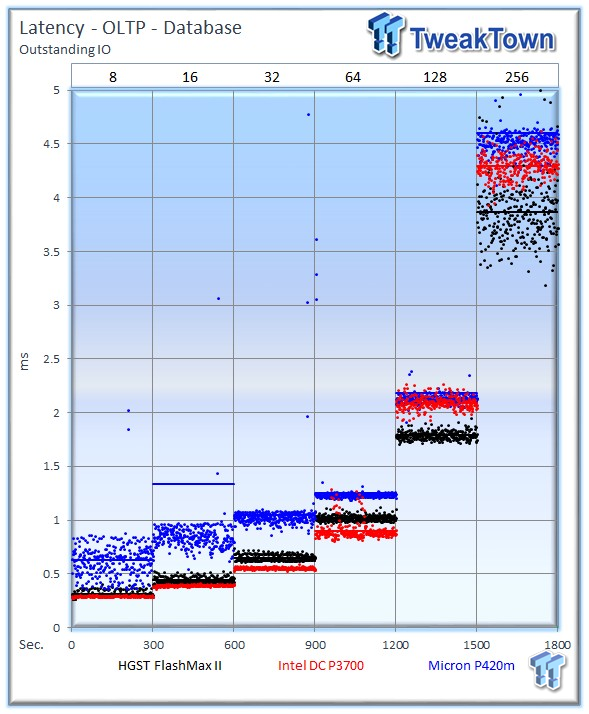 The DC P3700 provides great latency from 6-64 OIO, but surprisingly the FlashMAX II jumps into the lead for 128 and 256 OIO.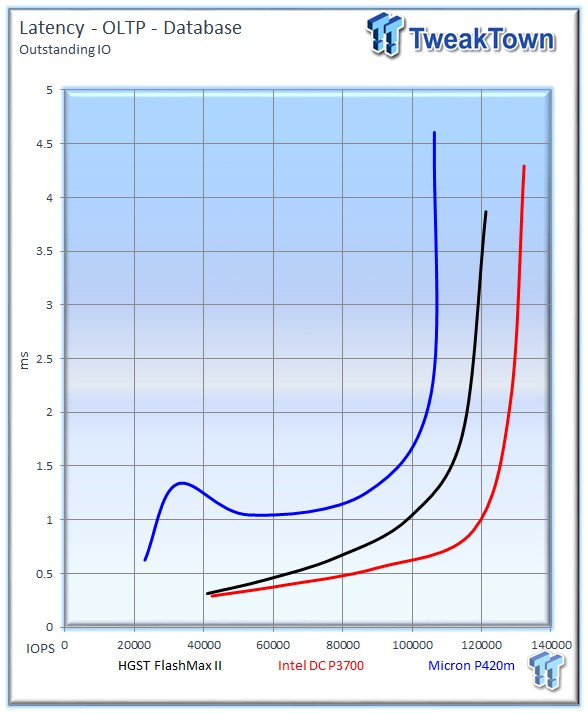 RAID 0 Webserver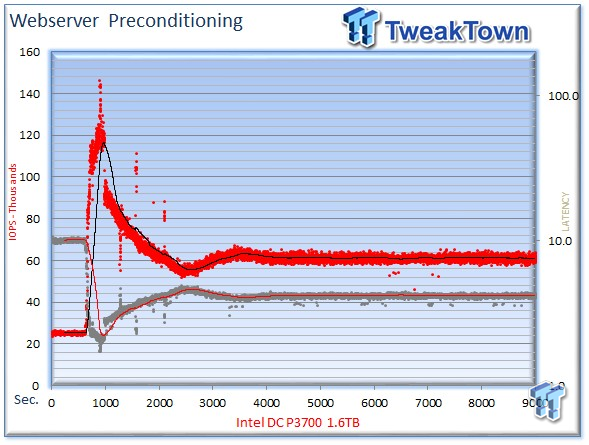 The Web Server workload is read-only with a wide range of file sizes. Web servers are responsible for generating content users view over the Internet, much like the very page you are reading. The speed of the underlying storage system has a massive impact on the speed and responsiveness of the server hosting the website.
The DC P3700 averages 138,073 IOPS at 256 OIO, the FlashMAX II lags behind with an average of 110,747 IOPS, and the P420m leads the test with 174,845 IOPS once there are enough outstanding commands to trigger its parallelism advantage. The DC P3700 leads the majority of the test.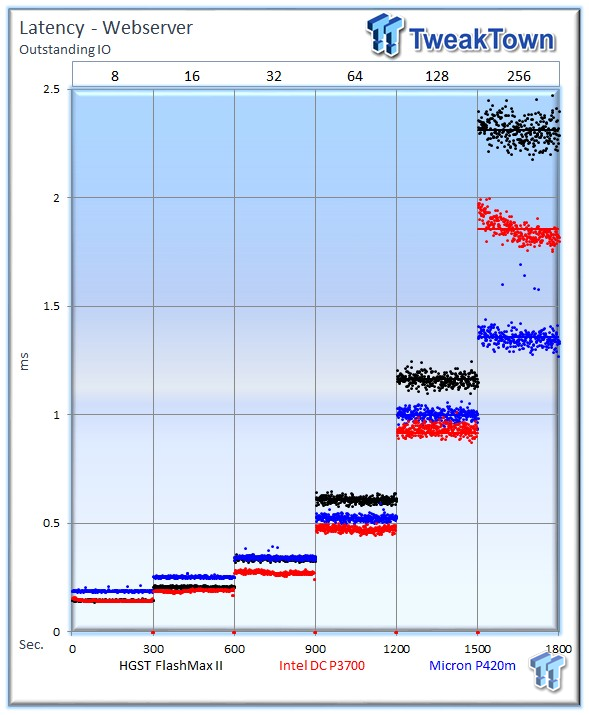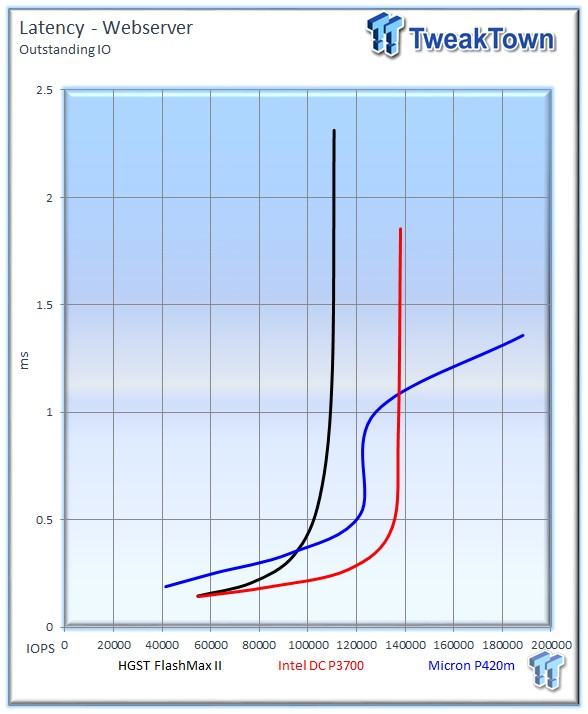 At .5ms the DC P3700 provides 138,000 IOPS, the P420m scores 120,000 IOPS, and the FlashMAX II weighs in with 103,000 IOPS.
Email Server and File Server
Email Server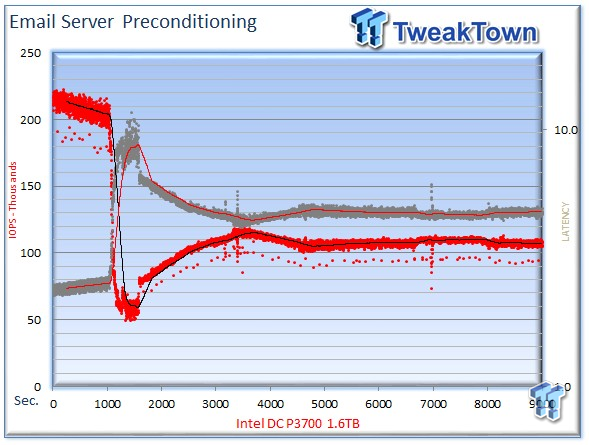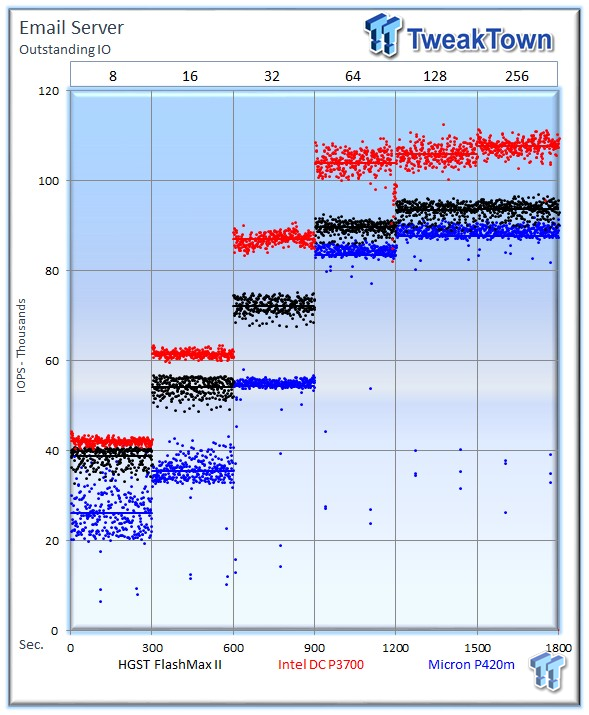 The Email Server workload is a demanding 8k test with a 50/50 read/write distribution. This application is indicative of performance in heavy random write workloads.
The Intel DC P3700 averages 107,768 at full load, the HGST FlashMAX II and Micron P420m are in a dead heat at 256 OIO, with an average of 93,771 and 92,416 IOPS, respectively. The DC P3700 scores another convincing win in this heavy write workload.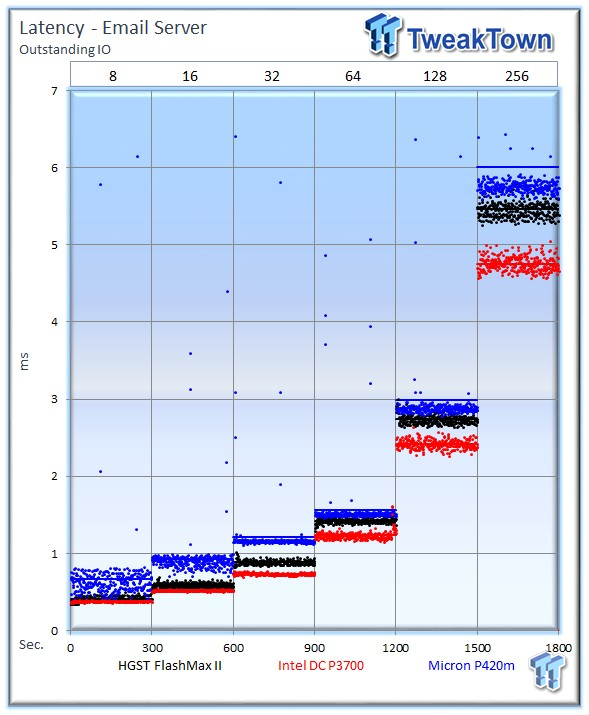 The DC P3700 provides lower latency during the test.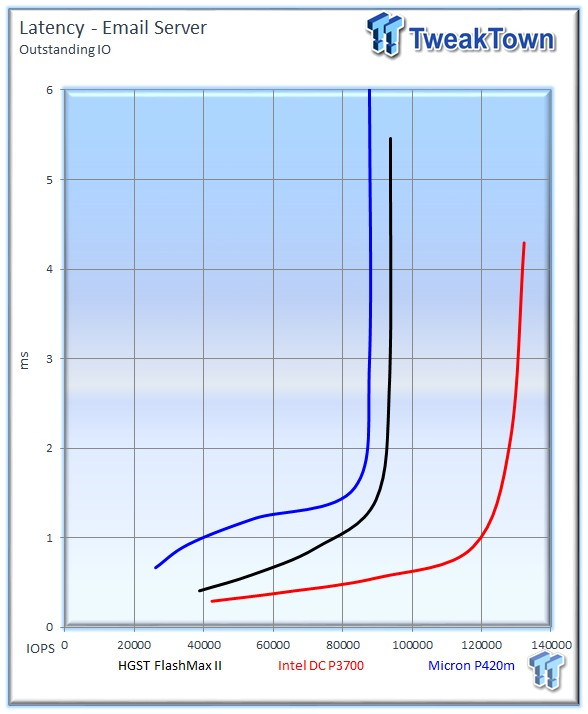 File Server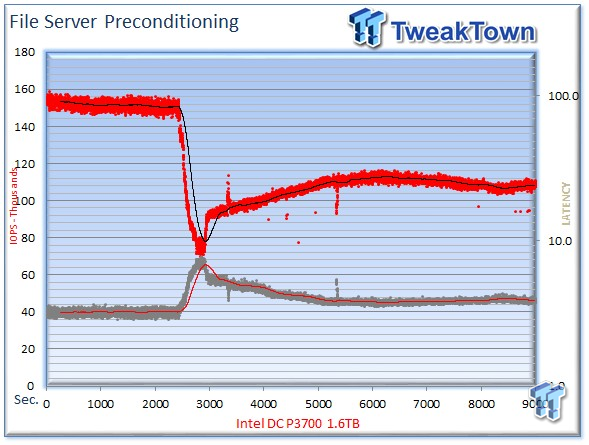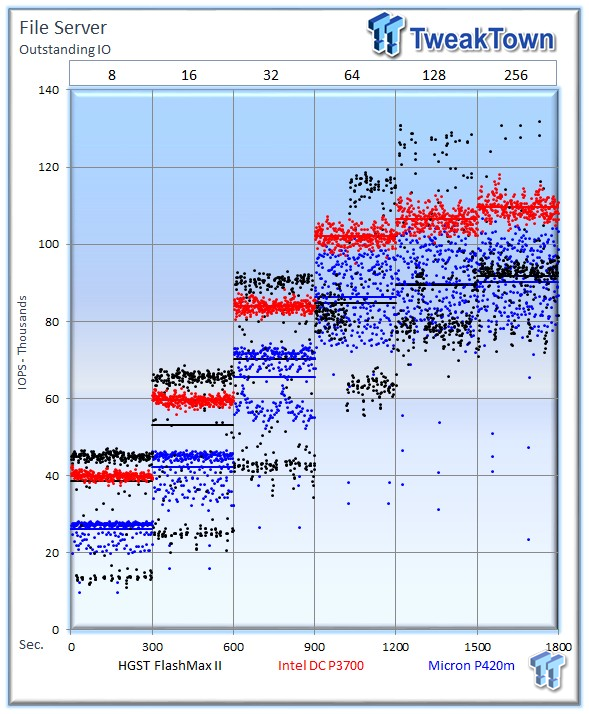 The File Server workload tests a wide variety of different file sizes simultaneously with an 80% read and 20% write distribution. The wide variety of simultaneous file size requests is very taxing on storage subsystems.
The DC P3700 provides 109,585 IOPS at 256 OIO with a tight performance distribution. The FlashMAX II experiences significant variability in this test and averages 91,820 IOPS at 256 OIO. The P420m also has difficulty with variability during this test and averages 70,574 IOPS.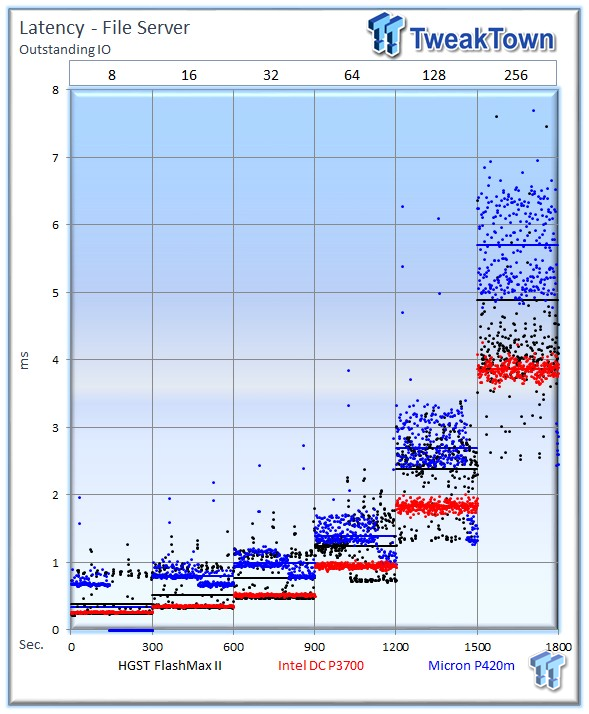 The DC P3700 dominates this test with superb latency.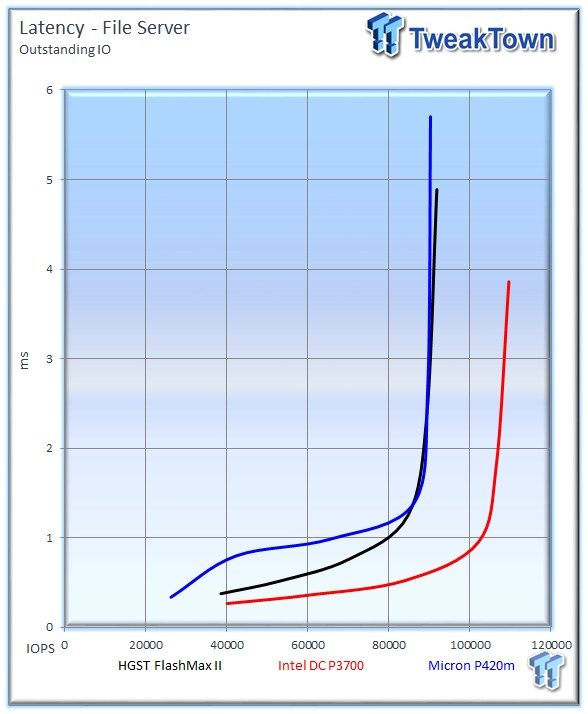 The DC P3700 distances itself from the pack with superb iops to latency performance.
Final Thoughts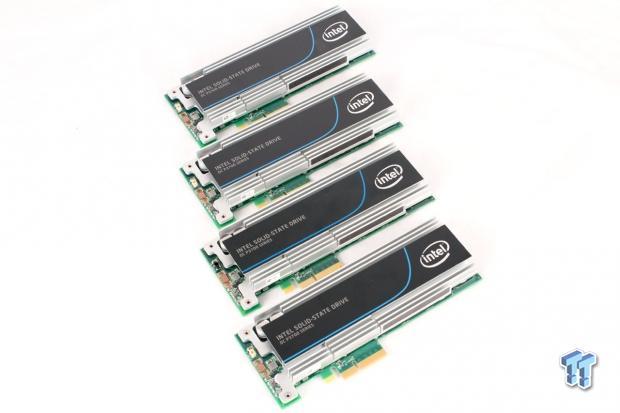 One of the overriding goals of the open source NVMe specification is to enable faster development of commoditized PCIe SSDs. NVMe's improved protocol stack, refined command set, and parallel command queue will power the future of all non-volatile based memory. Intel was part of a large industry consortium that helped develop the NVMe standard, but they are first to the market with retail products.
Today's IT departments are tasked with managing growing workloads with increasingly small budgets. This is leading to new scale out architectures and clustering techniques that require high performance. The DC P3700 can replace several SSDs and remove the need for cabling, HBA's, or RAID adapters, and accelerate performance, all in a small footprint.
Flash is a big piece of the performance puzzle, but cost is always a relevant metric. Intel's previous generation 910 featured a disruptive low price point, and the new Intel DC P3700 follows the same trend. The DC P3700's price is competitive with the high performance segment and features stout endurance metrics. The coming P3500 and P3600 versions will lower the entry-level price for PCIe SSDs. Perhaps most impressive, the entry and mid-level products tout solid performance in mixed workloads and sufficient endurance for lighter workloads.
Low price points are nice, but pairing them with a reliable design is also important. It is hard to gauge Intel's reliability in comparison to other manufacturers, simply because most manufacturers do not release failure rate data. Intel's willingness to disclose failure rate data highlights their commitment to reliability and their exhaustive interoperability tests ensure broad compatibility. There is the notable caveat that Intel's disclosed AFR rates does not include the new P series, but it highlights that their design and validation methodology is sound.
Intel brought performance consistency to the forefront with their datacenter series of SATA SSDs, and the DC 3700 continues that trend. We noted solid performance consistency in our server workloads. Intel is also refining their performance tuning by focusing on enhanced scaling in low load conditions. In our tests, we observed the DC P3700 performing very well in the middle ground, and it performed very well in heavy random write workloads. Performance was also very strong in mixed random workloads, where it tended to best the competition. Sequential read speed trailed competitors, but the DC P3700 scored a convincing win in sequential write workloads by nearly 1 GB/s.
The only area we found lacking in the DC S3700 was the management utility. The ISSDCT only comes in a CLI form. Intel's competitors employ GUI interfaces that minimize the amount of time needed to poll and monitor the drive, while also retaining the same CLI and similar out-of-band management features. The ISSDCT utility is functional, but does not provide many of the real-time monitoring features we have come to expect.
The DC P3700 features end-to-end data protection, power fail protection, and other features expected of a flagship PCIe SSD, and Intel guarantees the drive for five years. Its robust performance, excellent latency, and cutting-edge NVMe interface merit the TweakTown Editor's Choice Award.