BioWare releases PC hardware requirements for Dragon Age: Inquisition
With the promise that it will please hardcore and loyal PC gamers, EA and Bioware is confident that its upcoming Dragon Age titled will be loved by all!!!
Published Sun, Oct 12 2014 12:03 AM CDT
|
Updated Tue, Nov 3 2020 12:14 PM CST
Dragon Age Inquisition is all set for release in the United States on November 18th, but Bioware just released the official PC specification requirements for the upcoming game. Previously, it was reported that BioWare and EA were giving away Dragon Age: Origins which should help them to get newer players on board their fanbase.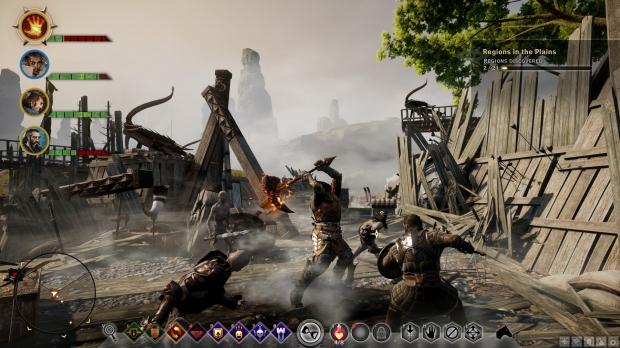 While Dragon Age is available for the consoles, the older and the newer generations from Sony and Microsoft, PC is where it should be interesting, assuming the game is made to please to PC master race. Along with the PC specification requirements, three screenshots of the game from its PC variant have been released.
But according to what is posted EA Origin's company's blog, the PC version is 'the real deal' since BioWare's roots are in PC gaming. EA and BioWare promises 'fine-tuned' for mouse and keyboard gameplay, along with many visual options for tweak and a support for 4K resolution and AMD Mantle support. The blog post goes on, saying that Dragon Age: Inquisition is a true testament to BioWare's love for PC gaming.
It better be REALLY good, now that they've raised many people's hopes up. The minimum and recommended PC specification requirement are as follows-
Minimum:
OS: Windows 7 or 8.1 64-bit
CPU: AMD quad-core CPU @ 2.5 GHz, Intel quad-core CPU @ 2.0 GHz
System RAM: 4 GB
Graphics CARD: AMD Radeon HD 4870, NVIDIA GeForce 8800 GT
Graphics Memory: 512 MB
Hard Drive: 26 GB
DirectX 10
Recommended:
OS: Windows 7 or 8.1 64-bit
CPU: AMD six core CPU @ 3.2 GHz, Intel quad-core CPU @ 3.0 GHz
System RAM: 8 GB
Graphics Card: AMD Radeon HD 7870 or R9 270, NVIDIA GeForce GTX 660
Graphics Memory: 2 GB
Hard Drive: 26 GB
DirectX 11
Related Tags