Micron Announces M600 2.5 SATA, mSATA and m.2 SSDs for OEMs
Micron releases M600 SSD product series in three form factors and introduces new Dynamic Write Acceleration feature.
Published Tue, Sep 16 2014 7:00 AM CDT
|
Updated Tue, Nov 3 2020 12:14 PM CST
Today Micron announced the new M600 SSD with Micron's innovative 128Gb 16nm MLC NAND flash. Availability comes in three form factors, 2.5" SATA, mSATA and m.2 (NGFF).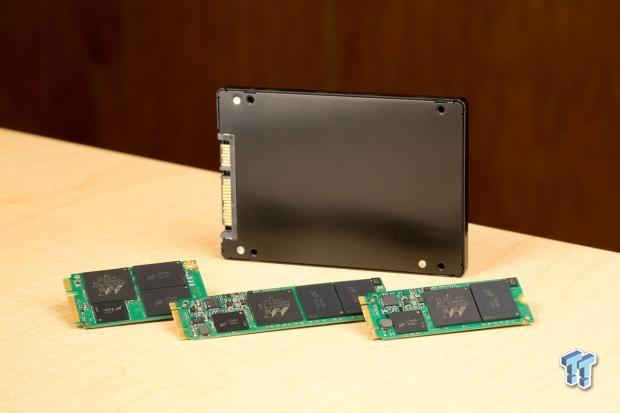 The M600 product series was designed for system builders and OEMs for use in off-the-shelf or custom PCs like corporate notebooks, Ultrabooks, tablets, video production, workstation and even embedded systems that require predictable high performance, low power consumptions, data security and high reliability.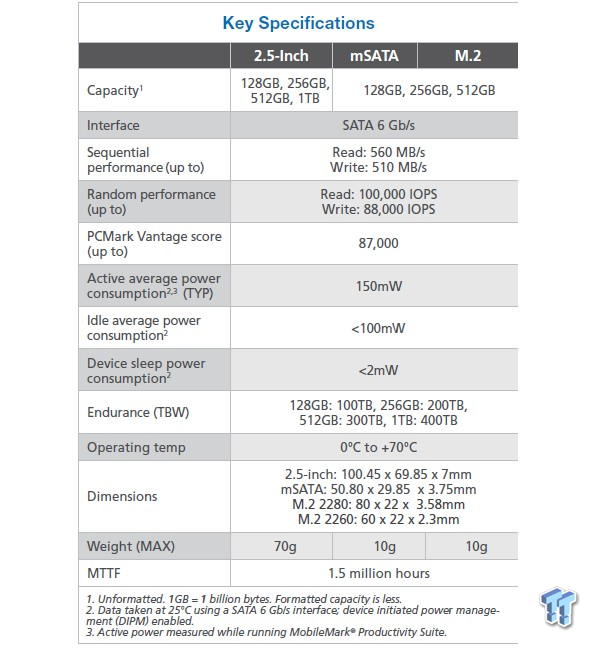 Micron claims sequential read performance at 560 MB/s and sequential write performance at 510 MB/s. Random performance is rated at 100K read and 88K write. The 4-corner numbers are impressive but just as impressive are the endurance ratings. Micron claims the 128GB models deliver a staggering 100TB enduarance. The 256GB takes that up to 200 TB, the 512GB model up to 300 TB and the large 1TB model can deliver 400 TB of write endurance.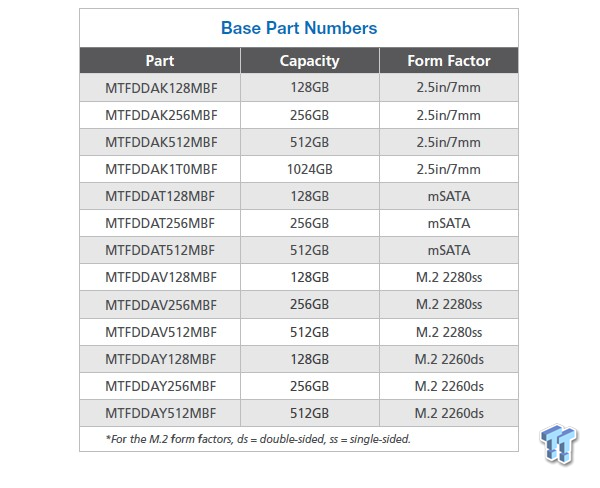 There are thirteen separate product SKUs for the M600 product family. The large 1TB capacity size only ships in the 2.5" form factor but the other three capacity sizes ship in all form factors. Micron has two m.2 models for each capacity size. This comes from the use of 2280 single-sided and 2260 double-sided models.
The M600 product series also introduces Micron's new Dynamic Write Acceleration feature that adds SLC layer programming. The feature increases write performance and strengthens endurance on the 128GB and 256GB models.
Dynamic write acceleration is a new feature available on Micron client SSDs. This brief describes the technology and the applications for which it is intended, as well as a brief explanation of implications for applications for which this feature was not designed.

Dynamic write acceleration may or may not be enabled on a given Micron SSD, depending on form factor and capacity. For example, on the M600 client SSD, the 2.5-inch, 512GB and 1TB drives do not have the feature enabled; all other M600 capacities and form factors do have the feature enabled. Check the product data sheet to verify support for this feature.
Micron released a white paper that explains the new Dynamic Write Acceleration feature in detail. You can read it here.
To date, performance gains on MLC-based SSDs have primarily been achieved by reducing overhead and increasing parallelism in NAND to match drive performance as close as possible to the theoretical capability of the underlying hardware. Theoretical hardware capabilities are based on many factors, including capabilities of individual NAND components, quantity of NAND components, NAND Flash channel speeds and quantities.

When the number of NAND components in the SSD is limited, as may be the case with small-density SSDs, the theoretical capability of the underlying hardware may become a limitation. This can be circumvented by using a higher number of smallercapacity NAND components to increase the amount of parallelism for the same amount of storage; however, this often adds cost because the lowestcost-per-gigabit NAND parts also tend to be the largest-capacity parts.

Dynamic write acceleration changes this paradigm. It is engineered to enable SSD performance beyond conventional hardware capabilities. It adapts NAND usage to fit the intended user environment without sacrificing user-accessible storage capacity.

Feature Terminology

In explaining the dynamic nature of this technology, the following terms are used:

Logical Saturation - The portion of user logical block addresses (LBAs) that contain data

Physical Saturation - The portion of physical NAND locations that contain data

Interface Idle Time - Periods of time between commands greater than 50ms

Acceleration Capacity - Current availability of NAND blocks that may be used to accelerate write performance
We hope to have more information soon. We're reaching out to some friendly system builders to see about getting some products in for further testing.
Related Tags