Samsung ramps DDR4 production before Intel E5-2600 V3 launch
Samsung ramps up DDR4 production.
Published Tue, Apr 8 2014 12:02 PM CDT
|
Updated Tue, Nov 3 2020 12:17 PM CST
Just moments ago Samsung announced the companies has increased DDR4 production. This comes on the just before of Intel's E5-2600 V3 series announcement that we expect soon.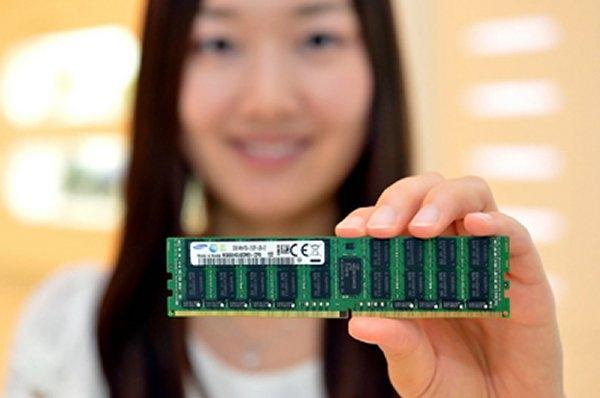 Upon launch, DDR4 will increase DRAM performance while at the same time lower power consumption.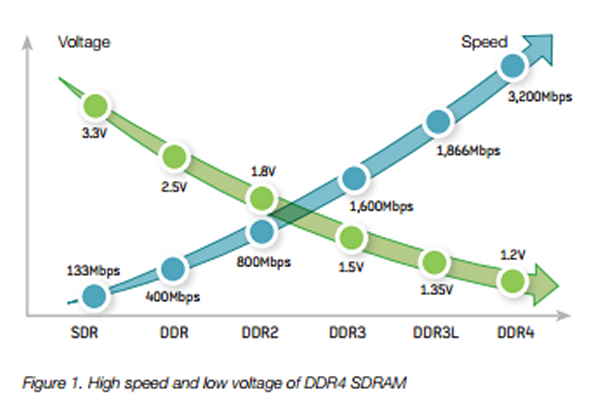 Here we see the evolution of DRAM over time with both throughput and power.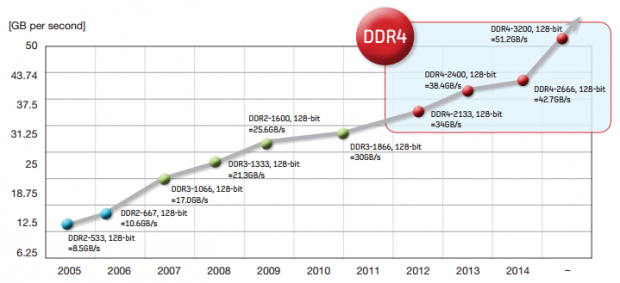 DDR4 will push the performance ceiling to levels we've never seen before. As the number of CPU cores increase, the processors need faster DRAM to feed all of the cores data to process.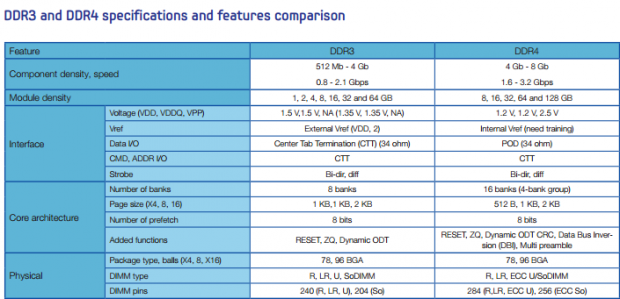 The end result should push the virtual machine count higher on servers and increase workstation performance for applications that rely heavily on processor and DRAM performance.
Full press release below:
SAN JOSE, CA - April 8, 2014 - Samsung Electronics Co., Ltd., the world leader in advanced memory technology, said today that it is accelerating its production ramp up of DDR4 memory modules to accommodate an anticipated strong market demand along with the approaching introduction of the new Intel Xeon™ processor E5-2600 v3 product family. DDR4 is the most advanced memory for server and high-performance computing applications.
"At Samsung, we are taking the lead in readying the DDR4 market to coincide with the introduction of the next-generation Intel Xeon processor E5-2600 v3 product family, and plan to contribute to creating a bigger market for DRAM in the second half of 2014," said Jim Elliott, corporate vice president, Memory Marketing, Samsung Semiconductor, Inc. "We will continue to introduce high-density DDR4 modules for global OEMs that will facilitate the launch of next-generation enterprise servers and will maximize IT investment efficiency."
"Samsung's new 20nm process technology will play a major role in driving DDR4 adoption in conjunction with the launch of the future Intel Xeon processor E5-2600 v3 product family," said Geof Findley, director, PMO Memory Enabling & Applications Engineering, Intel Corporation. "The integration of Samsung DDR4 memory as part of future Intel Xeon processor E5-2600 v3-based systems will drive higher performance and lower power consumption in the enterprise and data center markets."
Samsung's DDR4 memory provides significant benefits to server manufacturers including lower power consumption, reliability and improved system performance with current speeds up to 2400 megabits per second (Mbps).
Samsung is ramping production of its entire family of 4Gb-based DDR4 modules in preparation for future systems based on the Intel's Xeon processor E5-2600 v3 product family. They include DDR4 RDIMMs, LRDIMMs, and ECC SODIMMs, as well as x4, x8 and x16 DDR4 chips. Later this year, Samsung will also facilitate a transition to 8Gb 32GB DDR4 modules for the high density server market.
"The industry-leading 20nm process from Samsung is a compelling advancement in the DDR4 market," said Victor de Dios, president, DE DIOS & ASSOCIATES, Newark, CA. "The advantages of lower power, faster performance, and higher densities will enable DDR4 demand to increase seven-fold in 2015 and exceed DDR3 in server platforms," he added.
Samsung DDR4 LRDIMMs, RDIMMs, and ECC SODIMMs are available globally in densities from 8GB to 64GB at speeds of 2133 to 2400 Mbps.
About Samsung Electronics Co., Ltd.
Samsung Electronics Co., Ltd. is a global leader in technology, opening new possibilities for people everywhere. Through relentless innovation and discovery, we are transforming the world's of TVs, smartphones, tablets, PCs, cameras, home appliances, printers, LTE systems, medical devices, semiconductors and LED solutions. We employ 286,000 people across 80 countries with annual sales of US$216.7 billion. To discover more, please visit www.samsung.com.
Related Tags