Apacer unveils new sleek and stylish AS710 Portable SSD
Apacer's new SSD is not only portable, but it looks as good as it is fast!
Published Thu, Feb 6 2014 4:14 PM CST
|
Updated Tue, Nov 3 2020 12:18 PM CST
External hard drives are one of the most convenient devices a person on the go can have, but they are quite fragile when it comes to falls from desk, rough handling, and frequent trips to and from inside a full backpack. With the recent drop in SSD prices, more companies are forgoing the external spinner and opting for something more solid.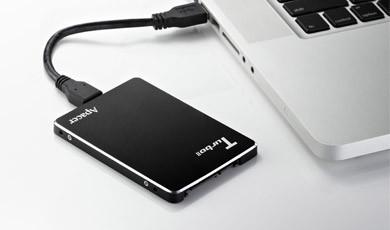 Today Apacer launched its new AS710, a portable SSD that is designed to be carried with you where ever you may go. The company said that the AS710 is the first external SSD that is equipped with both a SATA III interface as well as USB 3.0 connectivity, which provides unparalleled speeds. Real-world testing shows that the SATA III interface is capable of sequential read speeds up to 550MB/s and sequential write speeds of 530MB/s. The external drive itself can reach speeds of 380MB/s and 420MB/sec through a USB 3.0 connection. This means that it takes less than 15 seconds to copy a 5GB video file over to the drive when using USB 3.0.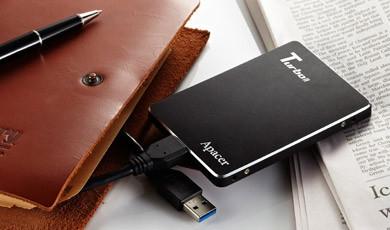 The Apacer AS710 is available at a capacity of 128GB and measures in at just 7mm thick. Its stylish exterior housing is comprised of aluminum with a black finish and machined edges for a very sleek look. The device features 30G anti-vibration protection as well as 3000G anti-shock protection. The SSD itself supports Microsoft Windows-To-Go,which allows one to store the start-up system from his/her Windows 8 Enterprise install directly onto the SSD. Additionally the drive boasts built-in advanced wear leveling and Error Correction Code (ECC) functions and supports Win7 Trim command, ensuring enhanced reliability of data transmission and longer service life for higher stability of data storage.
Related Tags