This morning MSI announced the launch of a new mobile lineup that includes the industry's first 3K gaming notebook and an Adobe certified 3K workstation. Just in time for Christmas, the all new GT60 20D-261US features a ultra-HD display resolution of 2880x1620 which provides bright, sharp and crisp graphics for an unmatched experience.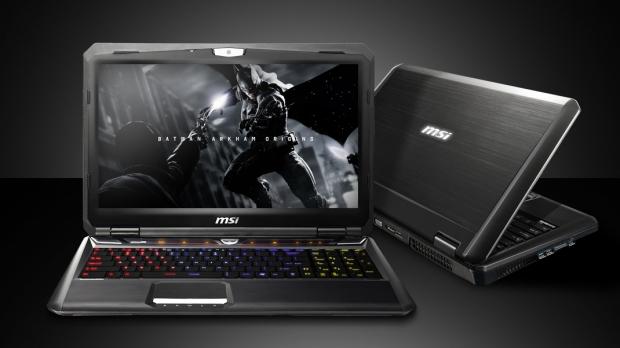 The GT60 gaming notebook features an Intel Core i7-4700MQ processor, 16GB of DDR3L RAM, an NVIDIA GeForce GTX 780M GPU, and a Killer NIC. A 720p webcam is on hand while Dynaudio speakers and a subwoofer handle the audio. The 2880x1620 3K display is of the 15.6-inch class, but does not feature touch sensitivity. Three USB 3.0 ports and two USB 2.0 ports, and a 128GB SSD / 1TB HHD combo rounds things out.
The GT60 Workstation has been optimized to run Adobe Creative Suite 6, Autodesk software, and Solidworks, and the 3K display allows professionals to work in stunning ultra high-resolution for the highest quality work possible from a mobile workstation. The GT60 2OKWS-278US features the same CPU, RAM, and storage. The difference in the powerful NVIDIA Quado K3100M workstation GPU that MSI has fit inside.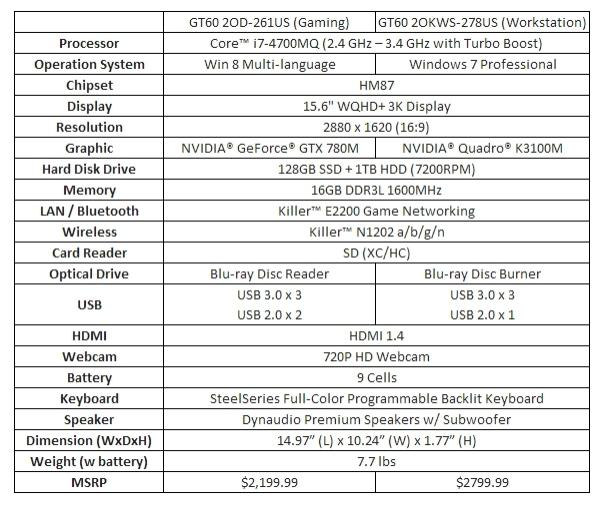 The GT60 gaming laptop ships with Windows 8 pre-installed, while the GT60 workstation utilizes Windows 7 professional. Both new laptops are available now and retail at a MSRP of $2199.99 and $2799.99 respectively. More info about both devices can be found at the source link below.