Today Ozone launched an new mechanical gaming keyboard to its lineup of gaming peripherals. The all new Strike Pro is a mechanical keyboard designed for the serious gamer in mind. The utilization of Cherry MX switches in red, blue, brown, or black flavors lets gamers chose which keystroke profile will give them the edge over their competition.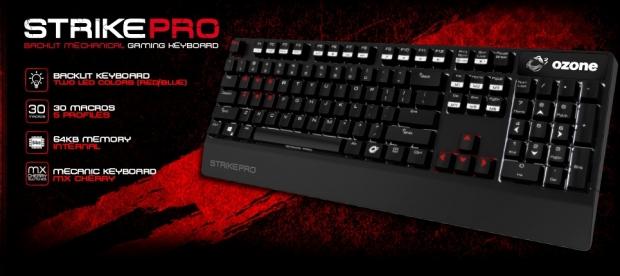 The Strike Pro features white LED back-lit keys with the gaming specific keys being back-lit by red LEDs for quick and effortless acquisition of gaming keys when gaming in the dark. The Strike Pro also features 30 macros across five profiles, which can be customized to suit your gaming style. Profiles are stored on 64k of internal memory.
Additionally, the keyboard can be configured to have a response time of between 1ms and 16ms. A built-in USB hub and Audio ports are also featured. "For me there is no other option for a keyboard than mechanical, and there is no other option than the Ozone Strike Pro. Cherry MX Switch, HUB & Audio inputs, LED back light, good design ... So, yes, I have many reasons to choose Strike Pro to my sessions as a professional gamer," said Cho "Mata" professional gamer on the Samsung Ozone Team.