AMD might not be friends with ORIGIN PC anymore, but it sure is BFFs with Maingear, who has just announced it will be fitting AMD's latest R9-290X GPU inside some of its upcoming systems.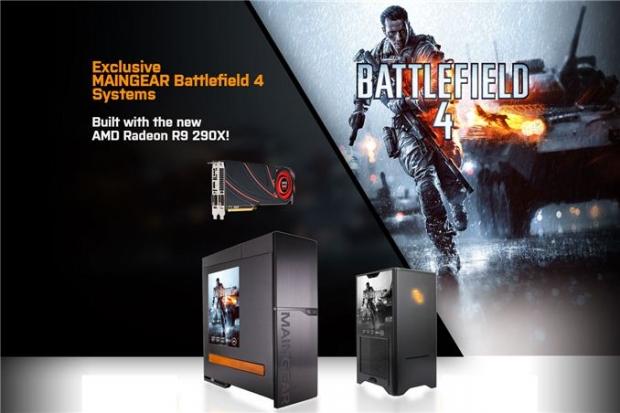 While the rest of the new R7 and R9 GPUs are simple HD 7000 Series rebadges - which is unfortunate - the R9-290X is not. It's a true Hawaii core, and should pack quite a serious punch in the performance department. The R9-290X will ship with a glorious amount of RAM, 4GBs of GDDR5 to be exact, and it will also tow TrueAudio and 4K support, too.
Maingear will throw the R9-290X GPU in its Shift and F131 systems, where you'll also receive a copy of Battlefield 4, with Battlefield 4 themed cases and hardware, too. These Maingear systems will be "limited edition" builds, so you'll have to be quick to snap them up. Maingear's Shift setup will feature two R9-290Xs in CrossFire, and it will support up to three cards in CF with either the FX 9370 or 9590 CPU and a starting price of $3,789.
The F131 on the other hand will feature a single R9-290X, with an option to throw another GPU in, and an FX 8350 chip wtih pricing starting at $2,199.