AMD's TrueAudio tech will do all the audio work on the GPU
AMD's new TrueAudio technology will work for upcoming GPUs.

Published Wed, Sep 25 2013 7:12 PM CDT
|
Updated Tue, Nov 3 2020 12:20 PM CST
The AMD event is well and truly underway in Hawaii, but one of the more interesting things to arrive from the event is AMD's new TrueAudio technology. There's not many technical details on TrueAudio at the moment, but the way AMD describes it, TrueAudio would be an audio DSP built into its coming GPUs.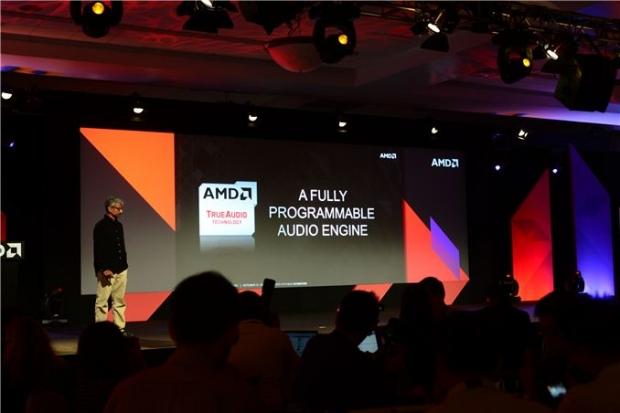 For as long as I can remember, PC game audio has shifted to software away from hardware, but now we're seeing a change in the opposite direction. It comes at a great time, since Windows Vista ushered in the big changes to Windows' audio stack, but moving to software isn't the best solution. We saw the hardware audio scene mostly die, with DirectSound 3D all but disappear.
New consoles (with AMD APUs) and Windows 8 is thankfully changing this, and AMD hopes to capatilize on this. AMD wants to offload audio processing to its DSP in order to take advantage of the better capabilities of task-dedicated hardware. This isn't something that is new, but it is something we haven't seen much investment in over the last decade.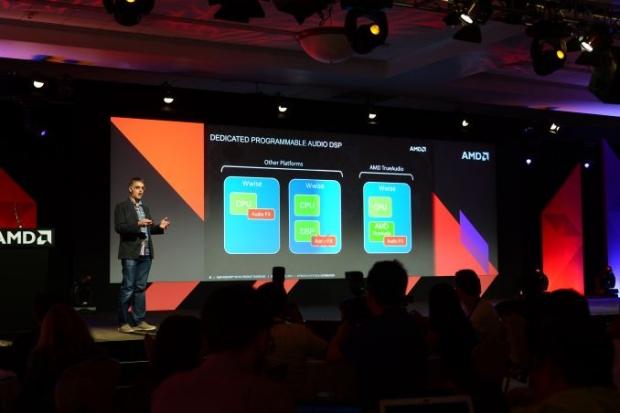 AMD is wanting a big improvement in audio to PC gaming, with the advantages of a DSP pretty large if AMD can do it right - which they should be quite capable of doing. Audio effects like real-time reflections, reverb and 3D transformations are 'expensive' to software, but on hardware, these audio effects aren't much at all. Things like 3D audio over headphones and 2.1 speakers, or above/below audio positioning in 5.1-channel setups is also expensive.
The chipmaker is working with PC gaming audio giants like GenAudio who worked on AstoundSound, who has helped audio engines utilizing TrueAudio DSP. GenAudio will be releasing plugins for the most common PC audio middleware in order to help push the process along.
Because AMD's audio DSP isn't a standalone device, and is part of a GPU, developers can take advantage of this hardware to process their audio. This means that you won't need a specific output, as it'll work over headphones, speakers, HDMI, TV via HDMI, and more.
Related Tags