Today Foursquare released an update to its app for iOS that introduces a completely new UI design. The new design was first released on Android back in August, and has finally began rolling out to iPhone users. Unfortunately, in the beginning only a few thousand users will receive the update while Foursquare works out any bugs that may pop up.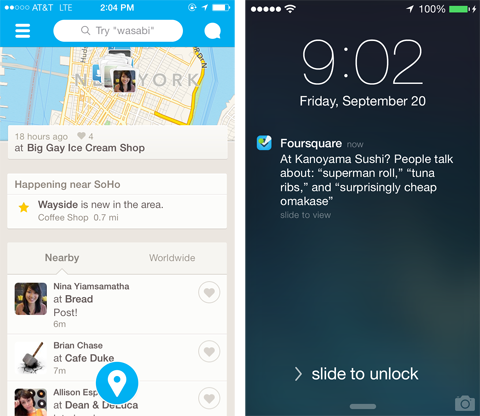 The update features a new recommendation system that that runs continuously in the background, and monitors a user's location to recommend establishments nearby. The system will also recommend popular food and beverage choices once the user checks into the location. These recommendations are made based on previous user's comments and advertising partners.
Foursquare had the following to say in a statement:
Today we're excited to start rolling out this smarter Foursquare. Here's how it will work: when you sit down to dinner, we might ping you with the can't-miss dish on the menu (like the screenshot from a sushi bar below). Or when you arrive in a new neighborhood or city, we'll suggest a few places that your friends love (like below, after you've wandered into a new neighborhood). It's like having a ton of local friends stuffed in your pocket wherever you go.

Because it's powered by billions of check-ins, it's also smart: we're going to ping you when you sit down at a new place where your friend left a tip, not when you're on your daily walk to work. And using this feature doesn't check you in; this isn't for sharing, just for making sure you don't miss great things.