Samsung dominates the iPhone when it comes to phone subsidies
When it comes down to carrier phone subsidies, Samsung have Apple by the throat.

Published Sun, Jun 30 2013 5:29 AM CDT
|
Updated Tue, Nov 3 2020 12:22 PM CST
Samsung have done quite well for themselves over the last couple of years, fighting against the near-invincible iPhone. How does it compare to Apple in regards to phone subsidies, something Apple usually have the most control over?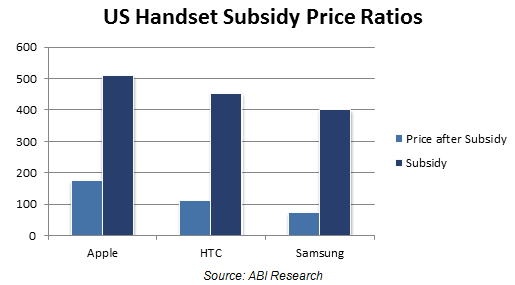 Samsung are actually out and ahead, according to market research firm ABI Research and their latest report. They've said that the average implied carrier subsidy for a Samsung smartphone in the US is around 84%. What this means is that phone carriers cover 84% of the up-front costs of a Samsung phone when a consumer buys one on a contract.
The carrier then makes the money back on the two-year contract you've just signed through various fees and monthly charges. HTC see a subsidy of around 80%, with the iPhone sitting at 74%. ABI analyst, Stuart Carlaw, says: "Samsung continues to squeeze its competitors at every turn. The Samsung [Galaxy S4] is now considered on a par with Apple's iPhone 5. Coupled with better subsidy, the breadth of its device portfolio, increasingly savvy marketing, and its excellence in channel execution, it is little wonder Samsung is dominating the mobile handset market from top to bottom."
Related Tags