The next-gen Xbox gets unveiled in a few days time, here's a few things we should expect
The next-generation Xbox launches this week, here's our top 5 things to expect.

Published Mon, May 20 2013 8:43 AM CDT
|
Updated Tue, Nov 3 2020 12:23 PM CST
The day is nearly here, where we see the next-generation Xbox unveiled by Microsoft. We still don't know what to refer to it as: Xbox, Xbox 720, Xbox Infinity or Durango. Up until this point, no one knows what it is going to be called, and we don't have pesky insiders to tell us.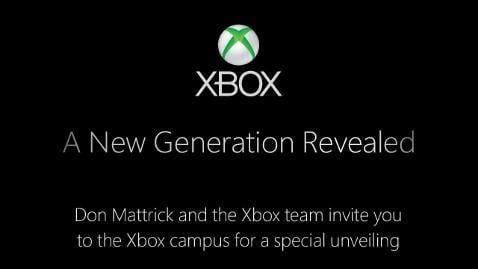 From what I've seen of Microsoft's strategy over the past twelve or so months, I'd like to see them flatly call it "Xbox" with no numbers near it. Then, two years from now, they could update it and release another next-gen console, making this Xbox the "2013 Xbox", just how the iPad naming goes. I expect it to pump out nothing less than 1920x1080 (1080p) at 60 FPS (frames per second). We should see Microsoft steer more toward an 'entertainment unit' rather than a pure gaming console, too.
What else should we see? Let's discuss that:
5.) Controller - The controller on a console is the center of your gaming experience, if it is shaped weirdly, is too heavy, or is too slow, the entire gaming experience can be ruined. We should expect an evolution, not a revolution, of the Xbox 360 controller. Something I expect is Kinect 2.0, or some form of augmented reality. I hope Microsoft actually push this and don't wimp out and just unveil a controller and throw the second option (Kinect 2.0/augmented reality) as a tack-on later in the year, or as a mid-life upgrade like Kinect was. Until this day there is still no killer app for Kinect.
4.) Price - This is going to be yet another very, very important factor of the next-gen Xbox being super successful. There are over 50 million Xbox 360 owners, so Microsoft are obviously going to want a chunk of those to buy next-gen consoles, and not the PS4 for obvious reasons. If Microsoft keep the price at, let's estimate, $399, it will be priced well. If they want to score even more customers, throwing in something for "free", such as Kinect 2.0, would be another great thing to see. A cheaper price, such as $199 or $299 might be possible, with a monthly addition to your Xbox Live Gold subscription.
I actually talked about that in an editorial, a cheaply priced Xbox with a monthly payment - just like your smartphone contract.
3.) Name - The next-gen Xbox has many more possibilities in terms of naming than the PlayStation 4, which kind of had to be called that because of the PlayStation 3. The original console from Microsoft was just Xbox, then we moved to Xbox 360, so Xbox 720 would seem like the logical conclusion, but this isn't set in stone just yet.
2.) Hardware - This is where I begin to get excited - we know that the next-gen Xbox is moving to PC architecture thanks to AMD's various technologies, but what exactly should we expect. I think we're going to see something slightly less powerful than the PS4, but I could be wrong - just a few days until we find out.
We should expect the next-gen Xbox to be capable of Blu-ray this time around, and to pump out proper Full HD visuals - 1920x1080 - at a buttery smooth 60 FPS. Anything less, and I'll be wondering just WTF Microsoft have been doing for all of these years if they expect in 2013 they're going to release a console that isn't worlds more powerful than their very aged Xbox 360. If we get anything less than all games at 1080p at 60 FPS, I'll be very, very disappointed.
I guess we should talk about 3D, as it'll most likely play a vital role in selling the consoles to the masses. I'm not a fan of 3D myself, but the console, if it does what I think it should - rendering games at 1080p @ 60 FPS, then halve that for 3D, to 30 FPS. 30 FPS is more than playable, especially on a mainstream console.
If you remember back to the original Xbox launch, Microsoft pushed standards upon developers - Dolby Digital 5.1 audio, great networked games, etc. I think we should see more of this, and that developers should be coding their games, at a minimum, to run at 1080p @ 60 FPS. Other than that, I'm sure we'll see games being preloaded onto the console HDD, hopefully a large SSD (256GB would be enough) and some uber compression methods.
1.) Games - It's all about games, isn't it? I'm hoping to see some true next-gen Xbox exclusives, after Sony dropped the ball with their PS4 unveiling. I hope to see not just sequels to Microsoft's biggest exclusives, but some mind-blowing new IP.
I hope to see next-gen sequels, or possible reboots of, Halo, Gears of War, and more. New IP can roll through and I hope it's not just some oh-so-linear first-person shooters, but something outside of the usual paradigm of huge selling games. I'm getting sick of the usual first-person shooters, which are way too linear for my liking. I'm hoping Microsoft go down a totally different route when it comes to games - offering huge games such as MMORPG's and the like, to be cheaper for purchase ($19.99) and then attach monthly fees afterwards, or have in-game goodies - one can only hope.
You can check back here on May 22 for our live blog of the next-gen Xbox unveiling, and be sure to check the hours and days after for some more coverage of the next-generation Xbox. To finish this off, what do you expect from the next-gen Xbox? Better hardware? Better games?
Related Tags