Today SMART Storage Systems and IBM discussed the topic of server side flash and the benefits of using drive form factor SSDs in comparison to deploying PCIe SSD solutions in a live webinar titled "Is PCIe SSD Dead?". The webinar is also available for playback at your convenience at the BrightTALK website.
The far-ranging conversation of the benefits of drive form-factor SSDs in wide deployment in the server was certainly eye-opening and worth a view from anyone considering deploying these types of solutions into an enterprise environment. The density, performance and latency of 2.5" and 1.8" form factor SSDs is rapidly increasing in the new generation of SSDs. SAS equipped SSDs in particular are providing latency that is in the range of PCIe solutions.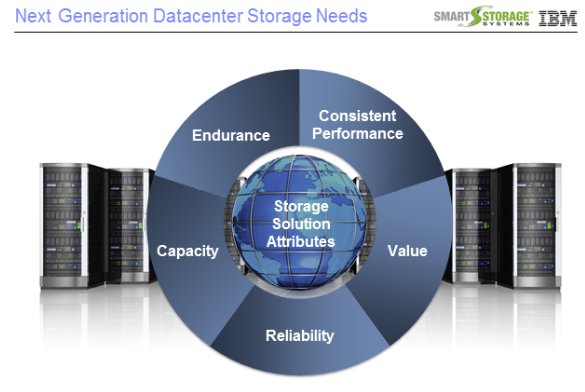 These massive performance improvements are beginning to challenge PCIe SSDs in datacenter deployments. One key to the performance of drive form factor SSDs lies in the fact that they are self-contained units. All management of the storage device is handled by the SSD itself and does not impede upon precious host server resources.
Scalability is another advantage. There is a physical limit on the number of PCIe SSDs that you can deploy into one server, simply due to the limited number of PCIe slots. Many times these slots are also shared with other components, such as networking cards, further reducing the number of available slots. The ability to use a RAID controller or HBA's with drive form factor SSDs provides a tremendous advantage in the number of devices and the amount of capacity made available to the server.
Another inhibitor to receiving the performance advantage of PCIe SSDs is the fact that most applications simply aren't coded for use of these radically fast devices. In many cases there will be no application performance advantage from the use of a drive form factor SSD over a PCIe solution simply because the application isn't designed to take advantage of the performance.
For those that do own the code, and can alter their applications accordingly, there is a tremendous amount of work and preparation that will be needed to take advantage of the performance increases that PCIe SSDs can provide.
While PCIe SSDs remain an attractive solution for many applications, picking the correct solution for your workload is always of the upmost importance before making any large purchasing decisions.
The webinar provides a much more in-depth explanation of these topics, and covers endurance related topics as well. At the top of the viewer screen there is also an 'attachments' button that contains a list of great resources for further research.
While it is safe to say that PCIe is not dead, the focus of the presentation is to open eyes about another approach to providing flash acceleration in server environments. Feel free to hit the link to watch the presentation.