Logitech are reiterating the fact that they're committed to PC gaming by unveiling their new Logitech G line of gaming peripherals. This lineup boasts six redesigned mice and keyboard favorites, as well as two brand new headsets. There's a lot to cover, so let's get introduced to Logitech's new products.
Logitech G700s Rechargeable Gaming Mouse - Logitech's G700s mouse is a wireless gaming mouse featuring the report rate of an epically fast wired gaming mouse. Logitech have made the G700s capable of maintaining a consistant report rate, no matter if you're using the mouse over its included 2.4GHz wireless connection, or physically connected through USB. You can switch out from wireless to wired gaming if your battery dies, using a data-over-cable connection thanks to its standard microUSB cable.
There are 13 programmable controls on the G700s, macros and more, which are all controlled and manipulated through Logitech's Gaming Software (LGS). Logitech are slapping a suggested retail price of $99.99 for the G700s mouse.
Logitech G500s Laser Gaming Mouse - The step down from its bigger brother the G700s, Logitech's G500s features a "premium grade laser for precise cursor control on a wide variety of surfaces and a hyper-fast dual-mode scroll wheel." The G500s also contains a durable hydrophobic coating that will help those hardcore gamers, preventing your palm from sticking and dry grip for a steady hand.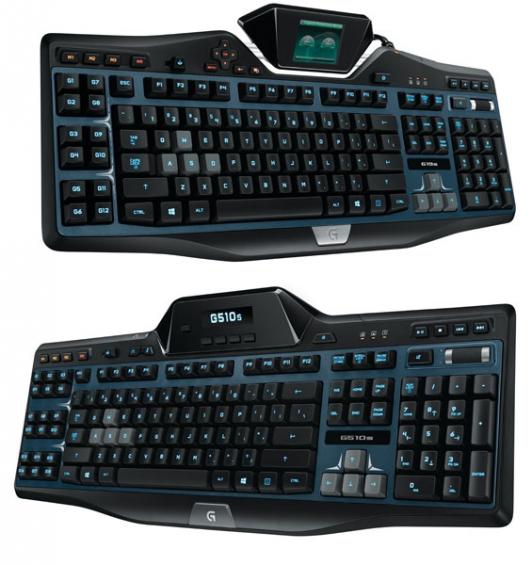 Logitech's G500s features 27 grams of customizable weight and center of gravity adjustment, giving you the flexibility to use the mouse to your personal liking. Logitech have baked in the ability to switch from pixel-precise targeting at 200 DPI, to a crazy (and usually unnecessary) 8200 DPI with two buttons within easy reach of your trigger finger. There are also 10 programmable buttons on offer, again, configured through LGS. Logitech have priced the G500s Laser Gaming Mouse at $69.99.
Logitech G400s Optical Gaming Mouse - The third updated mouse in Logitech's updated G series of gaming products uses the same high standards from Logitech's still-going and ultra-popular MX518 Optical Gaming Mouse, built specifically for first-person shooter games. The G400s sports Logitech's exclusive Delta Zero sensor technology for high-accuracy cursor control. The G400s also features the hydrophobic coating from the G500s that will keep your hand from slipping and sliding in those intense gaming sessions.
There are the same DPI adjustments available, between 400-4000 DPI for slow, or fast gaming. Logitech are expecting a suggested retail price on the G400s of $59.99.
Logitech G100s Optical Gaming Mouse - Logitech's last G series mouse is the G100s, built specifically for RTA and MOBA gamers. Logitech's G100s builds on the legacy left behind by the G1 Mouse and Gaming Mouse G100, featuring buttons that can take a beating, while giving gamers the Logitech exclusive Delta Zero sensor technology. Just how durable is the G100s? Well, it can take a beating thanks to its primary mechanical microswitches rated to a 20 million-click lifespan.
The same hydrophobic coating is placed on the G100s, not letting your hand slide off the mouse during that intense League of Legends match. Logitech have given the G100s a nice ambidextrous inverted trapezoid design, ensuring a strong grip during the longest gaming sessions. Logitech's G100s Optical Gaming Mouse should arrive with a suggested retail price of $39.99.
Moving onto keyboards, we have two refreshed keyboards.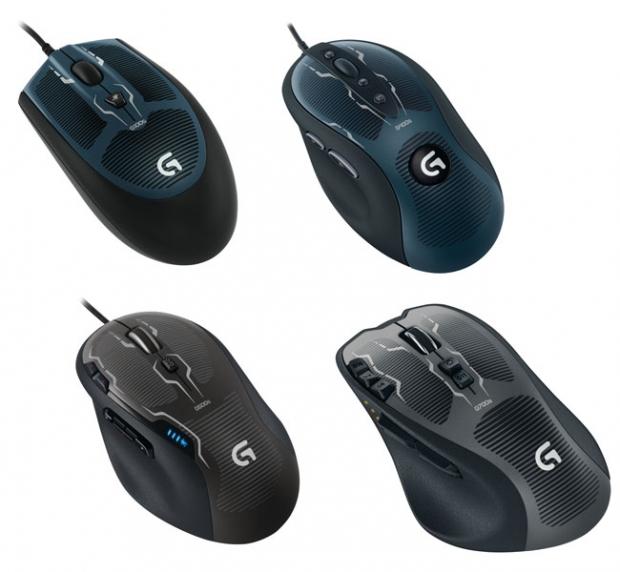 Logitech G19s Gaming Keyboard - Logitech have refreshed the popular G19 keyboard, where we now find ourselves with the G19s Gaming Keyboard. We still have the adjustable GamePanel LCD, providing gamers with useful stats - either in-game stats, or external apps such as CPU/GPU temperates and more. Logitech have slapped on a hydrophobic coating on the palm rest, keeping your wrist firmly in place when gaming.
12 programmable G-Keys are featured, with up to 36 different functions across three different modes with three macros per key. The G19s Gaming Keyboard also features two USB 2.0 ports, allowing you to plug in USB devices without reaching to the rear (or front) of your rig. Logitech's G19s Gaming Keyboard is expected to have a suggested retail price of $199.99.
Logitech G510s Gaming Keyboard - Logitech's second, and last keyboard refresh, is the G510s Gaming Keyboard. Featuring 18 programmable G-Keys, you won't have an issue configuring your functions on the G510s. Logitech have given the G510s the great GamePanel LCD as well, and they haven't left out that hydrophobic coating on the palm rest like their G19s keyboard enjoys.
Logitech are expecting to provide the G510s Gaming Keyboard with a suggested retail price of $119.99.
Now we can move onto two new headsets.
Logitech G430 Surround Sound Gaming Headset - Logitech already have two formidable gaming headsets in the G35 Surround Sound Headset and Wireless Gaming Headset G930, so the G430 is joining the gaming headset ranks at Logitech. Logitech's new G430 Surround Sound Gaming Headset is powered by Dolby Headphone technology, giving gamers an immersive 360-degree sound field.
The included Dolby Headphone 7.1 surround sound will give gamers the ability to hear up to seven discrete channels of data, as well as a Low Frequency Effects channel. The G430 headset comes with washable eat cups that give gamers a soft, comfortable fit for those long gaming sessions. A noise-cancelling mic can be adjusted to pick up just your voice alone. When it's not in use, the mic can be folded and pushed out of the way.
Logitech are giving the G430 Surround Sound Gaming Headset a suggested retail price of $79.99.
Logitech G230 Stereo Gaming Headset - Logitech's last product in their just-announced G series of products features high-quality stereo sound by using 40mm neodymium drivers keeping gamers immersed in their favorite games. The new G230 headset features washable performance-sport cloth ear pieces, and a flexible, noise-cancelling microphone.
Logitech expect the G230 Stereo Gaming Headset to arrive with a suggested retail price of $79.99.
As for availability, Logitech expect all of the products in the G series to be available in April 2013 in the US, and a month later in Europe.