I imagine that many of our readers tuned into the Samsung Unpacked 2013 event last night. If you didn't, you might have been following our coverage of the event. But, if you were just following our coverage, you missed out on quite the show. You missed out on the ridiculousness that was Unpacked 2013. Check it out for yourself:
We all know the basic story line that press conferences follow. Some big player will come up on stage and tell you about their new product. Some try to deviate from this basic story line by bringing up celebrities to endorse their products. Last night, Samsung deviated far from this basic story line to some success.
While I found the whole show quite contrived, it did have several funny moments thrown in. The humor didn't come naturally, but it still managed to get the occasional laugh. If you've ever been to Disneyland's Innoventions Dream Home, you'll probably understand what I mean by that.
I understand that Samsung wanted to keep people's attention. They had to try and make the show entertaining, especially since they allowed basically anyone to attend. They managed to play to both audiences by having the master of ceremonies say something simple: "The new phone looks and feels awesome." A person they called an "elaborator" expanded upon what he said: "That's because its slimmer, yet stronger."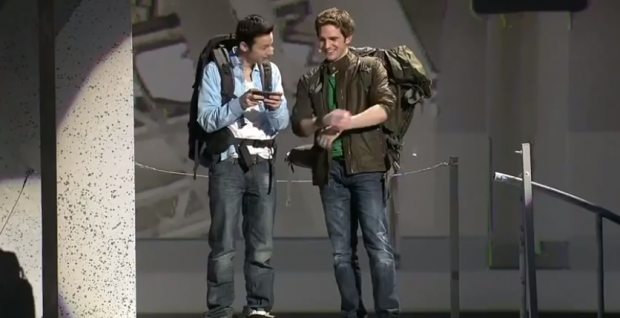 The scenes that rose from the floor were somewhat entertaining. They did this as opposed to pre-recorded videos. If you've ever watched an Apple press conference, you'll know the type of video of which I speak. Samsung would have been able to do a bit more with the scenery if they had recorded videos beforehand and I think this might have added to the event.
But, enough of my thoughts. If you watched the livestream live or the video embedded above, let us know what you thought of the press conference. Entertaining? Weird? Something else?