NVIDIA to launch their new GeForce GTX Titan GPU on February 18
NVIDIA's GeForce GTX Titan to be released next week.

Published Thu, Feb 14 2013 8:00 PM CST
|
Updated Tue, Nov 3 2020 12:24 PM CST
We have some good news for you, NVIDIA are set to unleash their latest GPU, the GeForce GTX Titan on February 18. This is just days away, so if you had any cash saved from not buying Valentine's Day presents, you should look at getting one of these puppies.
Now, before you get too excited - this isn't the GTX 800 series, nor is it a refresh, nor is it the Maxwell-based GPUs we should expect later this year. According to TechPowerUp's database, this is what we should expect: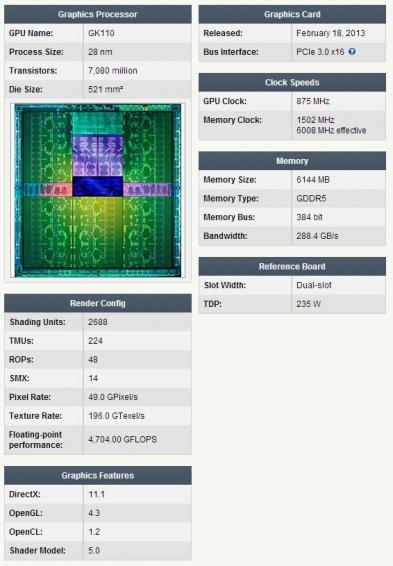 What should we expect performance-wise from the GeForce GTX Titan? Well, we should expect 2688 stream processors, 224 texture units, and 48 raster operating units. The Titan should slam its hammer down with 6GB of GDDR5 memory running at 6GHz on a 384-bit bus. This is the GK110 chip, folks, featuring over 7 billion transistors laid down on a 521mm2 of space and will have clock speeds pumping at 875MHz.
Word on the street is that less than 10,000 of the Titan's were made and that we should expect to only see them from ASUS and EVGA for now. We should expect some pre-built systems to feature the Titan, which we should hopefully see unleashed next week. Until then, we'll have to wait.
Related Tags