Intel to release SSD 335, SSD 525 series in 2013
Intel to introduce mainstream SSD 335 series, performance SSD 525 series in 2013.

Published Wed, Aug 1 2012 4:29 AM CDT
|
Updated Tue, Nov 3 2020 12:27 PM CST
Intel's plans for their solid-state drives (SSD) for 2013 are beginning to form, where we should see the release of the mainstream SSD 335 series, and the performance SSD 525 series getting released. Intel could also unleash their latest 20nm NAND flash memory technology onto some of these bad boys.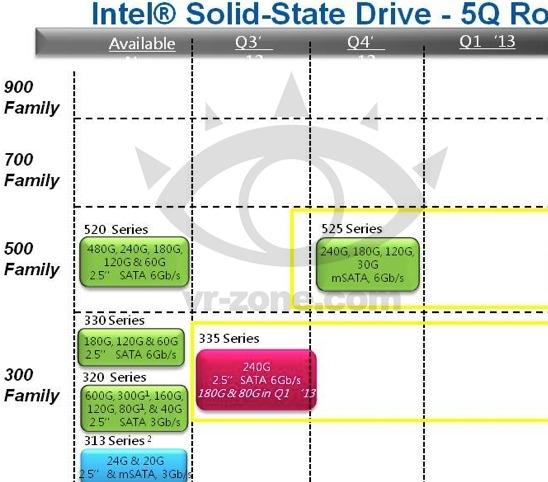 Intel's 335 series will replace the 330 series in most aspects, and could sport a new NAND flash memory type, as mentioned above. Intel could tweak the performance of the drive, making it faster than the LSI-SandForce SF-2881-powered 330 series drive, if it had the right firmware and NAND flash combination. The 335 series looks to be receiving, at first, 80GB and 180GB sizes in Q1 2013. 2013 could mark the time when we see 180GB drives become "the new" 120GB size.
Intel's performance-minded SSD 525 series looks to arrive in 25nm NAND flash, why 25nm and not 20nm? We don't know. Intel most likely won't change from the SF-2281 controller that powers the current SSD 520 series, either. But, the herbs and spices that Intel could build into their firmware could change things up a bit. Intel's SSD 525 series will arrive in mSATA, as well as 2.5-inch form-factors, and will arrive in 30, 120, 180, and 240GB capacities.
Related Tags