BitFenix reaffirms SuperCharge technology, charges mobile devices from PC
BitFenix reaffirms their commitment to SuperCharge, a way to rapidly charge mobile devices.
Published Jun 21, 2012 1:05 PM CDT
|
Updated Tue, Nov 3 2020 12:28 PM CST
1 minute & 0 seconds read time
BitFenix has reaffirmed their commitment to SuperCharge technology which allows mobile devices to charge from a PC. But why is this any different from a regular USB port to charge with? Well, for starters, it has a microchip designed to monitor the voltage required for rapid charging and will provide that voltage so that the device is not damaged.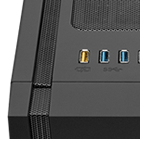 Further improvements come in the form of using a SATA power connector to prevent the possibility of installing the power cable incorrectly. This prevents users from applying 12 volts when it really should be 5 volts or the other way around. BitFenix also calls out the safety of their implantation over others'. "Recently, similar solutions introduced by competitors have begun making their way into the market, sometimes with hazardous results. In fact, a recent case led to a wire catching on fire during normal operation."
"BitFenix is known for innovation, and the appearance of similar solutions on the market is a signal that we're on the right track," said David Jarlestedt, BitFenix Product Manager. "However, we hope that products inspired by BitFenix innovations will bring a net positive result to the community, rather than causing inconvenience or even danger to users at home. We're thrilled with the feedback we've received for BitFenix SuperCharge, and caution against the use of charging devices that are not compliant with Battery Charging Specification 1.2. From SofTouch™ and FyberFlex™, to NanoChrome™ and SuperCharge™, BitFenix will continue to bring forth new innovations along with the input of the hardware community."
Related Tags