Spotify has just become a music platform
Spotify today evolves into music platform.

Published Fri, Dec 2 2011 2:33 AM CST
|
Updated Tue, Nov 3 2020 12:30 PM CST
Freemium music subscription service, Spotify, has revealed a "new direction" that they are going in. A new API that will allow developers to create apps that are powered by Spotify.
These apps will be coded in HTML5, and will live inside the Spotify app, which means users don't need to install any other standalone pgrams in order to use them, and developers can build the apps with "an easy to use Javascript API."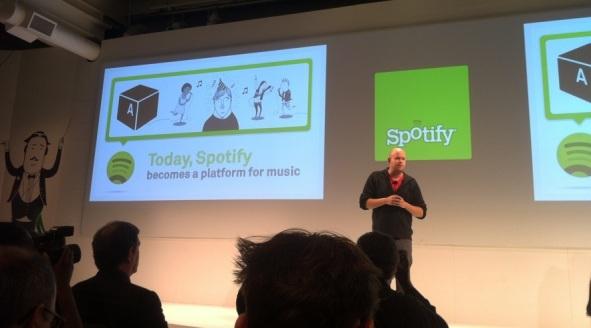 Spotify users can use these apps whether they pay for Spotify or not, and right now Spotify developer partners do not share in Spotify's revenue, but Spotify CEO Daniel Ek has said that these are still "early days" for the platform.
Included in the app is the App Finder section in the left pane of the app, which includes "editorial through Rolling Stone amongst others, concert tickets, lyrics, and many, many more experiences" said Ek. The Rolling Stones app, he added, "really just the perfect companion to read about the stuff you want to hear as you hear it."
Other music platform launch partners include: Rolling Stone, Songkick, Last.fm, TuneWiki, The Guardian, Dagbladet, We Are Hunted, Soundrop, Top10, Billboard, Fuse, Gaffa, Pitchfork, ShareMyPlaylists, Tunigo, and MoodAgent.
One of the in-house Spotify apps lets you see when your friends are starring songs, creating playlists, and more. A single click on that user's name lets you hear what they hear. Very cool. Spotify is set to really [and hopefully] change things up, hopefully they let the tentacles out across the world and don't just lock this away to U.S.-based users.
Related Tags