ASUS Rampage IV Extreme X79 motherboard video preview
A technical preview at some of the ASUS ROG X79 features.

Published Oct 25, 2011 11:06 AM CDT
|
Updated Tue, Nov 3 2020 12:30 PM CST
Yesterday we attended an ASUS motherboard technology seminar in Taipei where we were introduced to its range of upcoming Intel X79 Express chipset based motherboards. These motherboards will support second generation Intel Core i7 processors for high-end desktop systems using the new and larger LGA 2011 socket.
Intel has super tight restrictions on what can be said about these new products and as we are bound by an Intel NDA, we need to stick to the rules. That is one of the reasons why the video below might seem a little cryptic at times - we both had to be very careful what we said. The man in the video below is Jack Cheng who is with the ASUS motherboard R&D team and was kind enough to tell us some ASUS ROG driven features of the Rampage IV Extreme X79 motherboard.
Some of the big ASUS features with this board include the OC Key for simple on-screen and very much on-the-fly overclocking, subzero sense for finding out temperatures under extreme cooling conditions and VGA hotwire for putting your video card through hell and back. There is also the X-Socket which allows you to bring along your old coolers and they'll work on the new 2011 socket - it will also be good for extreme LN2 overclockers and their pots. Besides just the video above, there is a selection of pictures below in the gallery which we took.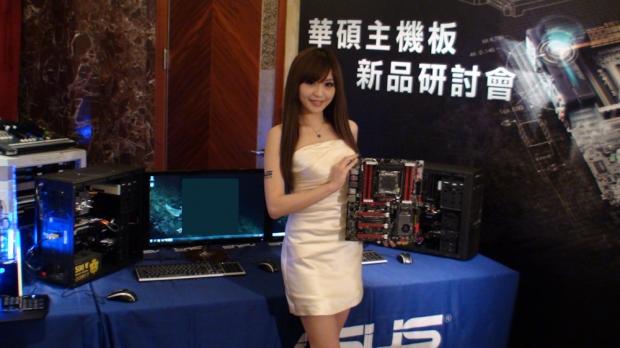 The software side of this board is also very impressive, but unfortunately due to the Intel NDA, we are not allowed to show in screenshots. You've seen boards in the past from various companies with fantastic monitoring and control, this one takes things to a whole new level.
Related Tags