Apple set to release Thunderbolt-equipped displays?
Apple set to release Thunderbolt-equipped LED cinema displays?

Published Fri, Jul 15 2011 10:00 PM CDT
|
Updated Tue, Nov 3 2020 12:31 PM CST
MacRumors have picked up on a number of non-posted images from Apple.com, showing Apple having a $999 display. In the pics, the display has a new part number (which is in the URL), and a newer background to match the default wallpaper of Mac OS X Lion which is being released next week. What makes this interesting is the below pic which shows two of the newer displays, with one plugged into the other.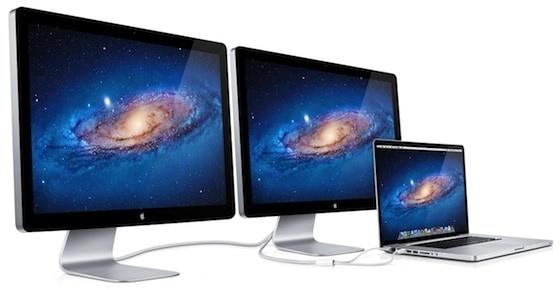 Maybe Apple are allowing mirrored or extended displays through USB, but most likely this is Thunderbolt-powered and it's down with the latest-generation iMacs which share many design similarities with the LED cinema display. If Apple wants to push Thunderbolt, this would definitely be the way to go about it. On something like a MacBook Pro, using the Thunderbolt port just to power a monitor would use up the port, but daisy-chaining them like this would allow a user to use the Thunderbolt I/O on the MBP, then daisy-chain something directly into the Cinema Display.
Thunderbolt is capable of daisy chaining up to seven Thunderbolt-equipped devices together, whilst retaining full speed across ever single one of them, this is thanks to the existing DisplayPort and PCI-Express data protocols to open up what you can do with a single port into multiple uses and at high speeds.
Related Tags