NVIDIA plans to unify its desktop and mobile graphics drivers
Offering more regular notebook GPU driver updates.
Published
0 minutes & 50 seconds read time
Following
AMD's recent decision
to provide more regular, consistent Catalyst Mobility driver support for mobile GPUs, NVIDIA has now focused attention on giving better support for its mobile GPUs.
In the past notebook users have had to depend on notebook OEMs to make available mobile graphics driver updates for NVIDIA GPUs residing in select models, of which the timeframes between each of these updates was most always significantly longer than the rate at which GPU makers can make driver updates available to the public.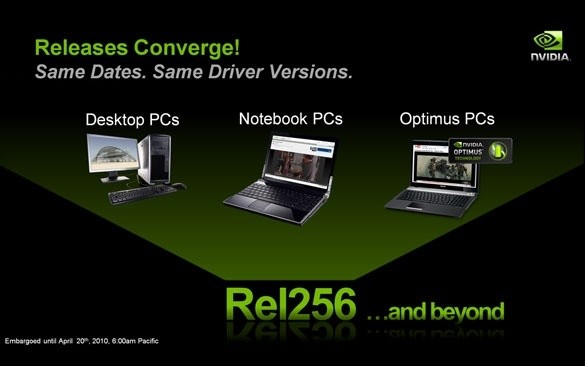 This problem will soon be solved, it seems. NVIDIA is looking to unify its desktop and mobile drivers and will put things into action as of release 256, due to come out in a few months. This will mean updated GPU drivers will hit the web from NVIDIA themselves for both desktop and notebook users at the same time; albeit they will be in separate packages.
The only real letdown here is that it's been said notebooks with multi-vendor hybrid solutions won't be supported - ie. those which include integrated Intel graphics along with discrete NVIDIA GPUs; there's quite a lot of notebooks out there with this configuration.
In any case, it's better notebook GPU support for many and certainly a step in the right direction.
Related Tags