Fusion-io ioXtreme makes an early appearance
Enthusiast aimed PCI-e SSDs arrive.
Published Tue, Oct 27 2009 2:54 PM CDT
|
Updated Tue, Nov 3 2020 12:36 PM CST
The move to Solid-State for storage is an inevitability, we all know it is coming (in fact really it is here). The issue now revolves around how this will be delivered to the consumer. Will it be in a standard form factor like SATA or SAS? Or sill it show up in a more...interesting format.
Something like the Fusion-io's PCI-e interface. This concept has enabled Fusion-io to provide some very impressive performance numbers. This is of course due to the fact that they are not held up by the SATA or SAS controller but can access the bandwidth of the PCI-e bus directly. The problem is that this method is not inexpensive to make. As such the cost of owning one it also very high (which is a huge understatement).
But Fusion-IO is looking to try to bridge the gap between their ridiculously overprices enterprise class cards and the enthusiast's wallet. These new cards will be labeled the Fusion-io ioXtreme and ioXtreme Pro. On the surface the only differences are cosmetic. Internally they are very different. The Pro Version allows you to setup multiple cards in a RAID setup while the ioXtreme is for single drive setups.
The guys at HotHardware had a chance to test a pair of these out and they say they are going to be quite the impressive pair once they hit the streets. Unfortunately there is no word on pricing just yet. We hope they really can bring the price more in line with what an enthusiast can afford and not beyond the reach of everyone else.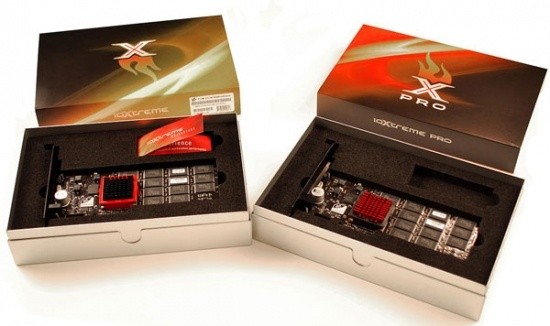 Related Tags