What will the "iPad" really be?
Where would it fit in at Apple?
Published Thu, Jul 30 2009 10:50 PM CDT
|
Updated Tue, Nov 3 2020 12:36 PM CST
There is a lot of talk recently about the rumored/possible tablet from Apple. This is the 10-Inch book that many are now calling the iPad. I have heard that it is going to be everything from a media player to an e-book reader to a netbook.
I guess the real questing that needs to be answered is what does Apple feel it is missing in the market? We know they will not enter the budget system market just as they will not enter the netbook market.
No they have very important niches they tend to cling to. Take a look at their product line and you will see a tremendous amount of overlap. Each product touches the functions of at least one other. The iPhone, iPod, iPod touch, etc if you look you can see this repeated all over Apple's line up.
So where would a tablet fit in? It would not be an add on to their laptop line. It simply could not be powerful enough. But where it fits in perfectly is the e-book reader with multi-media access. Sort of like an iPod on steroids. Apple noted the success of applications like the Kindle reader for iPhone and the relative success of the Sony e-book readers. This, I am sure set off a light bulb and made them realize the need for something like this.
But I can see this being more than a simple e-book reader; I see an iPod function, mobile versions of iWork and even a trimmed down version of iLife. Can you imagine the impact something like this would have if college text books could be put on them?
No matter what this turns out to be (if it is real at all) I am sure that it will be another layer in the Apple line up touching multiple products.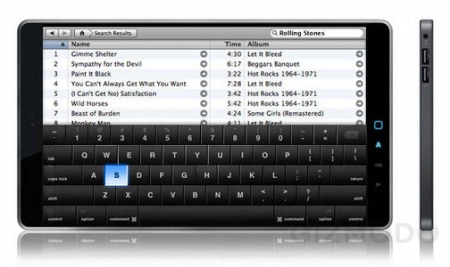 Related Tags