Sprint and Pre have Apple as a snack
Multi-Tasking Web OS is something iPhone OS is not.
Published Fri, Jun 26 2009 10:49 AM CDT
|
Updated Tue, Nov 3 2020 12:36 PM CST
Marketing is something that Apple is very good at. It has the upper hand to most companies when it comes to getting the word (the word they want) out to the masses.
So what happens when another company does something just as nasty? Well you get the new Sprint ads that are popping up.
You see in the war of the Pre Vs. the iPhone the iPhone has a much larger Iconic impact. But despite this impact there are many short comings, the least of which is that after 3 full OS version updates iPhone owners still do not have multi-tasking on the native OS. They have to resort to jailbreaking to get any type of multi-tasking.
Not so with the Pre as Sprint is happy to tell everyone. The new Ad shows a Palm Pre leaning against an eaten apple. The message? Spring and the Palm Pre can eat AT&T and the Apple iPhone as a snack.
Read more
here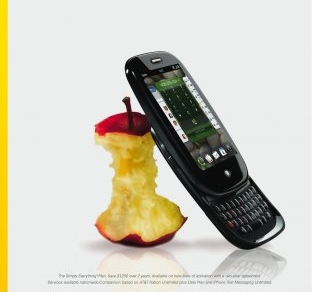 You can have a mighty fancy phone, but it's only as good as the network it uses and the calling plans available to consumers. Look past the iHype and we think you'll see a new Sprint with a strong network, appealing new phones and value-priced calling plans. We'll keep striving to get even better, but we sure hope folks - especially those with contracts elsewhere expiring soon - will give Sprint a look.
Related Tags