Shattered Horizon brings combat to zero G
Needs Beta Testers to help.
Published Tue, Jun 16 2009 11:42 AM CDT
|
Updated Tue, Nov 3 2020 12:36 PM CST
FutureMark Game Studio is working hard on a new game named Shattered Horizon. This game will be a multiplayer game that puts you into a Zero Gravity playing field.
The game will be a first person multiplayer (like the old Quake Arena) however you do not have the limits of gravity. You are free to move and fight in 3 full dimensions. FGS (FutureMark Game Studio) have been working hard to perfect the zero gravity physics that will enhance the game play.
The setting of the game is amongst the "Arc" this is the debris left over from a titanic explosion on the moon that has now settled into Earth orbit.
Honestly, if they can pull this off the game will be amazing. I know some have commented that this will just turn into another benchmark but I have spoken with some people at FutureMark who have told me this is exactly what they do not want. Shattered Horizon is being developed first and foremost as a game, they do not want to see this project turned into a simple benchmark and are working very hard to see that it does not.
If you want to take a look at the game head over to the Shattered Horizon website and sign up to be a beta tester today.
Read more
here
.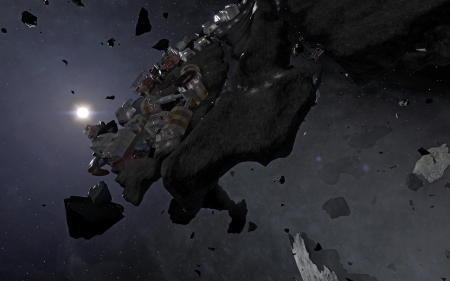 Shattered Horizon, first announced at the Leipzig Games Convention last year, sees players fight to survive in the aftermath of a catastrophic Moon mining accident that throws billions of tons of rocky debris into near-Earth space. Futuremark has released two new screenshots showcasing the game's unique zero gravity environments.

"Playing a multiplayer FPS in zero gravity offers gameplay possibilities that simply cannot be found in conventional shooters," said Antti Summala, Lead Game Designer at Futuremark Games Studio. "I invite every gamer looking for an FPS that offers something new and different to sign up for our beta test."
Related Tags