ATi launches two 40nm mobile GPUs
While nVidia refreshes a 4 year old GPU.
Published Tue, Mar 3 2009 9:17 AM CST
|
Updated Tue, Nov 3 2020 12:37 PM CST
ATi managed to one up nVidia this week with the launch of two 40nm notebook GPUs.
While nV is touting a refresh of the aging 55nm G92, ATi is putting 40nm new technology into play.
The two new parts are the mobility 4860 and the mobility 4830. While these two mobile GPUs are not the top of the line they do represent a forward moving company.
According to ATi's documentation on the two the 40nm 4860 should be around 8% faster than the current mobility 4850s while the 4830 will only run slightly behind.
The 4860 will feature 1GB of GDDR5 (from Qimonda of all places) and feature 640 Stream Processors. The 4830 will be able to run shared or dedicated memory (1GB GDDR3) and will also have 640 Stream Processors.
Read more
here
the Inquirer.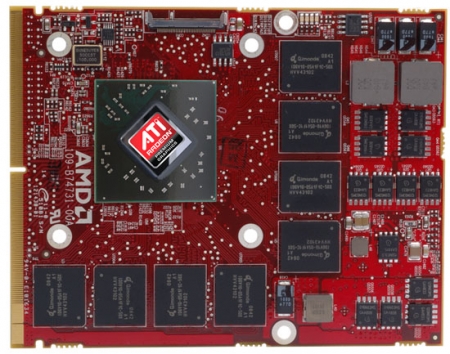 The duet is said to have a tamer power consumption than their predecessors, of course, which fits in with the process shrink and the specs. However we weren't able to get AMD to offer us their benchmarketing on this. We'll have to wait for a partner to ship us a notebook.

Memory-wise, the cheaper part, the 4830, will support a shared-memory architecture or dedicated VRAM, depending on the notebook model. The 4860 will have GDDR5 from Qimonda (yes, still churning out the memory).
Here's a spec sheet for 55nm and 40nm MXM modules.

You'll notice the GFlops on the 4830 don't add up @ 450MHz speed (450x640x2/1000 is 576GFlops). More like 400MHz, but it could be a typo.
On a parallel announcement, Asus has squealed with glee it'll be adopting the new graphics chippery in their upcoming K-series notebooks.
Related Tags