Intel shows off OLPC alternative at CES
Classroom PC Tablet is easy to use and rugged.
Published Fri, Jan 9 2009 4:32 PM CST
|
Updated Tue, Nov 3 2020 12:37 PM CST
TechReport has an interesting device that they have stumbled across at CES.
It is called the Classmate PC and is a convertible tablet PC from the gang over at Intel. According to Scott Wasson it felt very rugged and kid friendly.
This new product will be Intel's alternative to the One Laptop Per Child initiative and has great potential for classroom use.
Read more
here
.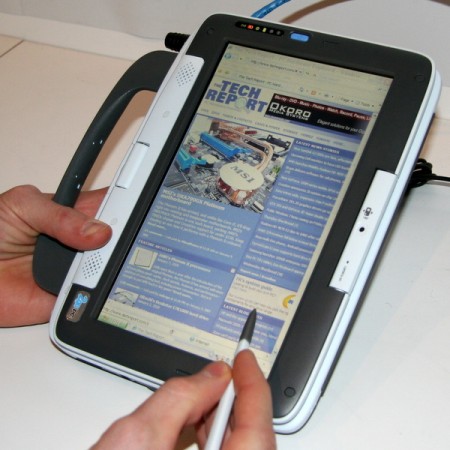 Like the previous clamshell design, the convertible Classmate is based on the Intel Atom processor, the near-ubiquitous netbook platform. Specifically, the convertible Classmate uses an Atom N270 processor at 1.6GHz and a 945GSE chipset, and Intel claims about 30% longer battery life and 50% higher system performance for the new model. Battery life should be around 3.3 hours for the four-cell battery and 5 hours for the six-cell. The touch-sensitive display measures 8.9" from corner to corner and, like many netbooks, has a 1024x600 resolution. Storage comes in the form of a 60GB, 4,200-RPM Samsung hard drive, and the whole system weighs in at just 2.8 lbs. in the default configuration.

The display automatically flips 180 when you rotate it into tablet mode. However, it doesn't seem to go into portrait mode when the device is held in that orientation-gotta change that manually.
Related Tags