Far Cry: Primal PC Performance Analysis with various AMD + NVIDIA GPUs
Far Cry: Primal is out now on the PC, and we delve deep into the performance of the game, seeing just how fast it runs on various AMD and NVIDIA GPUs.
Published
3 minutes & 55 seconds read time
Introduction and System Specs
Welcome to Oros
Far Cry: Primal was quite the surprise when it was first teased in October. The setting alone was so vastly different from anything we've seen before, even if the gameplay only promised to be different, if only for the different tools and weapons available to you. And mostly, it was a refreshing game. Not just because of the infusion of realistic(ish) examples of prehistoric life, but also because when it was released on the PC it actually ran pretty well right from the start.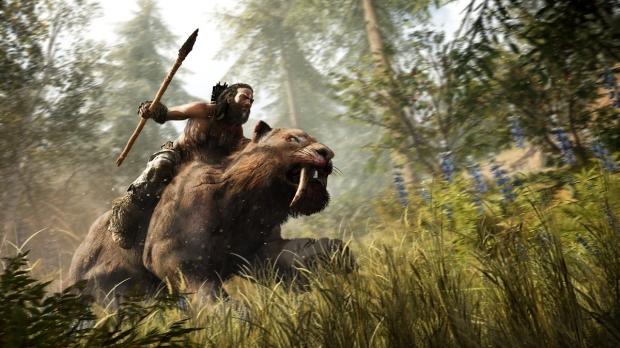 And even more, is that they've properly evolved the Dunia 2 engine to make way for a much more realistic, and equally unforgiving, dynamic weather system, intelligent AI, more realistic facial expression, better lighting, higher poly-count models, and some fantastic foliage that tends to hide the more dangerous creatures from sight.
It's out now on all platforms and of course, we can't help ourselves from diving in deeply into just how well it performs on a variety of GPU's. The test-bench, too, has been thoroughly updated to be something befitting a performance test of this magnitude.
The below system was used with a variety of GPU's to see just how well they've optimized the game and whether or not it actually performs well. Spoiler alert: it does pretty good on a lot. But one thing we had to do to maintain acceptable framerates is lower the quality preset by one tick for each increase in resolution. The reasoning behind that is to show what it takes to have a consistent and pleasing experience. 4K is a very resource hungry monster, and to tame that, you have to make some sacrifices, even with an NVIDIA GeForce Titan X in the mix. We'll show the highest preset that's playable at a given resolution.
Jeff's Video Game Benchmark Setup
Performance at 1080p, 1440p and 4K & Final Thoughts
How fast can we ride a sabertooth tiger?
To test Far Cry: Primal, we ended up taking a walk through a highly dense area near the beginning. It's typical, and there are your share of animals running around in the background and a lot of foliage and other effects. This was done during a sunny day, and we repeated it with every card to help give actual in-game performance. Obviously, with more action going on around the screen, the lower your framerate will be. This should still be representative of around 70% or so of the game.
First, we'll take a look at 1080p, the easiest of resolutions to drive. No stuttering was apparent, and it seems to run quite well on nearly all GPU's. Take a look.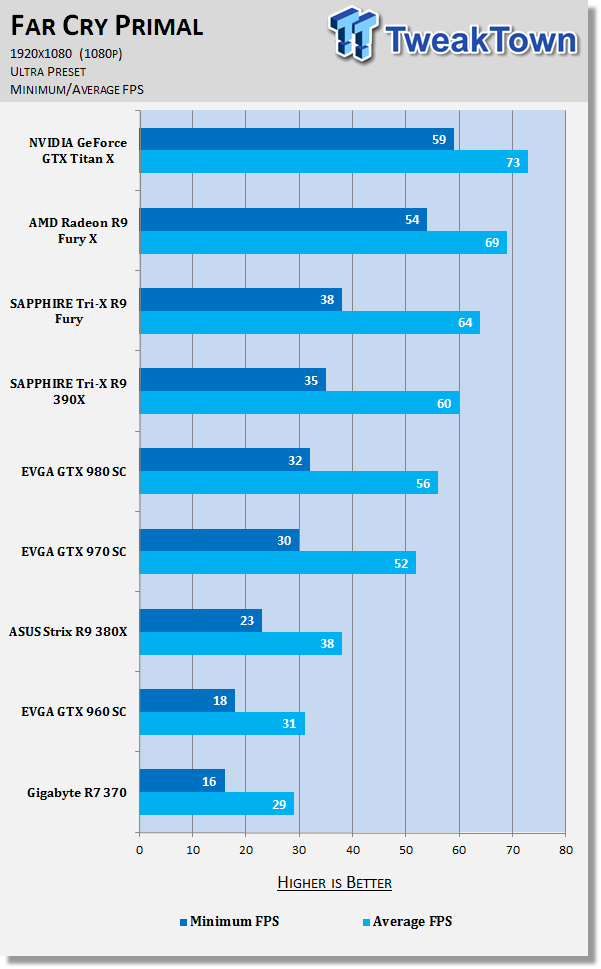 There's a nice linear line of performance from the top all the way to the bottom. The game does just as we would expect. The more expensive and powerful cards tend to do quite well, easily making for a gorgeous and fluid experience.
Even 1080p is great to look at with this type of dynamic environment. But what about at higher resolutions?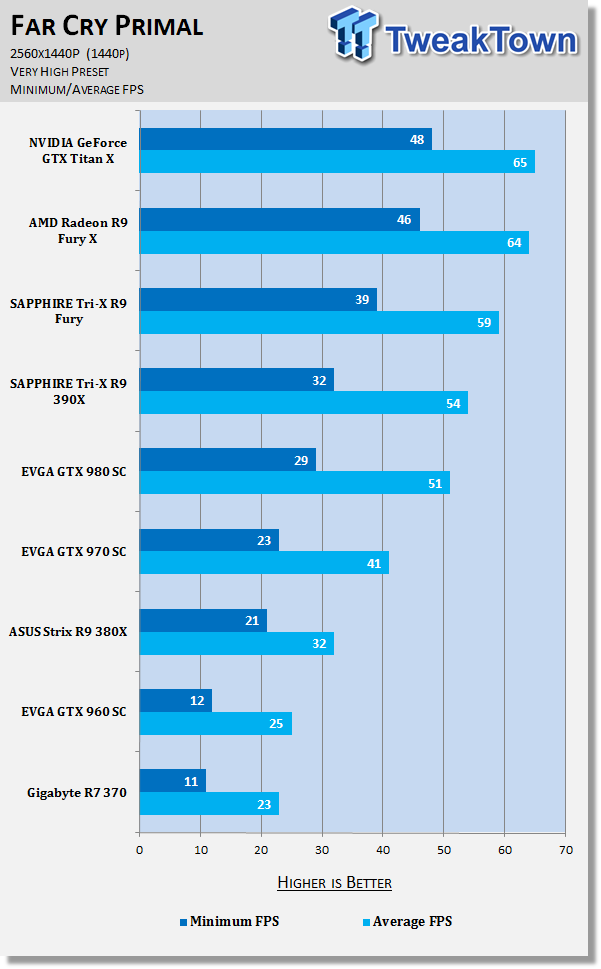 At 1440p, we had to lower the preset to Very High instead of Ultra, owing to the fact that we're now asking a lot of our GPU's. It's not the RAM that's struggling, necessarily, but the ability to process and render the gorgeous effects. No stuttering was present at these settings, and it was fluid on all but the lowly R7 370 and GTX 960. But what of 4K?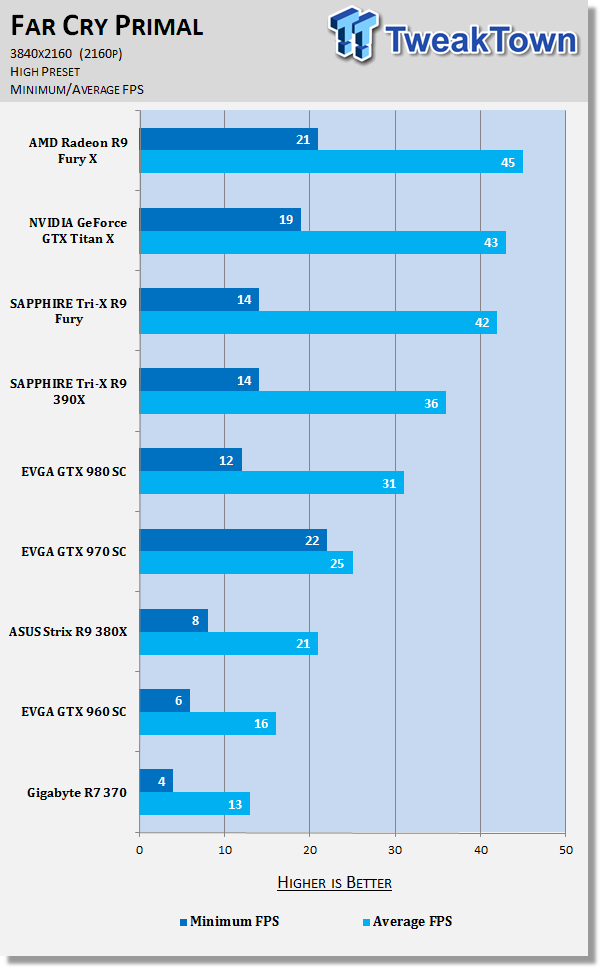 At 4K, we're seeing a much larger impact that's likely due to the massive increase in resource size, among other things. We had to lower the preset once more to be able to have a smooth experience, setting it to High this time. And doing so results in smooth performance.
Even the slower R7 370 can keep a smooth framerate, despite being incredibly low. Here we see that the Fury X does surprisingly well, inching ahead, if only slightly. Performance is consistent across the board, however, with a linear dip as resolution decreases.
Final Thoughts
It's really refreshing to see a game that's mostly optimized. And by that, I mean that we're seeing great performance on a level that we expect for both brands. AMD and NVIDIA are strong performers here, with NVIDIA taking a slight lead all the way until we get to 4K. And even then, performance is solid and very encouraging. Dunia 2 might be resource heavy when you adjust everything to the max, but even a small decrease in preset results in a still good looking game.
If you look at the results, AMD is ahead by all accounts, but it can also be inferred that a 980 Ti (absent from my own collection of test cards) could do very well, up to the level of the Titan X, and even beyond if one of the overclocked variety.
Unlike a lot of recent releases, and certainly on a different level than the outsourced PC port of Gears of War: Ultimate Edition, Far Cry: Primal works well on the PC. It looks better than the console version, and it's actually kind of fun to play.
Be sure to let us know how your system runs.
PRICING: You can find products similar to this one for sale below.

United States: Find other tech and computer products like this over at Amazon.com

United Kingdom: Find other tech and computer products like this over at Amazon.co.uk

Australia: Find other tech and computer products like this over at Amazon.com.au

Canada: Find other tech and computer products like this over at Amazon.ca

Deutschland: Finde andere Technik- und Computerprodukte wie dieses auf Amazon.de
We openly invite the companies who provide us with review samples / who are mentioned or discussed to express their opinion. If any company representative wishes to respond, we will publish the response here. Please contact us if you wish to respond.