Corsair Dominator Platinum DDR4-3200 16GB Quad-Channel Memory Review
Maybe the 3000MHz DDR4 kit from G.Skill we reviewed recently wasn't enough for you. Corsair kick it up another notch with this awesome 3200MHz DDR4 kit.
Published
5 minute read time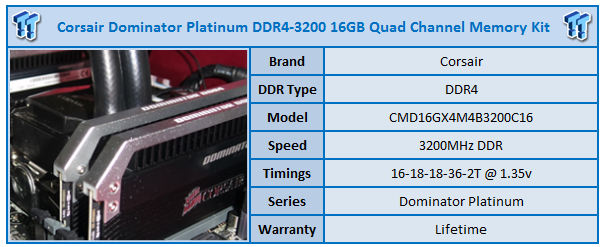 The other day we got a chance to look at a 3000MHz DDR4 16GB G.Skill memory kit and found ourselves extremely impressed with the product that G.Skill offered. If that wasn't quite extreme enough for you, the kit we've got from Corsair might just be right up your alley as we look at the company's first DDR4 Dominator Platinum kit to grace our labs.
This isn't our first Corsair DDR4 memory kit we've looked at. The first wasn't part of the higher-end Dominator Platinum range that we have here today and was instead part of the new Vengeance LPX series. The 2800MHz DDR4 16GB Kit also did a great job of impressing us as it offered both some excellent performance and a strong price tag that makes it attractive to people thinking about building an Intel X99 based system.
While both kits did a good job of impressing us, today it's time to kick it up a notch and take a look at not only the fastest kit we've received to date, but also the fastest kit we've currently got sitting our labs. While we've got a couple of other DDR4 kits to look at over the next few weeks, none of them carry the same kind of clock speeds as the kit we've got here.
Taking a look at the kit for the first time, you might notice an overall familiar look as its part of the popular Dominator Platinum series. We've got a black and silver theme, which looks good, and if you look closely, you can see we've got a black PCB, which looks great offset against the heat sink color to make quite a stealthy looking kit of RAM.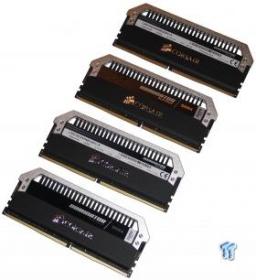 When it comes to the overall design, there's not too much going on that's different to what we've seen before. While both sides have the Corsair logo, you can see that one shows the Dominator Platinum logo, along with mention that the kit is DDR4 and comes with a clock speed of 3200MHz DDR.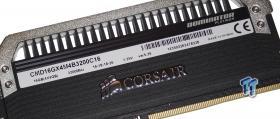 Moving in closer, we get a good idea with what exactly is going on with the CMD16GX4M4B3200C16 kit. Starting from the left, you can see we've got a 16GB kit on hand that consists of 4x 4GB modules, all of which come in at a massive 3200MHz DDR with a 16-18-18-36-2T setup requiring 1.35v. Not only is this kit a solid 400MHz DDR faster than the 2800MHz DDR kit we looked at from Corsair, but it also carries with it the same timings as it, which is what makes it impressive.
While normally we would move on from here into covering how everything worked, before we do that, we've got one more thing to look at which is included in the bundle. Corsair has included the latest Dominator Airflow Platinum LED fan. It looks awesome and is more suited to the kit as its black and silver design is similar and matches well.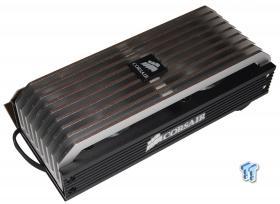 With that said, we didn't use it today. It looks great and everything, but the decision to include just one in a kit of memory that would require two if you want to make full use of it is a little weird.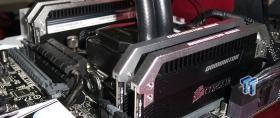 Deciding to not use the fan since we couldn't cool both sides, we thought that we might run into some issues when it came to the kit running at stock - especially since we use an open air case and an AIO water cooling unit that doesn't really offer direct airflow over anything. Combining that with the fact we're also using a kit that comes with a 3200MHz DDR default clock, I wasn't sure if this was going to be the easiest kit to get up and running.
Heading into the BIOS and setting the XMP Profile to 1, we saw our system boot up straight away. Getting into Windows without a problem, we headed straight to CPUz to make sure that everything was running as it should be. Looking below, you can see we're indeed in Windows with our kit running at 3200MHz DDR with a 16-18-18-36-2T setup.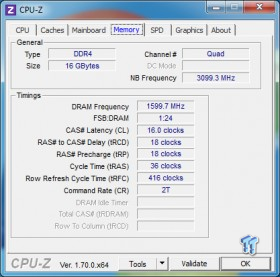 With that not being an issue, we made sure our benchmarks ran without a problem. Testing both AIDA64 and HandBrake, our system completed without a single problem. So with that all working without an issue, it was time to head back into the BIOS and see if we could get some more performance out of the kit.
With the next option for speed via the divider being 3400MHz DDR, we selected it, but didn't expect it to work, as that is a very high memory clock. With no surprise, the system didn't boot up. Heading back into the BIOS, it was time to move the divider back to the 3200MHz DDR setting, and see what we could do by moving our BCLK up.
Messing around, we eventually ended up with a 102 BCLK, which gave us a slight memory boost. From the stock 3200MHz DDR, we got to a slightly higher 3264MHz DDR. Any higher with the BCLK and we had trouble with our system booting. Looking below, though, you can see we have the same 16-18-18-36-2T setup that is seen at the stock 3200MHz DDR clock.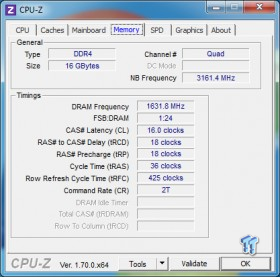 With that all up and running, we had just one last thing to do - head back into the BIOS to see how far we could push our CPU clock up to. Messing around with the voltages and the divider, we ended up pushing our i7 5960X EE divider up to 42x. Combined with the BCLK that brings our CPU clock in at 4283MHz, all while the Corsair Dominator Platinum kit remains at 3264MHz DDR with the same 16-18-18-36-2T timing setup.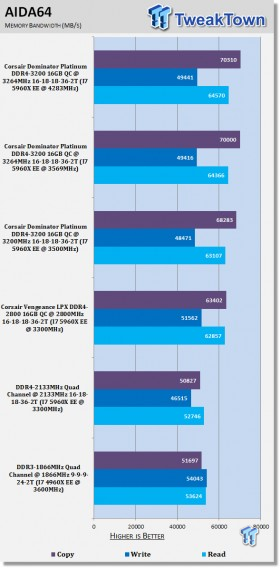 So with everything up and running without a problem, it's time to look at the kind of performance we're able to get out of the kit. Taking a look above, we can see how our 3200MHz kit compares to the 2800MHz kit. Looking above, you can see a nice little bump in Read and Copy performance which is increased as we go higher up the MHz table. Throwing CPU overclocking into the mix gives us a slight performance boost, but nothing that you'd get all that excited about. You can see the kind of performance increase we see over the stock 2133Mhz DDR number, though.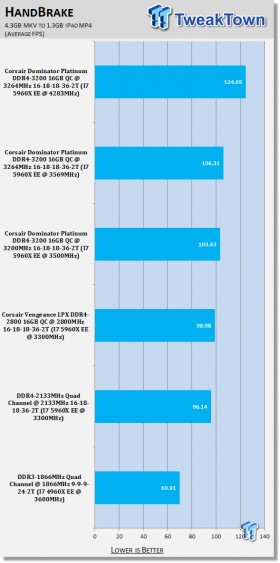 Taking a look above, you can see moving up in both the speed of our memory and CPU improves performance quite significantly. You can see the difference between the kit at 3200MHz and 3264MHz is about 3% extra performance. The biggest gains here come from our strong CPU overclock which help boost performance a further 20%.
3200MHz DDR is quite a strong speed when it comes to RAM and if we're honest, it's more than most people need. This isn't a kit for everyone, while we don't know 100% the price tag on it, we can tell you that it's going to carry with it a premium. The kind of user that looks at a kit like this is the kind of user who buys an ROG based ASUS motherboard, Extreme Edition processor and has a serious storage setup that consists of two or more SSDs in RAID 0. You simply put all the pieces together, set the XMP profile and then push your multiplier up a bit and don't worry about it anymore.
Combining all this with a massive three or four GPU setup and you have yourself the ultimate PC that is sure to last a good while. One of the biggest issues when it comes to memory at this speed is knowing that your CPU's Internal Memory Controller or IMC can handle it. Thanks to the new OC Socket that is on the ASUS boards, we didn't run into a single issue. ASUS say that thanks to the unique socket design, the ability to get over 3000MHz DDR is much higher. While we would normally just pass this off as marketing hype, we've never had this kind of success when it comes to overclocking memory so high.
The Corsair Dominator Platinum DDR4-3200 16GB Quad-Channel memory kit is no doubt part of what will make the ultimate system. If you have the need for speed, this is what you should be looking at buying. We just wished that Corsair had included a second Dominator Airflow Platinum LED fan in the kit so both sides of the memory could be cooled.

PRICING: You can find products similar to this one for sale below.

United States: Find other tech and computer products like this over at Amazon.com

United Kingdom: Find other tech and computer products like this over at Amazon.co.uk

Australia: Find other tech and computer products like this over at Amazon.com.au

Canada: Find other tech and computer products like this over at Amazon.ca

Deutschland: Finde andere Technik- und Computerprodukte wie dieses auf Amazon.de
We openly invite the companies who provide us with review samples / who are mentioned or discussed to express their opinion. If any company representative wishes to respond, we will publish the response here. Please contact us if you wish to respond.