Gears of War: Ultimate Edition is another PC launch disaster for AMD
Gears of War: Ultimate Edition is out on the PC, but it's an absolute mess for AMD GPU owners at the moment, the complete opposite of what it should be.
Published Tue, Mar 1 2016 10:56 AM CST
|
Updated Tue, Nov 3 2020 12:01 PM CST
Gears of War: Ultimate Edition, the remastered version of the first three of the series, has been released on the Windows Store today, but instead of being a shining example of the prowess and graphical potential of the PC and of DirectX 12, it falls well short of that for AMD GPU owners.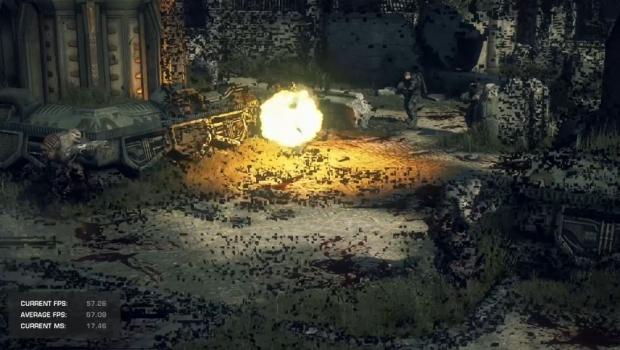 What you can expect if played on an AMD R9 Fury
In fact, it's being reported that it hardly runs well at all, stuttering and exhibiting high amounts of graphical corruption even when running at modest resolutions with only modest graphical settings turned on. The performance is particularly abysmal on AMD's Fiji powered cards where the proper implementation of async shaders should theoretically hold an advantage. But even when RAM isn't a limiting factor, they don't perform. The game is a stuttering, glitching mess at this point, at 4K, 1440P or even 1080P. My own testing confirms the findings, with a horrible mess on the base Fury, making it unbearable to actually play.
Curiously, it seems that the 390X, according to Jason Evangelho, is actually running faster than the more expensive, and generally better performing, Fury and Nano cards.
Microsoft sent Forbes a response to their inquiry about the issues and are aware that it's happening. So is AMD "We are working closely with AMD to address a few issues that users of some AMD Radeon Hardware are experiencing while playing Gears of War: Ultimate Edition for Windows 10 and expect that they will be addressed quickly in an upcoming update."
What could the issue be? Is it because the game isn't made to use HBM properly? Is it a low-level driver issue that AMD themselves need to address or is it something related to the porting of the game. Oddly, with DirectX 12, the drivers hold less sway over the behavior of the GPU than does the actual programming of the game. You have to explicitly program for a GPU now. Driver optimizations are a DX11 and below thing, so driver issues are unlikely, though still possible.
If Microsoft wants to push their next generation graphics API, this is a poor example, especially for a game franchise that's likely to hold a lot of sway over console gamers and PC gamers alike. We've been waiting a long time for Gears of War to finally appear on the PC, and the result feels like an unfortunate accident.
If you're an AMD GPU owner, I'd suggest staying far away from Gears of War: Ultimate Edition for now.
Related Tags