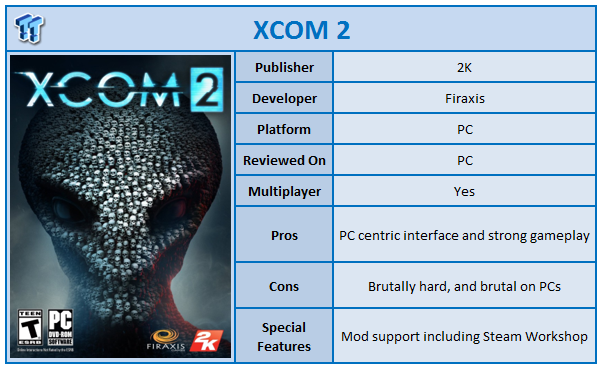 To say that the return of XCOM earlier this century was a mess is a bit of an understatement. In the end, we got the fantastic XCOM: Enemy Unknown. Before that, we had to endure 2K announcing a third person shooter that it seemed no one wanted or was interested before they finally realized the true way to bring XCOM back to the gaming world was via a tactical strategy game - much like the game made so famous by Microprose.
The fact it ended up shipping before the third person game just adds to the hilarious nature of it all, but there is no doubt that both Enemy Within and its expansion Enemy Unknown remain some of the finest tactical gaming around. So it was a no-brainer that 2K was going to do a sequel, what likely caught most by surprise is that (for now) it is a PC exclusive.
XCOM 2 picks up twenty years after the events of Enemy Within with the canon story now being that the aliens arrived and are in control of the world after several nation states surrendered. As with all hostile takeovers, resistance has built up against the alien rulers and of course, the XCOM team are still around and very keen to kick some alien backsides. You pick up the role of Commander once again and must build your army and base to try and finally defeat the aliens once and for all. To reveal why the human race all of a sudden appears to turn on the aliens after twenty years would be revealing a massive spoiler, but it's also one you are unlikely to see coming.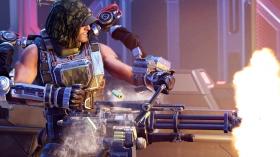 If you were to look at XCOM Enemy Within and XCOM 2 side by side, without knowing much about the games, you would think they are the same. It is not until you delve a lot deeper that you find the intricacies added to the XCOM world which not only make this a compelling game, but one that is sure to have you putting money in the swear jar every so often. This is a brutally difficult game, even on the lowest difficulties, that will have you either feeling miserable every so often as one of your top soldiers succumbs to the enemy, or for those who are so inclined have you reaching for the 'load game' button to reverse a mistake.
Something that has always been apparent in the XCOM series is that it is a game that will punish you for mistakes, and that is no different in XCOM 2. As we played through the early stages of the game including the tutorial, we were reminded just how tough the game can be when you make a wrong move. However, it is this level of difficulty that makes XCOM the game it is. Victories seem like significant accomplishments and getting that tactical play right feels amazing. It really is just a shame that sometimes it comes down to the RNG nature of the game with almost certain shots based on percentages, occasionally missing. This will have some players feeling that it can be luck rather than skill which leads to progress. Truth be told, to do well in XCOM 2, you need a bit of luck, but nothing is wrong with that.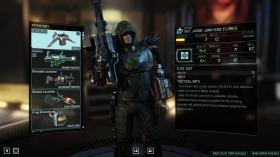 Two types of missions play out within XCOM 2 (each has a subset of mission types); those which can be seen as optional and skipped, and those which need to be acted upon right away. Much like the Enemy Unknown, the game introduces a time limit (which can be reversed, however) on the human race defeating the alien threat. Regarding the 'optional' missions, there are numerous types on offer. You might be tasked with defeating the alien threat in the area, blowing up a significant object, or helping out a local resistance force. The difficulty level of the mission is dictated by how important the mission is in the overall story, with those which progress the overall arc, the most difficult to beat.
However, to call the side missions optional is a bit of a misnomer. To have any chance of beating the aliens, you need to build a crack XCOM squad and to do that you need to gain experience on the battlefield. Along with this, the base from Enemy Unknown returns with you deciding what structures to build next which will give you access to new technology or allow you to travel further on the map for exploration purposes. Coinciding with this is the introduction of loot to the game.
Some enemies will drop weapon items or tech which can be returned to the main base to be researched and eventually used against the aliens themselves. Loot is an interesting addition that means the side missions can feel a lot more exciting than they may have otherwise felt. Going along with the rest of the game's time pressures, the longer you leave loot in the field, the less valuable it will be. This is a game that is trying to get you always to push hard for the objective, but remember, that can also be an XCOM squad downfall. Risk and reward are the names of the game.
How successful you are in the game is not only determined by tactical nous but also how well you can manage the metagame. Aside from training up and taking soldiers to the battlefield, you need to manage the construction of areas within the base to offer new tech, and also gain resources to be able to build those structures. Resources come in a few forms (with one of those resource types being workers) and gathering resources from the battlefield or locations on the map becomes one of the most important tasks you will do.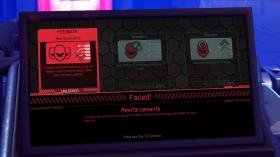 When it comes to the way the game plays, you can see why the developers opted to limit this game to a PC release. It's much easier to get through some of the menus and options with a keyboard and mouse and in an interesting surprise, the Xbox 360 controller is not supported, yet the recently released Steam controller is. If you want to try and play this game like a console game, you are a bit stuck, but this has led to some very tight controls and an easy to use interface.
However, despite the game being built for PC only, the performance, even on high-end machines, leaves a lot to be desired. This is a game that can run poorly on some of the most recent video cards and for many players an upgrade or two might be needed to get the most out of this game. It would appear that it is not necessarily graphics power which is causing this performance issues, but potentially lack of optimization in some areas. If that is the case, a patch or two will hopefully be enough to get this over the line, but for the moment, it's hard for us to even consider telling people with mid-range video cards to buy this game.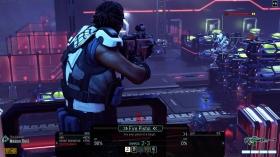 That being said, if you have the PC grunt to run it, you will find a stunning game. Despite its isometric view by default, the game contains some extremely detailed characters and levels to play in. Many will find the mini cut scenes that play out through missions tedious after a while, but they do show off a level of detail that you just do not expect in a tactical game like this. When you play the game, it is clear why a rather beefy PC is needed to get the most out of this game. Unlike the previous games, you will find numerous types of landscapes to battle in. Sometimes you will be in a spaceship, other times you will be fighting in the wild. The environments offer different challenges as well. For example, it is harder to hide behind a tree than it is a solid wall. The introduction of destructible environments also adds to the challenge with aliens easily able to take down a structure you might be relying on for stealth (and vice versa). It's also potentially a key reason this game needs a rather powerful PC.
On the multiplayer side of things, XCOM 2 offers a one versus one battle on randomly generated maps (just like the main campaign which is also randomly generated). It is pretty clear that multiplayer is not the main focus of XCOM 2. Along with this, XCOM 2 offers full mod support including integration to the Steam workshop. Some of the best moments in XCOM Enemy Unknown were found when playing with mods, and it's nice to see Firaxis step up to the plate and offer an easy way to not only obtain and install mods but to publish them for everyone's use as well. The game ships with three modifications from Long War Studios (famous for their work on the previous games) and already there are numerous mods worth checking out on the Steam workshop. The longevity of this game will no doubt be extended by what people come up with over the coming months.
XCOM 2 is a game that quite clearly took advantage of the fact it is a PC exclusive. The control and UI are very suited to the keyboard and mouse and the visuals while taxing on even the strongest PCs is stunning, to say the least. It is a real shame that at the time of writing the performance leaves a lot to be desired, even on some more recent gaming hardware. But if you can look past this (or potentially wait until Firaxis gets some updates out to address the issues, if they can), you will find an extremely solid tactical action game. It brings back some of the best from Enemy Unknown while expanding into new territory.