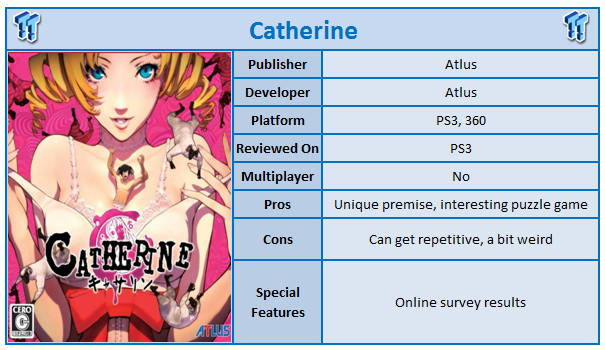 Gamers know as a culture that Japan can produce some quite interesting and weird games, many of which do not leave the oriental shores of the land of the rising sun due to lack of demand, or just no interest from publishers. It seemed earlier in 2011 that this was the fate that Catherine was going to be consigned to. Upon many requests from the media, Atlus always said Catherine was a Japanese only release, but they were either holding off an announcement or surprised by the want for the game and have now brought the game to the west. We played the Japanese version upon its release and were intrigued by gameplay and story (or what we could tell of it anyway) and it has translated to the western world quite well.
Catherine tells the story of Vincent, a young man who is in a steady relationship with Katherine who thinks it's time they get married. Vincent is not so sure and avoids the topic over and over again until one day Vincent runs into Catherine (that's right, the same name almost) at a bar who seems like a breath of fresh air and is significantly younger than him. Vincent lusts for Catherine straight away and after a few too many drinks, ends up sleeping with her, cheating on Katherine. From there it's a story of which girl does Vincent choose to end up with and what that means for his life. Catherine is basically a social commentary on relationships in the modern age, and that makes it a very interesting game to play.
Catherine is divided into two sections; the storyline portion of the game and the puzzle portion. Each night Vincent falls into a nightmare and this forms the main 'game' aspect of the title. Catherine overall is a puzzle game where you must manoeuvre blocks to reach the top of a pile of them to escape the nightmare. Most of the time you are not under time pressure, but each night has a boss character which must be defeated to escape the nightmare and get back to his day to day life.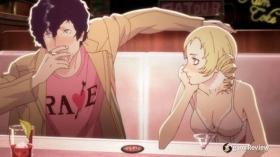 Catherine is a difficult game, however, it has been modified since the Japanese release after Japanese gamers complained it was too difficult. Even on the easiest level Catherine represents a challenge that most gamers may not have felt in gaming for a long time. You feel a pressure always when in the block boss challenges and there is no doubt that it can induce controller smashing levels of rage when you fail near the end, but being gluttons for punishment we found ourselves always going back to the game. It most definitely has that feeling of 'just one more try before bed' feel. And it will have you trying to solve puzzles when away from the game as well.
However, that only represents half the game with the other half putting you in the role of Vincent trying to decide what to do. Both Katherine and Catherine are in love with Vincent and your decisions during the story part of the game determine how the game plays out. You can choose to ignore Catherine and tell her to go away (although she will keep coming back or else there wouldn't be a story) or try and lust after her and win her over to see the consequences of that path. You do this via SMS messages and can decide what to put in those messages such as 'I'll see you in 5' or 'go away' with different outcomes.
As well as this, earlier we mentioned the game is social commentary on the relationships of the 21st century. After each puzzle you will be tasked with a question to answer such as 'have you ever cheated on your partner?'. Once you respond, if connected to PSN you will get statistics around what others have answered which is a very interesting option in the game.
[img]2[/img]
Also, as you would expect with a puzzle game, there is an issue of repetitive gameplay and lack of variety. In many ways, this is where the story of the game comes in as it does break up the mundane aspects of the puzzles, especially late in the game where whilst difficult, the puzzles do start to become a bit of the same over and over again.
One thing that is certain with Catherine is that you will either love this game or not think too much of it. There is no middle ground on this one and some of this decision on your part will come down to whether the graphical and presentation style of the game appeals to you. It is presented in an anime format with some incredibly impressive cut scenes and cartoon nature. And along with the anime comes a lot of quirkiness that you tend to see with Japanese anime. Fans of anime will probably lap Catherine up and in reality the gameplay itself is not enough to hold the game by itself.
[img]3[/img]
Catherine is an interesting game for a number of reasons. When we played it with the Japanese import we were intrigued and the western release has us intrigued even more. It is not your typical AAA game of today, it's not a shooter and it's not an RPG. It's a puzzle game and in an age where innovation seems to be something that gaming lacks, is a complete breath of fresh air. Whether you like Catherine will come down to two things; do you like repetitive puzzle games and do you like anime? If the answer to those questions is yes, then pick up Catherine and enter a weird and unique world like you have not seen before in gaming.