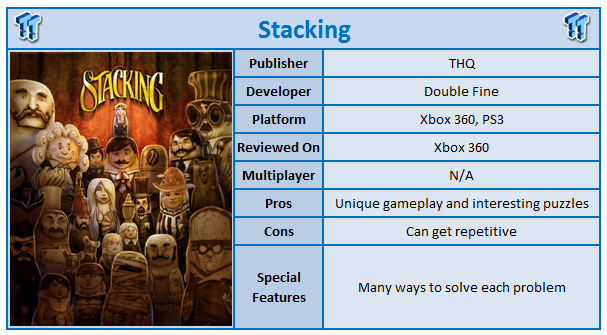 Most people reading this would either have seen or know someone who owns a set of Russian matryoshka dolls. For those of you who don't know, they are the dolls that come in different sizes and stack into each other. Looking at these dolls on paper, you wouldn't think they would turn into a fantastic game concept, but the team at Double Fine have managed to produce one of the most unique and interesting games on the Xbox Live Arcade service by using these very dolls. Stacking is an adventure puzzle game that reminds us that in a world dominated by shooting games, there is still room for creativity.
In Stacking you play as Charlie Blackmore, the smallest child of a family living in the depression era where industrialists ruled and child labor was rife. Charlie's dad is offered a promotion at his workplace, but is never heard from again until the Barons cronies come and take the rest of the family to work to pay off a debt. All except Charlie who is deemed too small to be useful and is left alone.
You as Charlie set out to find your family and also to end the Barons rule over the land. To do this you must solve a number of increasingly complex puzzles and to solve puzzles you use the unique abilities of the dolls in the game to perform actions such as fart or unlock a door. However, there is a rhyme and reason to this. Charlie can only stack into dolls which are just a little bit taller than him and then those dolls can stack into others. Using the matryoshka formula, you stack the dolls up which allows you to seem bigger than Charlie and solve more puzzles.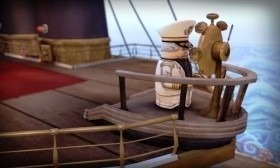 When you are in a large matryoshka doll you are transporting a number of others inside you. Often in the game this becomes a necessity and you need to stack the dolls in a certain order. For example, in one puzzle you have to scare a rather large doll by pouring water on them and then freezing them with a cool breeze. These two functions can be performed by two dolls of different size. So you stack into the cool breeze doll before the water pouring doll which allows you to transport them both at once.
It's a unique concept that is made all the more interesting by the artwork and setting of the game.
For those of you who may not be the biggest fans of puzzle games, Stacking can also be recommended. The reason being there is a full hint system in the game which eventually will tell you what to do if you hold out. There is also many different ways to solve each puzzle adding replay value to the game. This is important because it is possible to breeze through the game in around three to four hours without breaking a sweat.
What makes the game, however, is the artwork and style. Set in the 1930s depression era as mentioned before, all the dolls are either quite poor or very rich in look. There is no voice acting in the game with the style coming across very much as a silent movie, where the story is explained in silent cut scenes with classical music in the background. Very fitting of the era displayed.
Stacking is one of those games that comes every so often and makes you remember why you like to play video games. It's a unique and interesting concept that the team at Double Fine have managed to put together very well. The use of matryoshka dolls and their stacking to solve puzzles is a great concept and with replay value coming from multiple solutions it's hard not to recommend Stacking.