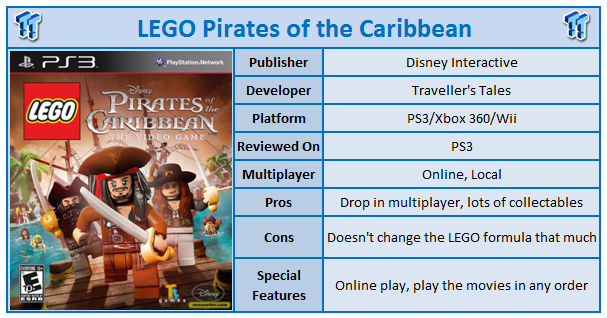 When Traveller's Tales stumbled upon the idea of turning famous film series' such as Star Wars into LEGO games, little did they know just how popular and big they would be. It seems every six or so months a new LEGO game is coming out now, but as gamers we seem to not be able to get enough of them. They are perfect to play with the kids or a partner, and are genuinely funny for kids and adults alike. The fact the movie studios are allowing their famous brands to be parodied in such a way is a credit to them and they are reaping the rewards with the games raising the profile of those franchises even further and introducing a new generation to them. It's no surprise that the LEGO Pirates of the Caribbean game continues this tradition.
In the grand scheme of things, when you compare Pirates of the Caribbean to something like Star Wars or Indiana Jones, it does not compare. It's only been around in the 2000's and whilst popular, would not be written into pop culture folk lore as much as Star Wars has been, so this was a risk. However, it's a risk that has paid off with LEGO Pirates of the Caribbean proving that the formula works for even recent film franchises.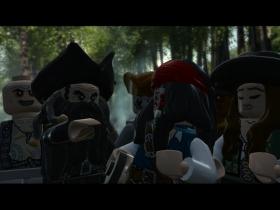 The game covers the four films so far including the just released Pirates of the Caribbean: At Lands End. With this in mind, it's best to see the film first before playing this game, as it does contain major spoilers and the four game stories do follow the movie storylines quite closely, as you would expect.
As you would also expect based on the other games, after a quick introduction sequence you can play the movies in any order. There is a number of advantages to this, but it also means the story can get a bit muddled. You can spoil the events of movie 1 by playing movie 3 first for example, but it also allows you to move on and play something new with the kids or partner if you get stuck. There really is genuinely always something to do in the LEGO games and this has not changed with the Pirates of the Caribbean iteration.
There is still a major focus on collectables and gaining points with good performance unlocking new characters. To finish and platinum the game would take I should think at least twenty or so hours, but if you just play through the story you will be done in about six or seven depending on how well you can solve the various puzzles in the game. Also, the game element is very much dumbed down for the younger set with the game offering unlimited lives, meaning that as long as you have the patience to solve the puzzles which are in the game. The platform element of the game compliments the puzzles well and some of them are quite a challenge.
We don't know why, but we found the puzzles of Pirates of the Caribbean easier to deduce than some of those which have been seen in the previous LEGO games. They made logical sense to us and it is clear that Traveller's Tales have put a huge effort into challenging but solvable puzzles and over time they have begun to perfect this mix. As expected, the puzzles are perfect for the younger set and don't be surprised if you see a child beat a puzzle well before you have even considered how it all works.
Each character within the game has a special ability which is used to solve a puzzle. It's a no brainer as the game will actually display which character needs to solve which problem for you.
[img]2[/img]
Occasionally you will run across a puzzle which requires a character you have not found yet, so there is some backtracking, but the character specific puzzles are most definitely the best.
Probably the biggest problem with the game is that it has not mixed up the LEGO formula we have seen so often before. Ultimately, it is a moderately good game and is enjoyable to play, but it may seem very familiar if you have played more than one or two of the previous LEGO games. The developers have not really taken advantage of the setting in the game and really, if you took the puzzles, placed them in a different LEGO game and replaced the characters, it wouldn't seem out of place. If the LEGO series is to continue having success, they are really going to have to start mixing this successful formula up.
[img]3[/img]
Multiplayer is available both online and offline with the offline mode allowing you to jump in and play with local players instantly and the online option being offered in PSN. It's always been one of the best features of the LEGO games where at anytime people can jump in and out of a multiplayer game. The game is perfect for kids with this, because you have unlimited lives and also, if they get bored, they can just go and play with another toy and not end your game.
LEGO Pirates of the Caribbean is not necessarily a bad or good game. It is moderately successful at what it sets out to achieve and overall it's a game worth playing for those fans of the LEGO series or fans of the movie. For other gamers who have played the LEGO games and enjoyed their quirky humour, you may find something to love with LEGO Pirates of the Caribbean, just don't expect it to be a game you want to come back to over and over again in the long run.