Last year Activision released DJ Hero to much fanfare, but also much derision. There was a feeling that Activision was trying to milk the success of the Guitar Hero franchise even more than it already had and the game was, to be honest, a failure in the sales stakes. However, Activision and game critics saw enough in the series to warrant a sequel and to be honest, they probably had to do it considering people had just paid quite a significant amount of money for a turntable peripheral. Cynics aside, DJ Hero 2 has a lot to offer. The developers have learnt from the original game and listened to the criticism to craft one of the best music games around.
DJ Hero 2 picks up where the first game finished (if you could consider the first game to have a story, that is). You are a somewhat established DJ who wants to build up an Empire around the globe with a number of nightclubs. To do this you travel the globe showing off your DJ skills before moving on. The Empire mode is a mixed bag of good and bad.
It is good that the developers have tried to improve the single player mode, but aside from that there are some limitations. For example, the game does not let you name your own club brand. Considering RockBand and Guitar Hero allow you to name your bands, this is quite puzzling. A small thing, but it sticks out like a sore thumb in a game like this.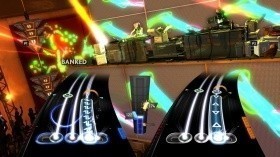 Aside from this, the game is very much like last year's iteration as you would expect, with a few tweaks here and there. However, it is those tweaks that take the DJ Hero series from a moderately good series to something that you really must try. Many people complained last year that they had zero influence on how the song played (aside from if they made mistakes) and it felt like going through the motions. We have to agree; the game was karaoke with fingers. This year, however, things have changed.
DJ Hero 2 introduces the concept of freestyling. Each mix/song has Freestyle sections where you can choose between the two tracks currently being played. So you move either to the left or right and try to mix the two tracks together to get a good beat. Do it well and you get a ton of points to your score, but not only that, for the first time it really feels like you are acting like a DJ in a DJ Hero game. We'd go as far to say that the freestyling addition really makes DJ Hero 2 what it is, because it is entirely possible everyone who plays the game will play each song differently; exactly what you would expect from a proper DJ simulation.
[img]2[/img]
The single player also has battles against famous DJs including David Guetta to name just one. In this mode each song is broken into sections which you basically challenge each other to. The winner of each sector gets a point and those with the most points when the mix ends wins. This adds another level of variety to the game and along with the Mega Mixes is a welcome addition.
The turntable itself has not changed this year, which means those who already have the gear can just buy the game by itself. This is a stark contrast to what we usually see in other music games and it makes the game all the more appealing to those who already have the turntable hardware.
The game also offers the opportunity to sing the songs if you have a compatible microphone. This as you would expect is a mess and a feature that really could have been left on the design table. Singing two songs mixed together is not only difficult, but in our eyes pointless. It is fun for a little while, maybe after a few beers, but it really does not add to the game.
[img]3[/img]
The multiplayer side of the game has also had a major rework with battles now possible. This pits you and a friend or online player together to try and see who is the best. The mixes are specifically built for this mode and it very much replicates the challenge modes we have seen in games like RockBand. For those who like to play these games in a party style, there is also jump in and out gameplay . Considering that some of the lengthier mixes can go for over ten minutes, this is not entirely a bad thing.
Where the game also shines this year is the mixes. Whereas last year a lot of focus was put on R&B style club tracks, this year there is more of a mix with techno, house and trance all included and the songs mix some of the most famous songs around plus some big hits from the last twelve months. However, we have to criticise one aspect of the song choices. The first few or so mixes in career mode are quite boring and a chore to get through, but once you do the game really opens up into some truly fantastic mixes. Artists include Lady Gaga, Rihanna, Warren G and many others.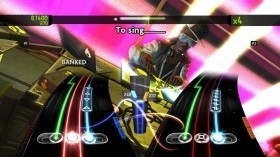 To go with this, Activision has enlisted the help of a number of famous DJs again this year with many of them playable. You can play as a fictional character and change his or her outfits, design and clothing, or play as the famous characters in the game such as Deadmou5 and DJ Tiesto. A surprise this year, however, is that there is no real focus on one DJ or band like there was with Daft Punk last year and much more focus on the songs and building your empire. 85 songs are included in all which is a huge number and Activision is promising to build up the song list with more mixes via downloadable content. We can only hope there is more than what they offered in the last 12 months.
DJ Hero 2 does a lot of things right with few things wrong. It is clear the developers listened to the criticism from 12 months ago and made it right. DJ Hero 2 is a game that could kick start a genre of DJ games if they are all this good. If you liked DJ Hero, you will love DJ Hero 2. If you didn't, there probably isn't that much to find here, but if you have any liking of the DJ and club scene then DJ Hero 2 should be right up your alley.
Want to know the latest info and comments on the games I am playing for preview/review? Follow me on twitter @ ttowngmr